7/w mit unerträglichem Juckreiz im Genitalbereich
Vorbereitung auf die Facharztprüfung: Folge 32
Fallschilderung für den Prüfungskandidaten
Ein 7‑jähriges Mädchen wird mit unerträglichem Juckreiz im Genitalbereich vorgestellt. Dieser bestünde seit einem Jahr. Vor einem halben Jahr seien auch konfettiartige weiße Flecken ohne Beschwerden am Rücken aufgetreten.
Anamnese
Beim Kinderarzt Nachweis von Streptokokken der Gruppe B im Abstrich, eine antibiotische Therapie brachte keine Besserung.

Beim Hautarzt Nachweis von Candida albicans im Abstrich, eine antimykotische Therapie brachte keine Besserung.

Weitere Erkrankungen sind nicht bekannt.
Klinische Untersuchung
Die Vulva- und Perianalhaut zeigt mit scharfer Begrenzung zur umgebenden Haut eine weißliche Verfärbung mit pergamentartiger Fältelung (Abb.
1
a). Im Dammbereich und in der Analfalte ist die Haut hyperkeratotisch mit schmerzhaften Rhagaden (Abb.
1
b). Am oberen Rücken finden sich konfettiartige atrophe weiße Flecken (Abb.
2
). Das übrige Integument erscheint sehr trocken, ansonsten aber unauffällig.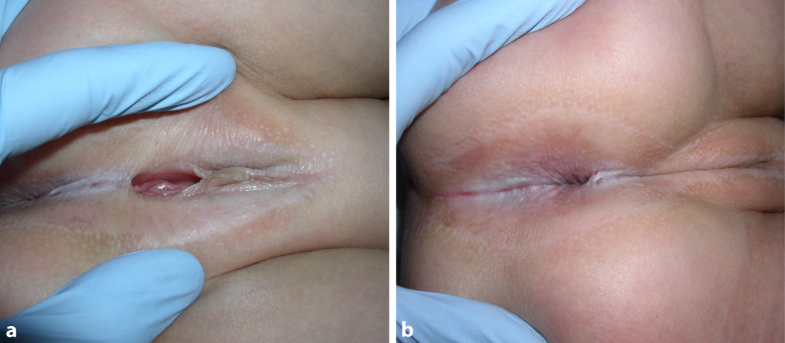 Schlüsselwörter
Lichen sclerosus 
Entzündliche Vulvaerkrankung 
Glukokortikosteroidbehandlung 
Sekundäre Phimose 
Karzinomentwicklung 
7-year-old female with unbearable itching in the genital area
Preparation for the specialist examination: part 32
Notes
Einhaltung ethischer Richtlinien
Interessenkonflikt
W. Anemüller, M. Fleischer und N. Stutz geben an, dass kein Interessenkonflikt besteht.
Dieser Beitrag beinhaltet keine von den Autoren durchgeführten Studien an Menschen oder Tieren. Für Bildmaterial oder anderweitige Angaben innerhalb des Manuskripts, über die Patienten zu identifizieren sind, liegt von ihnen und/oder ihren gesetzlichen Vertretern eine schriftliche Einwilligung vor.
The supplement containing this article is not sponsored by industry.
Copyright information
© Springer Medizin Verlag GmbH, ein Teil von Springer Nature 2019