Zusammenfassung
Die Achillessehnenruptur kann mit einem Therapieschuh oder einer Orthese konservativ behandelt werden. Prospektiv-randomisierte Studien zeigen bei richtiger Indikation, bei richtiger Durchführung und vernünftiger Compliance der Patienten vergleichbare Ergebnisse zur operativen Behandlung. Zielgruppe für eine konservative Behandlung sind inaktive Patienten oder Patienten mit erheblichen allgemeinen Risikofaktoren. Die operative Behandlung der Achillessehne ist seit Jahrzehnten im Wandel. Die direkten offenen Nähte wurden durch minimal-invasive Verfahren mit perkutanen Nähten abgelöst. Chronische Rupturen und/oder Defektsituationen, die unbehandelt zu keiner stabilen Heilung führen, können offen rekonstruktiv oder minimal-invasiv behandelt werden. Zu den rekonstruktiven Techniken zählen Turn-down-Flaps und Verschiebeplastiken aus der Aponeurose sowie ein freier Sehnentransfer mittels Flexor hallucis longus oder den Hamstrings. Der Goldstandard der Nachbehandlung ist die früh-funktionelle Therapie.
Abstract
Achilles tendon ruptures can be treated conservatively with a therapeutic shoe or an orthosis. Prospective randomized trials show comparable results to surgical treatment, with the right indications, correct performance and reasonable patient compliance. The target groups for conservative treatment are inactive patients and patients with substantial general risk factors. Surgical treatment of the Achilles tendon has changed over the decades. The direct open suture technique was replaced by minimally invasive procedures with percutaneous sutures. Chronic ruptures and/or defect situations that if untreated would lead to unstable healing, can be treated by an open reconstructive or minimally invasive procedure. Reconstructive techniques include turn-down flaps and aponeurotic reconstructive repair as well as a free tendon transfer using the flexor hallucis longus tendon or hamstrings. The gold standard for follow-up treatment is an early functional treatment.
This is a preview of subscription content, log in to check access.
Access options
Buy single article
Instant unlimited access to the full article PDF.
US$ 39.95
Price includes VAT for USA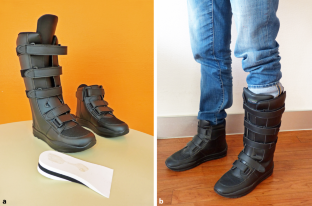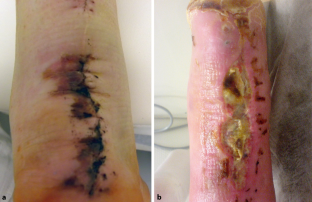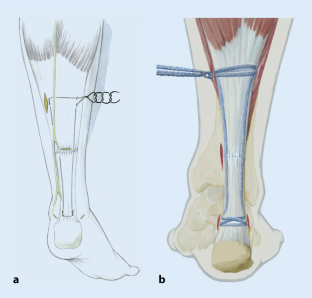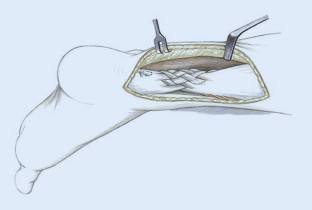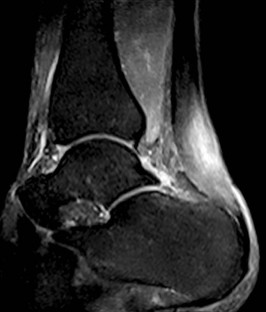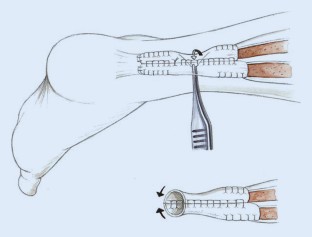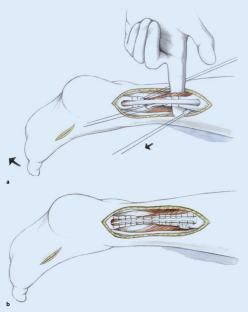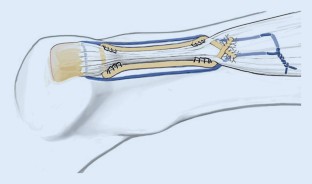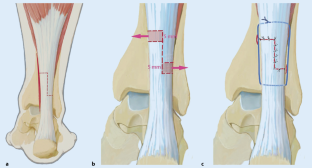 Literatur
1.

Sauerbier M, Erdmann D, Brüner S et al (2000) Die Deckung von Weichteildefekten und instabilen Narben über der Achillessehne durch freie mikrochirurgische Lappenplastiken. Chirurg 71:1161–1166

2.

Schroeder D, Lehmann M, Steinbrueck K (1997) Treatment of acute Achilles tendon ruptures: open vs. percutaneous repair vs. conservative tratment. Orthop Trans 21:1228

3.

Wu Y, Mu Y, Yin L et al (2019) Complications in the management of acute Achilles tendon rupture: a systematic review and network meta-analysis of 2060 patients. Am J Sports Med. https://doi.org/10.1177/0363546518824601:363546518824601

4.

Khan RJ, Fick D, Keogh A et al (2005) Treatment of acute achilles tendon ruptures. A meta-analysis of randomized, controlled trials. J Bone Joint Surg Am 87:2202–2210

5.

Thermann H, Zwipp H, Tscherne H (1995) Functional treatment concept of acute rupture of the Achilles tendon. 2 years results of a prospective randomized study. Unfallchirurg 98:21–32

6.

Cetti R, Christensen SE, Ejsted R et al (1993) Operative versus nonoperative treatment of Achilles tendon rupture. A prospective randomized study and review of the literature. Am J Sports Med 21:791–799

7.

Hillin CD, Fryhofer GW, Freedman BR et al (2019) Effects of immobilization angle on tendon healing after achilles rupture in a rat model. J Orthop Res 37:562–573

8.

Aufwerber S, Heijne A, Gravare Silbernagel K et al (2019) High plantar force loading after Achilles tendon rupture repair with early functional mobilization. Am J Sports Med 47:894–900

9.

Lim CS, Lees D, Gwynne-Jones DP (2017) Functional outcome of acute Achilles tendon rupture with and without operative treatment using identical functional bracing protocol. Foot Ankle Int 38:1331–1336

10.

Thermann H (1996) Die funktionelle Behandlung der frischen Achillessehnenruptur. Springer, Berlin, Heidelberg

11.

Thermann H (1999) Management of Achilles tendon rupture. Orthopäde 28:82–97

12.

Maffulli N (1999) Rupture of the Achilles tendon. J Bone Joint Surg Am 81:1019–1036

13.

Maffulli N, Peretti GM (2019) Surgery or conservative management for Achilles tendon rupture? BMJ 364:k5344

14.

Klaue K, Masquelet A, Jakob R (1991) Soft tissue and tendon injury in the foot. Curr Opin Orthop 2:519–528

15.

Lill H, Moor C, Schmidt A et al (1996) Current status of treatment of Achilles tendon ruptures. Results of a nationwide survey in Germany. Chirurg 67:1160–1165

16.

Hofstätter S, Schuh R, Trnka H‑J et al (2017) Achillessehne. In: Imhoff AB, Feucht MJ (Hrsg) Atlas sportorthopädisch-sporttraumatologische Operationen. Springer, Berlin, Heidelberg, S 417–431

17.

Zwipp H, Sudkamp N, Thermann H et al (1989) Rupture of the Achilles tendon. Results of 10 years' follow-up after surgical treatment. A retrospective study. Unfallchirurg 92:554–559

18.

Ma GW, Griffith TG (1977) Percutaneous repair of acute closed ruptured achilles tendon: a new technique. Clin Orthop Relat Res 128:247–255

19.

Aktas S, Kocaoglu B (2009) Open versus minimal invasive repair with Achillon device. Foot Ankle Int 30:391–397

20.

Amlang MH, Christiani P, Heinz P et al (2005) Die perkutane Achillessehnennaht mit dem Dresdner Instrument. Unfallchirurg 108:529–536

21.

Assal M, Jung M, Stern R et al (2002) Limited open repair of Achilles tendon ruptures: a technique with a new instrument and findings of a prospective multicenter study. J Bone Joint Surg Am 84:161–170

22.

Bijlsma TS, Van Der Werken C (2000) Operative Behandlung der Achillessehnenruptur – eine minimal invasive Technik und funktionelle Nachbehandlung. Oper Orthop Traumatol 12:309–315

23.

Buchgraber A, Passler HH (1997) Percutaneous repair of Achilles tendon rupture. Immobilization versus functional postoperative treatment. Clin Orthop Relat Res 341:113–122

24.

Gorschewsky O, Vogel U, Schweizer A et al (1999) Percutaneous tenodesis of the Achilles tendon. A new surgical method for the treatment of acute Achilles tendon rupture through percutaneous tenodesis. Injury 30:315–321

25.

Kakiuchi M (1995) A combined open and percutaneous technique for repair of tendo Achillis. Comparison with open repair. J Bone Joint Surg Br 77:60–63

26.

Lim J, Dalal R, Waseem M (2001) Percutaneous vs. open repair of the ruptured Achilles tendon—a prospective randomized controlled study. Foot Ankle Int 22:559–568

27.

Mertl P, Jarde O, Van FT et al (1999) Percutaneous tenorrhaphy for Achilles tendon rupture. Study of 29 cases. Rev Chir Orthop Reparatrice Appar Mot 85:277–285

28.

Tejwani NC, Lee J, Weatherall J et al (2014) Acute achilles tendon ruptures: a comparison of minimally invasive and open approach repairs followed by early rehabilitation. Am J Orthop (Belle Mead NJ) 43:E221–E225

29.

Webb JM, Bannister GC (1999) Percutaneous repair of the ruptured tendo Achillis. J Bone Joint Surg Br 81:877–880

30.

Hockenbury RT, Johns JC (1990) A biomechanical in vitro comparison of open versus percutaneous repair of tendon Achilles. Foot & Ankle 11:67–72

31.

Thermann H (2017) Neue Techniken Fußchirurgie. Springer, Berlin, Heidelberg

32.

Kissel CG, Blacklidge DK, Crowley DL (1994) Repair of neglected Achilles tendon ruptures—procedure and functional results. J Foot Ankle Surg 33:46–52

33.

Myerson MS (1999) Achilles tendon ruptures. Instr Course Lect 48:219–230

34.

Hadi M, Young J, Cooper L et al (2013) Surgical management of chronic ruptures of the Achilles tendon remains unclear: a systematic review of the management options. Br Med Bull 108:95–114

35.

Boorboor P, Lahoda LU, Spies M et al (2006) Resektion der infizierten Achillessehne. Chirurg 77:1144–1151

36.

Maffulli N, Ajis A (2008) Management of chronic ruptures of the Achilles tendon. J Bone Joint Surg Am 90:1348–1360

37.

Peterson KS, Hentges MJ, Catanzariti AR et al (2014) Surgical considerations for the neglected or chronic Achilles tendon rupture: a combined technique for reconstruction. J Foot Ankle Surg 53:664–671

38.

Wapner KL, Hecht PJ, Mills RH Jr. (1995) Reconstruction of neglected Achilles tendon injury. Orthop Clin North Am 26:249–263

39.

Amlang MH, Rosenow M, Rammelt S et al (2008) Der Flexor-hallucis-longus-Transfer zum Ersatz der Achillessehne. Unfallchirurg 111:499–506

40.

Coull R, Flavin R, Stephens MM (2003) Flexor hallucis longus tendon transfer: Evaluation of postoperative morbidity. Foot Ankle Int 24:931–934

41.

Den Hartog BD (2003) Flexor hallucis longus transfer for chronic Achilles tendonosis. Foot Ankle Int 24:233–237

42.

Wong MW, Ng VW (2005) Modified flexor hallucis longus transfer for Achilles insertional rupture in elderly patients. Clin Orthop Relat Res 431:201–206

43.

Blauth W (1990) Die Peroneus-brevis-Plastik bei großen Achillessehnendefekten. Oper Orthop Traumatol 2:14–21

44.

Dumbre Patil SS, Dumbre Patil VS, Basa VR et al (2014) Semitendinosus tendon autograft for reconstruction of large defects in chronic Achilles tendon ruptures. Foot Ankle Int 35:699–705

45.

El Shazly O, Abou El Soud MM, El Mikkawy DME et al (2014) Endoscopic-assisted Achilles tendon reconstruction with free hamstring tendon autograft for chronic rupture of Achilles tendon: clinical and Isokinetic evaluation. Arthroscopy 30:622–628

46.

Maffulli N, Del Buono A, Spiezia F et al (2013) Less-invasive semitendinosus tendon graft augmentation for the reconstruction of chronic tears of the Achilles tendon. Am J Sports Med 41:865–871

47.

Maffulli N, Del Buono A, Loppini M et al (2014) Ipsilateral free semitendinosus tendon graft with interference screw fixation for minimally invasive reconstruction of chronic tears of the Achilles tendon. Oper Orthop Traumatol 26:513–519

48.

Bohnsack M, Ruhmann O, Kirsch L et al (2000) Surgical shortening of the Achilles tendon for correction of elongation following healed conservatively treated Achilles tendon rupture. Z Orthop Ihre Grenzgeb 138:501–505
Ethics declarations
Interessenkonflikt
Gemäß den Richtlinien des Springer Medizin Verlags werden Autoren und Wissenschaftliche Leitung im Rahmen der Manuskripterstellung und Manuskriptfreigabe aufgefordert, eine vollständige Erklärung zu ihren finanziellen und nichtfinanziellen Interessen abzugeben.
Autoren
H. Thermann: A. Finanzielle Interessen: Referentenhonorar oder Kostenerstattung als passiver Teilnehmer: Fa. Arthrex Kostenerstattung für Kurse und Kongresse. – Bezahlter Berater/interner Schulungsreferent/Gehaltsempfänger o. Ä.: Fa. Arthrex, Senior Consultant | Fa. Arbrecht, Royalties für Produktentwicklung. – B. Nichtfinanzielle Interessen: Ärztlicher Direktor ATOS Klinik Heidelberg.
Wissenschaftliche Leitung
Die vollständige Erklärung zum Interessenkonflikt der Wissenschaftlichen Leitung finden Sie am Kurs der zertifizierten Fortbildung auf www.springermedizin.de/cme.
Der Verlag
erklärt, dass für die Publikation dieser CME-Fortbildung keine Sponsorengelder an den Verlag fließen.
Für diesen Beitrag wurden vom Autor keine Studien an Menschen oder Tieren durchgeführt. Für die aufgeführten Studien gelten die jeweils dort angegebenen ethischen Richtlinien.
Additional information
Wissenschaftliche Leitung
M. Betzler, Essen
H.-J. Oestern, Celle
P. M. Vogt, Hannover
CME-Fragebogen
CME-Fragebogen
Eine konservative Behandlung der Achillessehnenruptur …
sollte nur bei älteren Patienten in Betracht gezogen werden.
führt zu einem Kraftverlust.
hat eine höhere Rerupturrate.
sollte immobilisierend im Gips erfolgen.
ist aufgrund minimal-invasiver Techniken obsolet.
Eine konservative Behandlungsmethode der Achillessehnenruptur ist die Spitzschuhstellung im Therapieschuh. Diese Behandlungsform …
ist in den ersten Wochen obligat.
wird nach 6 bis 8 Wochen redressiert.
entlastet den Patienten komplett innerhalb von 6 Wochen.
beinhaltet das 12-wöchige Tragen des Therapieschuhs.
bedeutet eine Vollbelastung im Therapieschuh (Orthese).
Die operative Therapie der Achillessehnenruptur …
sollte offen mit direkter Naht erfolgen.
beinhaltet als minimalinvasive Technik geringere Weichteilkomplikationen.
zeigt mit offener Nahttechnik weniger Rerupturen.
führt in minimal-invasiver Technik selten zu Nervenirritationen (N. suralis).
zeigt mit offenen Nähten bei biomechanischen Tests bessere, stabilere Ergebnisse als die minimal-invasivere Technik.
Bei einem Abriss der Achillessehne und des M. soleus ist folgendes Vorgehen zu empfehlen. Der M. soleus …
wird in der Klöppeltechnik anatomisch adressiert.
wird in der perkutanen Technik anatomisch adressiert.
wird in der offenen Technik anatomisch adressiert.
kann nicht anatomisch rekonstruiert werden.
muss nicht anatomisch rekonstruiert werden.
Chronische Achillessehnenrupturen …
haben auch einen hörbaren Knall.
sind ausschließlich übersehene Rupturen, die nicht behandelt wurden.
können mit einer direkten Naht versorgt werden.
können lediglich mit rekonstruktiven Maßnahmen versorgt werden.
haben, wenn sie bereits länger bestehen, immer eine sichtbare Atrophie der Wadenmuskulatur.
Die endoskopische Technik in der Behandlung der Achillessehnenruptur …
ist weit verbreitet.
stellt bei chronischen Rupturen eine Kombination aus Débridement und Rahmennaht dar.
ist nicht anwendbar bei chronischen Rupturen.
kann vorrangig bei akuten Rupturen angewendet werden.
kann insbesondere bei chronischen Rupturen angewendet werden.
Bezüglich der rekonstruktiven Maßnahme in der Behandlung der Achillessehnenruptur …
können Turn-down-Flaps bei jeder Defektgröße angewendet werden.
kommt es zu keinerlei funktionellen Einbußen nach richtiger Durchführung des Flexor-hallucis-longus-Transfers.
sollten V‑Y-Plastiken bei jüngeren Patienten durchgeführt werden, um die Sehnen zu schonen.
können Sehnentransfers mit Hamstrings, welche bei jeder Defektgröße angewendet werden.
ist die Anwendung des Peroneus-brevis-Transfers und des Flexor-hallucis-longus-Transfers praktisch identisch, da beide Sehnen phasisch sind.
Operativ-rekonstruktive Verfahren zur Behandlung der Achillessehnenruptur sind …
Aponeurosetechniken, die von Flexor-hallucis-longus- und Hamstrings-Sehnentransfers in ihrer Bedeutung abgelöst wurden.
Turn-down-Flaps, welche bei älteren Menschen auch bei akuten Rupturen zur Stabilisierung angewendet werden sollten.
Überbrückungen, wie der Flexor-hallucis-Transfer, der allerdings häufig zu Verletzungen des Nervus tibialis führt.
am Hamstring (ischiokrurale Muskulatur), die aufgrund ihrer Größe nur offen eingebracht werden können.
mit der nicht phasischen Peroneus-brevis-Sehne nicht durchführbar.
Eine Achillessehnenverlängerung nach einer Ruptur …
tritt bei Weichteilkomplikationen auf.
wird mit einer perkutanen Naht gerafft.
verlangt eine Verkürzungsplastik, um eine Funktionsverbesserung zu erreichen.
führt postoperativ zu einer normalen Kraftentfaltung in der Plantarflexion.
tritt nach konservativer Therapie sehr selten auf.
Die Achillessehnenverlängerung …
kann durch langwieriges intensives Krafttraining kompensiert werden.
zeigt eine normale Wadenmuskulatur.
verdeutlicht in der Magnetresonanztomographie eine eher normale Sehnenstruktur.
zieht eine dauerhaft verdickte Sehne nach sich.
limitiert den Einbeinzehenstand.
About this article
Cite this article
Thermann, H. Achillessehnenruptur – Teil 2: Therapie und Nachbehandlung. Chirurg 91, 85–100 (2020). https://doi.org/10.1007/s00104-019-01106-5
Schlüsselwörter
Konservative Behandlung

Offene Chirurgie

Minimal-invasive Verfahren

Rekonstruktive Operationsverfahren

Chronische Ruptur
Keywords
Open surgery

Minimally invasive surgical procedures

Chronic rupture

Reconstructive surgery

Conservative treatment