Zusammenfassung
Der zunehmende Anteil an älteren und polymorbiden Menschen in der Bevölkerung bedeutet auch eine Zunahme von Polymedikation und deren Risiken. Dies stellt neue und komplexe Anforderungen an die interdisziplinäre und sektorübergreifende Zusammenarbeit. Das prä-, peri- und postoperative Management von Polymedikation wird im Artikel im Hinblick auf häufige Risiken und die Chancen eines systematischen Informationsaustausches betrachtet. Die Etablierung einer interdisziplinären Aufnahmeroutine in chirurgischen Departments und die Kommunikation mit dem Hausarzt sind dabei ausschlaggebend für die Patientensicherheit.
Abstract
The increasing proportion of older and polymorbid people in the population also means an increase in polymedication and its risks. This places new and complex demands on the interdisciplinary and transsectoral collaboration. The preoperative, perioperative and postoperative management of polymedication is described in the article with respect to frequent risks and the chances of a systematic exchange of information. The establishment of an interdisciplinary admission routine in departments of surgery and communication with the family practitioner is crucial for patient safety.
This is a preview of subscription content, log in to check access.
Access options
Buy single article
Instant unlimited access to the full article PDF.
US$ 39.95
Price includes VAT for USA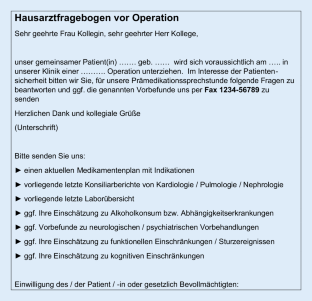 Literatur
1.

ACS (American College of Surgeons) (Hrsg) NSQIP/AGS Best Practice Guideline: Optimal preoperative assessment of the geriatric surgical patient. https://www.facs.org/~/media/files/quality%20programs/nsqip/acsnsqipagsgeriatric2012guidelines.ashx. Zugegriffen: 25. Sept. 2019

2.

Aldecoa C, Bettelli G, Bilotta F, Sanders R, Audisio R, Borozdina A, Cherubini A, Jones C (2017) European Society of Anaesthesiology evidence-based and consensus-based guideline on postoperative delirium. Eur J Anaesthesiol 34(4):192–214

3.

Amrock LG, Deiner S (2014) The implication of frailty on preoperative risk assessment. Curr Opin Anaesthesiol 27:330–335

4.

Boddaert J, Cohen-Bittan J, Khiami F, Le Manach Y, Raux M, Beinis JY, Verny M, Riou B (2013) Postoperative admission to a dedicated geriatric unit decreases mortality in elderly patients with hip fracture. PLoS ONE 9(1)

5.

DEGAM (Hrsg) Hausärztliche Leitline: Multimedikation. https://www.awmf.org/uploads/tx_szleitlinien/053-043l_S2e_Multimedikation_2014-05-abgelaufen.pdf. Zugegriffen: 25. Sept. 2019

6.

DGAI, DGCH, DGIM (2017) Präoperative Evaluation erwachsener Patienten vor elektiven, nicht herz-thoraxchirurgischen Eingriffen. Gemeinsame Empfehlung der DGAI, DGCH und DGIM. Anasth Intensivmed 58:349–364

7.

Freyer J, Greißing C, Buchal P, Kabitz HJ, Kasprick L, Schuchmann M, Sultzer R (2016) Schiek. Entlassungsmedikation – Was weiß der Patient bei Entlassung über seine Arzneimittel? Dtsch Med Wochenschr 141(15:e150–e156

8.

Freyer J, Hueter L, Kasprick L, Frese T, Sultzer R, Schiek S, Bertsche T (2018) Drug-related problems in geriatric rehabilitation patients after discharge—a prevalence analysis and clinical case scenario-based pilot study. Res Social Adm Pharm 14(7):628–637

9.

Griffiths R, Beech F, Brown A, Dhesi J, Foo I, Goodall J, Harrop-Griffiths W, Jameson J, Love N, Pappenheim K, White S (2014) Association of Anesthetists of Great Britain and Ireland. Peri-operative care of the elderly 2014: Association of Anaesthetists of Great Britain and Ireland. Anaesthesia 69(Suppl 1):81–98

10.

Hein C, Forques A, Piau A et al (2014) Impact of polypharmacy on occurrence of delirium in elderly emergency patients. J Am Med Dir Assoc 15:e11–e15

11.

Janssen TL, Steyerberg EW, Langenberg JCM, de Lepper CCHAVH, Wielders D, Seerden TCJ, de Lange DC, Wijsman JH, Ho GH, Gobardhan PD, van Alphen R, van der Laan L (2019) Multimodal prehabilitation to reduce the incidence of delirium and other adverse events in elderly patients undergoing elective major abdominal surgery: An uncontrolled before-and-after study. PLoS ONE 14(6):e218152

12.

Koper D, Kamenski G, Flamm M, Böhmdorfer B, Sönnichsen A (2013) Frequency of medication errors in primary care patients with polypharmacy. Fam Pract 30(3):313–319

13.

Lin HS, McBride RL, Hubbard RE (2018) Frailty and anesthesia—risks during and post-surgery. Local Reg Anesth 11:61–73

14.

Maher RL, Hanlon J, Hajjar ER (2014) Clinical consequences of polypharmacy in elderly. Expert Opin Drug Saf 13:57–65

15.

Mende A, Riegel AK, Plümer L, Olotu C, Goetz AE, Kiefmann R (2019) Determinants of perioperative outcome in frail older patients. Dtsch Arztebl Int 116(5):73–82

16.

Moßhammer D, Haumann H, Mörike K, Joos S (2016) Polypharmacy-an upward trend with unpredictable effects. Dtsch Arztebl Int 113(38):627–633

17.

Olotu C, Weimann A, Bahrs C, Schwenk W, Scherer M, Kiefmann R (2019) The perioperative care of older patients. Dtsch Arztebl Int 116(5):63–69

18.

Reeve E, Wolff JL, Skehan M, Bayliss EA, Hilmer SN, Boyd CM (2018) Assessment of attitudes toward deprescribing in older medicare beneficiaries in the United States. Jama Intern Med 178(12):1673–1680

19.

Schreiner MJ, Kehl F (2019) Anästhesievorbereitung: Welche Medikamente vor einer Narkose abgesetzt werden sollten. Dtsch Arztebl 116(31–32):1428–1432

20.

Thio SL, Nam J, van Driel ML, Dirven T, Blom JW (2018) Effects of discontinuation of chronic medication in primary care: a systematic review of deprescribing trials. Br J Gen Pract 68(675):e663–e672

21.

Watt J, Tricco AC, Talbot-Hamon C et al (2018) Identifying older adults at risk of harm following elective surgery: a systematic review and metaanalysis. BMC Med 16:2

22.

Wirtz D, Kohlhof H (2019) The geriatric patient: special aspects of peri-operative management. EFORT Open Reviews 4(6):240–247

23.

Zafirova Z, Vázquez-Narváez KG, Borunda D (2018) Preoperative management of medications. Anesthesiol Clin 36(4):663–675

24.

Zoremba N, Coburn M (2019) Acute confusional states in hospital. Dtsch Arztebl Int 116:101–106
Danksagung
Die Autoren danken PD Dr. med. G. Poepken, Potsdam und Dr. med. H. Ogilvie, Kreuzlingen für die wertvolle Durchsicht und Kommentierung des Manuskriptes.
Ethics declarations
Interessenkonflikt
J. Abendroth und A. Klement geben an, dass kein Interessenkonflikt besteht.
Für diesen Beitrag wurden von den Autoren keine Studien an Menschen oder Tieren durchgeführt. Für die aufgeführten Studien gelten die jeweils dort angegebenen ethischen Richtlinien.
Additional information
Bei allen Bezeichnungen, die auf Personen bezogen sind, meint die gewählte Formulierung alle Geschlechter. Aus Gründen der besseren Lesbarkeit wird bei der Verwendung der Begriffe die jeweils weibliche, männliche und/oder diverse Form mitgedacht.
About this article
Cite this article
Abendroth, J., Klement, A. Perioperatives Management von Polymedikation bei geriatrischen Patienten: Risikoreduktion und Abstimmung mit dem Hausarzt. Chirurg (2020). https://doi.org/10.1007/s00104-019-01094-6
Schlüsselwörter
Postoperatives Delir

Risikofaktoren

Präoperatives Assessment

Patientensicherheit

Postoperative Medikation
Keywords
Postoperative delirium

Risk factors

Preoperative assessment

Patient safety

Postoperative medication