Zusammenfassung
Hintergrund
Die Terroranschlagwelle in Europa lässt nicht nach. Geprägt durch die Erfahrungen aus Kriegsgebieten und den aktuellen Ereignissen ist ein Verständnis für die spezielle Situation des Terroranschlagtraumas und seiner Behandlung notwendig.
Methode
Anhand einer kurzen Übersicht über die aktuelle Datenlage zum Thema wird das Damage-control-Prinzip für die einzelnen Organsysteme mit praktischen Tipps aus der Perspektive einer spezialisierten hepatobiliären Chirurgie dargestellt.
Schlussfolgerung
Die Beschäftigung mit der neuen Entität des Anschlagtraumas und der Konsequenz der "blast injury" ist für jeden Chirurgen notwendig. Dabei kommt es nicht nur auf die medizinische Versorgung, sondern auch auf die Überlegungen zum Umgang mit den Verletzungen in einer Ressourcenmangelsituation an. Im Bereich von Leber und Pankreas ist die Anwendung einfacher Methoden zur Kontrolle der Verletzungen Erfolg versprechend.
Abstract
Background
Terrorist attacks have outreached to Europe with more and more attacks on civilians. Derived from war surgery experience and from lessons learned from major incidents, it seems mandatory for every surgeon to improve understanding of the special circumstances of trauma following a terrorist attack and its' management.
Method
A short literature review is followed by outlining the damage control surgery (DCS) principle for each organ system with practical comments from the perspective of a specialized hepatobiliary (HPB) surgery unit.
Conclusion
Every surgeon has to become familiar with the new entities of blast injuries and terrorist attack trauma. This concerns not only the medical treatment but also tailoring surgical treatment with a view to a lack of critical resources under these circumstances. For liver and pancreatic trauma, simple treatment strategies are a key to success.
This is a preview of subscription content, log in to check access.
Access options
Buy single article
Instant unlimited access to the full article PDF.
US$ 39.95
Price includes VAT for USA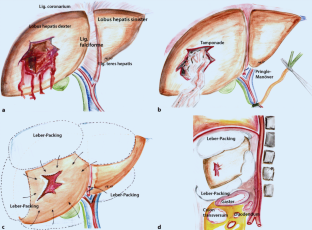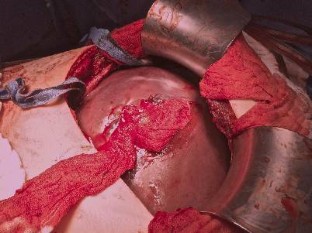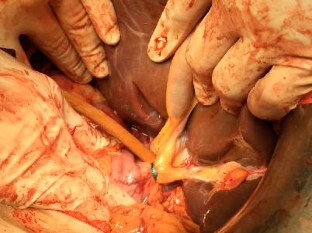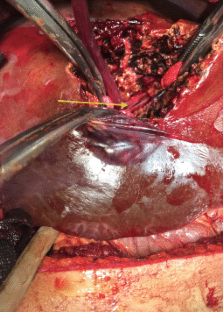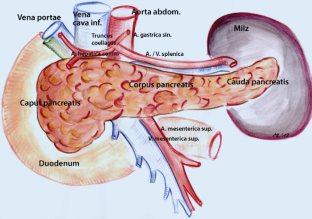 Literatur
1.

Ahmed N, Vernick J (2011) Management of liver trauma in adults. J Emerg Trauma Shock 4:114–119. https://doi.org/10.4103/0974-2700.76846

2.

Asensio JA, Demetriades D, Chahwan S et al (2000) Approach to the management of complex hepatic injuries. J Trauma 48:66–69

3.

Biffl WL, Leppaniemi A (2014) Management guidelines for penetrating abdominal trauma. World J Surg 39:1373–1380. https://doi.org/10.1007/s00268-014-2793-7

4.

Bograd B, Rodriguez C, Amdur R et al (2013) Use of damage control and the open abdomen in combat. Am Surg 79:747–753

5.

Brown CVR, Velmahos GC, Neville AL et al (2005) Hemodynamically "stable" patients with peritonitis after penetrating abdominal trauma: identifying those who are bleeding. Arch Surg 140:767–772. https://doi.org/10.1001/archsurg.140.8.767

6.

Champion HR, Holcomb JB, Young LA (2009) Injuries from explosions: physics, biophysics, pathology, and required research focus. J Trauma 66:1468–1477. https://doi.org/10.1097/ta.0b013e3181a27e7f (discussion 1477)

7.

Coccolini F, Montori G, Catena F et al (2015) Liver trauma: WSES position paper. World J Emerg Surg 10:324–315. https://doi.org/10.1186/s13017-015-0030-9

8.

Cooper GJ, Maynard RL, Cross NL, Hill JF (1983) Casualties from terrorist bombings. J Trauma 23:955–967

9.

DGU (2017) S3 – Leitlinie Polytrauma/Schwerverletzten-Behandlung. AWMF, Berlin, S 1–446

10.

Di Saverio S, Moore EE, Tugnoli G et al (2012) Non operative management of liver and spleen traumatic injuries: a giant with clay feet. World J Emerg Surg 7:3–6. https://doi.org/10.1186/1749-7922-7-3

11.

Doklestić K, Stefanović B, Gregorić P et al (2015) Surgical management of AAST grades III–V hepatic trauma by damage control surgery with perihepatic packing and definitive hepatic repair – single centre experience. World J Emerg Surg. https://doi.org/10.1186/s13017-015-0031-8

12.

Düsel W, Lieber A, Lenz S, Doll D (2005) Penetrierendes Bauchtrauma aus der Sicht der Bundeswehr. Chirurg 76:935–944. https://doi.org/10.1007/s00104-005-1091-1

13.

Eastridge BJ, Mabry RL, Seguin P et al (2012) Death on the battlefield (2001–2011): implications for the future of combat casualty care. J Trauma Acute Care Surg 73:S431–S437. https://doi.org/10.1097/ta.0b013e3182755dcc

14.

Franke A, Bieler D, Friemert B et al (2017) The first aid and hospital treatment of gunshot and blast injuries. Dtsch Arztebl Int 114:237–243. https://doi.org/10.3238/arztebl.2017.0237

15.

Güsgen C, Willms A, Schwab R (2017) Damage control surgery. Trauma Berufskrankh 19:80–87. https://doi.org/10.1007/s10039-016-0200-3

16.

Heuer M, Hussmann B, Lefering R et al (2011) Pancreatic injury in 284 patients with severe abdominal trauma: outcome, course, and treatment algorithm. Langenbecks Arch Surg 396:1067–1076. https://doi.org/10.1007/s00423-011-0836-1

17.

Horrocks CL (2001) Blast injuries: biophysics, pathophysiology and management principles. J R Army Med Corps 147:28–40

18.

Kim HS, Lee DK, Kim IW et al (2001) The role of endoscopic retrograde pancreatography in the treatment of traumatic pancreatic duct injury. Gastrointest Endosc 54:49–55. https://doi.org/10.1067/mge.2001.115733

19.

Leenen LPH (2009) Abdominal trauma: from operative to nonoperative management. Injury 40(Suppl 4):62–68. https://doi.org/10.1016/j.injury.2009.10.038

20.

Leibovici D, Gofrit ON, Stein M et al (1996) Blast injuries: bus versus open-air bombings – a comparative study of injuries in survivors of open-air versus confined-space explosions. J Trauma 41:1030–1035

21.

Petri LS, Gruttadauria S, Pagano D et al (2012) Surgical management of complex liver trauma: a single liver transplant center experience. Am Surg 78:20–25

22.

Lichte P, Oberbeck R, Binnebösel M et al (2010) A civilian perspective on ballistic trauma and gunshot injuries. Scand J Trauma Resusc Emerg Med 18:35. https://doi.org/10.1186/1757-7241-18-35

23.

Matthes G, Stengel D, Seifert J et al (2003) Blunt liver injuries in polytrauma: results from a cohort study with the regular use of whole-body helical computed tomography. World J Surg 27:1124–1130. https://doi.org/10.1007/s00268-003-6981-0

24.

Moore EE, Malangoni MA, Cogbill TH et al (1996) Organ injury scaling VII: cervical vascular, peripheral vascular, adrenal, penis, testis, and scrotum. J Trauma 41:523–524

25.

Norrman G, Tingstedt B, Ekelund M, Andersson R (2009) Non-operative management of blunt liver trauma: feasible and safe also in centres with a low trauma incidence. HPB (Oxford) 11:50–56. https://doi.org/10.1111/j.1477-2574.2008.00010.x

26.

Oertli D (2006) Pankreastrauma. In: Praxis der Viszeralchirurgie. Springer, Berlin Heidelberg, S 713–717

27.

Owers C, Morgan JL, Garner JP (2010) Abdominal trauma in primary blast injury. Br J Surg 98:168–179. https://doi.org/10.1002/bjs.7268

28.

Peleg K, Aharonson-Daniel L, Stein M et al (2004) Gunshot and explosion injuries. Ann Surg 239:311–318. https://doi.org/10.1097/01.sla.0000114012.84732.be

29.

Penn-Barwell JG, Sargeant ID, Severe Lower Extremity Combat Trauma (SeLECT) Study Group (2016) Gun-shot injuries in UK military casualties – features associated with wound severity. Injury 47:1067–1071. https://doi.org/10.1016/j.injury.2016.02.004

30.

Polanco P, Leon S, Pineda J et al (2008) Hepatic resection in the management of complex injury to the liver. J Trauma 65:1264–1269. https://doi.org/10.1097/ta.0b013e3181904749 (discussion 1269–1270)

31.

Seamon MJ, Kim PK, Stawicki SP et al (2009) Pancreatic injury in damage control laparotomies: Is pancreatic resection safe during the initial laparotomy? Injury 40:61–65. https://doi.org/10.1016/j.injury.2008.08.010

32.

Service Médical du RAID (2016) Tactical emergency medicine: lessons from Paris marauding terrorist attack. Crit Care 20:37. https://doi.org/10.1186/s13054-016-1202-z

33.

Slotta JE, Justinger C, Kollmar O et al (2014) Liver injury following blunt abdominal trauma: a new mechanism-driven classification. Surg Today 44:241–246. https://doi.org/10.1007/s00595-013-0515-7

34.

Stanković N (2005) War liver injuries. Vojnosanit Pregl 62:3–10

35.

van der Wilden GM, Velmahos GC, Emhoff T et al (2012) Successful nonoperative management of the most severe blunt liver injuries: a multicenter study of the Research Consortium of New England Centers for Trauma. Arch Surg 147:423–428. https://doi.org/10.1001/archsurg.2012.147

36.

Wolf SJ, Bebarta VS, Bonnett CJ et al (2009) Blast injuries. Lancet 374:405–415. https://doi.org/10.1016/s0140-6736(09)60257-9

37.

Zhang J, Qian H‑G, Leng J‑H et al (2015) Ischemic liver injury after complete occlusion of hepatic artery in the treatment of delayed postoperative arterial bleeding. J Gastrointest Surg 19:2235–2242. https://doi.org/10.1007/s11605-015-2930-0

38.

Zuckerman S (1940) Experimental study of blast injuries to the lungs. Lancet 236(6104):219–224
Ethics declarations
Interessenkonflikt
G. A. Stavrou, M.J. Lipp und K. J. Oldhafer geben an, dass kein Interessenkonflikt besteht.
Dieser Beitrag beinhaltet keine von den Autoren durchgeführten Studien an Menschen oder Tieren.
Caption Electronic Supplementary Material
About this article
Cite this article
Stavrou, G.A., Lipp, M.J. & Oldhafer, K.J. Vorgehen bei Leber‑, Milz‑ und Pankreasverletzungen inklusive "damage control surgery" bei Terroranschlägen. Chirurg 88, 841–847 (2017). https://doi.org/10.1007/s00104-017-0503-3
Schlüsselwörter
Terroranschlagtrauma

Damage-control-Strategie

Explosionsverletzung

Ressourcenmangel

Blutungsschock
Keywords
Terrorist attack trauma

Damage control strategy

Blast injuries

Lack of resources

Hemorrhagic shock