Zusammenfassung
Operatives Prinzip der onkologischen Radikaloperation beim nodal-metastasierten Schilddrüsenkarzinom ist wie bei anderen onkologischen Eingriffen in der Viszeralchirurgie die anatomiebezogene Umsetzung des Konzepts der En-bloc ("No-touch")-Resektion des primärtumortragenden Organs einschließlich seiner ersten Lymphknotenstation unter Erhalt der zu schonenden Strukturen des Aerodigestivtrakts, der Rekurrensnerven und Nebenschilddrüsen. Anhand eines Operationsvideos, welches online zur Verfügung steht, wird die Operationstechnik detailliert dargestellt. Weiterhin werden Vor- und Nachteile der Technik diskutiert.
Abstract
The aim of radical oncological surgery for nodal metastasized papillary thyroid cancer is, as for other oncological interventions in visceral surgery, the anatomy-related implementation of the concept of en bloc (no touch) resection of the organ bearing the primary tumor together with the first lymph node station, while the structures of the aerodigestive tract, the recurrent laryngeal nerves and parathyroid glands are preserved. The surgical technique is demonstrated in detail with the help of a video of the operation and which is available on-line, the advantages and disadvantages of the technique are discussed.
This is a preview of subscription content, log in to check access.
Access options
Buy single article
Instant unlimited access to the full article PDF.
US$ 39.95
Price includes VAT for USA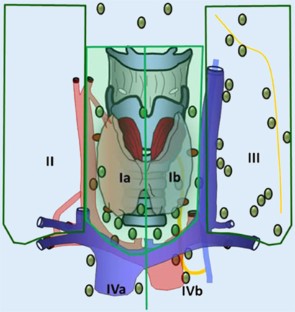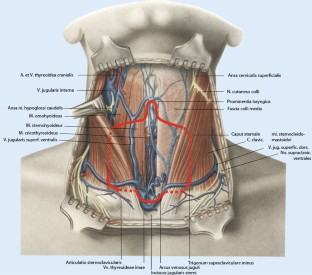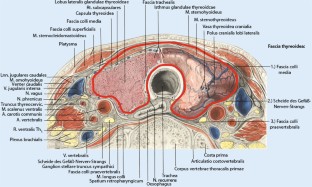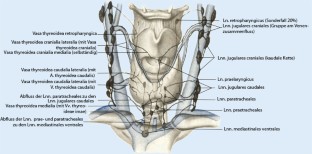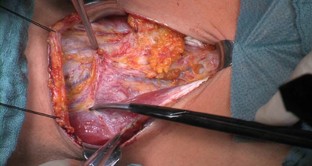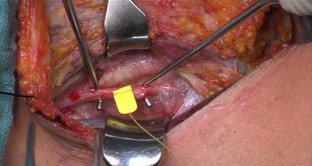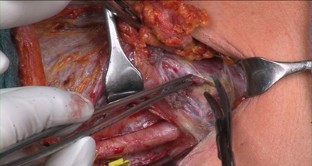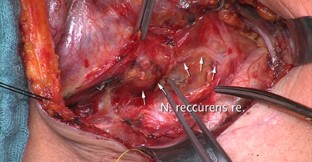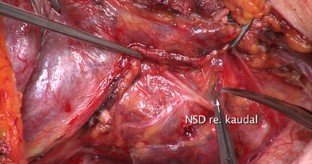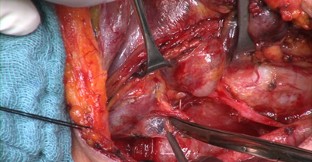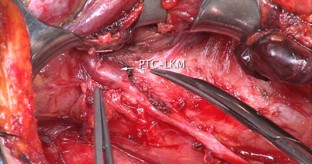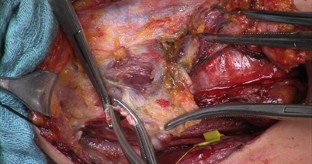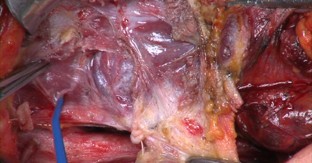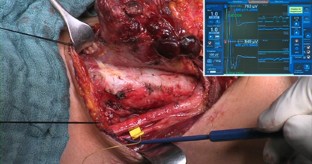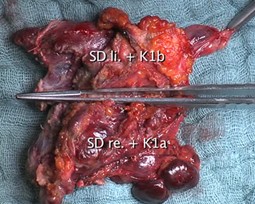 Literatur
1.

Davies L, Welch HG (2006) Increasing incidence of thyroid cancer in the United States, 1973–2002. JAMA 295:2164–2167

2.

Hughes DT, Haymart MR, Miller BS et al (2011) The most commonly occurring papillary thyroid cancer in the United States is now a microcarcinoma in a patient older than 45 years. Thyroid 21:231–236

3.

Robert-Koch-Institut, Die Gesellschaft der epidemiologischen Krebsregister in Deutschland e. V. (Hrsg) (2013) Krebs in Deutschland 2009/2010, 9. Ausgabe. Berlin, S 108–111

4.

Elisei R (2014) Molecular profiles of papillary thyroid tumors have been changing in the last decades: how could we explain it? J Clin Endocrinol Metab 99:412–414

5.

Scheumann GF, Gimm O, Wegener G et al (1994) Prognostic significance and surgical management of locoregional lymph node metastases in papillary thyroid cancer. World J Surg 18:559–568

6.

Machens A, Dralle H (2012) Correlation between the number of lymph node metastases and lung metastasis in papillary thyroid cancer. J Clin Endocrinol Metab 97:4375–4382

7.

Machens A, Dralle H (2013) Prognostic impact of N staging in 715 medullary thyroid cancer patients. Ann Surg 257:232–329

8.

Pacini F, Schlumberger M, Dralle H et al (2006) European consensus for the management of patients with differentiated thyroid carcinoma of the follicular epithelium. Eur J Endocrinol 154:787–803

9.

Dralle H, Machens A (2008) Surgical approaches in thyroid cancer and lymph-node metastases. Best Pract Res Clin Endocrinol Metab 22:971–987

10.

Cooper DS, Doherty GM, Haugen BR et al (2009) Revised American Thyroid Association management guideline for patients with thyroid nodules and differentiated thyroid cancer. Thyroid 19:1167–1214

11.

Dralle H, Machens A (2009) Lymph node dissection in thyroid cancer. In: Hubbert JGH (Hrsg) Endocrine surgery. Springer, London, S 173–193

12.

Dralle H, Machens A (2012) Primary surgery for differentiated thyroid cancer in the new millenium. J Endocrinol Invest 35:s10–s15

13.

Dralle H, Musholt TJ, Schabram J et al (2013) German Association of Endocrine Surgeons practice guideline for the surgical management of malignant thyroid tumors. Langenbecks Arch Surg 398:347–375

14.

Dralle H, Damm I, Scheumann GFW et al (1994) Compartment-oriented microdissection of regional lymph nodes in medullary thyroid carcinoma. Surg Today 24:112–121

15.

Dralle H, Gimm O (1996) Lymphadenektomie beim Schilddrüsenkarzinom. Chirurg 67:788–806

16.

Carty SE, Cooper DS, Doherty GM et al (2009) Consensus statement on the terminology and classification of central neck dissection for thyroid cancer. Thyroid 19:1153–1158

17.

Musholt TJ (2014) Classification of locoregional lymph nodes in medullary and papillary thyroid cancer. Langenbecks Arch Surg 399:217–223

18.

Machens A, Holzhausen HJ, Dralle H (2004) Skip metastases in thyroid cancer leaping the central lymph node compartment. Arch Surg 139:43–45

19.

Park JH, Lee YS, Kim BW et al (2012) Skip lateral neck node metastases in papillary thyroid carcinoma. World J Surg 36:743–747

20.

Zhang L, Wei WJ, Ji QH et al (2012) Risk factors for neck metastasis in papillary thyroid carcinoma: a study of 1066 patients. J Clin Endocrinol Metab 97:1250–1257

21.

Dralle H, Machens A (2013) Surgical management of the lateral neck compartment for metastatic thyroid cancer. Curr Opin Oncol 25:20–26

22.

Dralle H, Lorenz K (2010) Intraoperatives Neuromonitoring bei Schilddrüsenoperationen. Chirurg 81:612–619

23.

Randolph GW, Dralle H, Abdullah H et al (2011) Electrophysiologic recurrent laryngeal nerve monitoring during thyroid and parathyroid surgery: international standards guideline statement. Laryngoscope 121:S1–S16

24.

Schneider R, Randolph GW, Sekulla C et al (2013) Continuous intraoperative vagus nerve stimulation for identification of imminent recurrent laryngeal nerve injury. Head Neck 35:1591–1598

25.

Dralle H, Lorenz K, Schabram P et al (2013) Intraoperatives Neuromonitoring in der Schilddrüsenchirurgie. Chirurg 84:1049–1056

26.

Snyder SK, Sigmond BR, Lairmore TC et al (2013) The long-term impact of routine intraoperative nerve monitoring during thyroid and parathyroid surgery. Surgery 154:704–713

27.

Dralle H, Sekulla C, Lorenz K et al (2012) Loss of the nerve monitoring signal during bilateral thyroid surgery. Br J Surg 99:1089–1095

28.

Sadowski SM, Soardo P, Leuchter I et al (2013) Systematic use of recurrent laryngeal nerve neuromonitoring changes the operative strategy in planned bilateral thyroidectomy. Thyroid 23:329–333

29.

Kamani D, Darr EA, Randolph GW (2013) Electrophysiologic monitoring characteristics of the recurrent laryngeal nerve preoperatively paralyzed or invaded with malignancy. Otolaryngol Head Neck Surg 149:682–688

30.

Randolph GW, Kamani D (2014) Intraoperative neural monitoring in thyroid cancer surgery. Langenbecks Arch Surg 399:199–207

31.

Lorenz K, Niederle B, Steinmüller T, Dralle H (2014) The European Society of Endocrine Surgeons perspective of thyroid cancer surgery: an evidence-based approach. World J Surg 399:135–139

32.

Barczynski M, Randolph GW, Cernea CR et al (2013) External branch of the superior lyngeal nerve monitoring during thyroid and parathyroid surgery: international neural monitoring study group standards guideline statement. Laryngoscope 123:S1–S14

33.

Machens A, Hinze R, Lautenschläger C et al (2001) Prophylactic completion thyroidectomy for differentiated thyroid carcinoma: prediction of extrathyroidal soft tissue infiltrates. Thyroid 11:381–384

34.

Gimm O, Heyn V, Krause U et al (2006) Prognostic significance of disseminated tumor cells in the connective tissue of patients with medullary thyroid carcinoma. World J Surg 30:1–6

35.

Giordano D, Valcavi R, Thompson GB et al (2012) Complications of central neck dissection in patient with papillary thyroid carcinoma: results of a study on 1.087 patients and review of the literature. Thyroid 22:911–914

36.

Kloos RT, Eng C, Evans DB et al (2009) Medullary thyroid cancer: management guidelines of the American Thyroid Association. Thyroid 19:565–612

37.

Cooper DS, Tufano RP (2012) Prophylactic central neck dissection in differentiated thyroid cancer: a procedure in search of an indication. Thyroid 4:341–343

38.

Ross DS, Tuttle RM (2014) Oberserving micropapillary thyroid cancers. Thyroid 24:3–6

39.

Ito Y, Miyauchi A, Kihara M et al (2014) Patient age is significantly related to the progression of papillary microcarcinoma of the thyroid under observation. Thyroid 24:27–34

40.

Dionigi G, Kraimps JL, Schmid KW et al (2014) Minimally invasive follicular thyroid cancer (MIFTC) – a consensus report of the European Society of Endocrine Surgeons (ESES). Langenbecks Arch Surg 399:165–184

41.

DePalma M, Grillo M, Borgia G et al (2013) Antibiotic prophylaxis and risk of infections in thyroid surgery: results from a national study (UEC – Italian Endocrine Surgery Units Association). Updates Surg 65:213–216

42.

Dralle H, Sekulla C, Lorenz K et al (2004) Ambulante und kurzzeitstationäre Schilddrüsen- und Nebenschilddrüsenchirurgie. Chirurg 75:131–143

43.

Doran HE, England J, Palazzo F (2012) Questionable safety of thyroid surgery with same day discharge. Ann R Coll Surg Engl 94:543–547

44.

Terris DJ, Snyder S, Carneiro-Pla D et al (2013) American Thyroid Association statement on outpatient thyroidectomy. Thyroid 23:1193–1202

45.

Lang BHH, Ng SH, Lau LLH et al (2013) A systematic review and meta-analysis of prophylactic central neck dissection on short-term locoregional recurrence in papillary thyroid carcinoma after total thyroidectomy. Thyroid 23:1087–1098

46.

Vas Nunes JH, Clark JR, Gao K et al (2013) Prognostic implications of lymph node yield and lymph node ratio in papillary thyroid carcinoma. Thyroid 23:811–816

47.

Lango M, Flieder D, Arrangoiz R et al (2013) Extranodal extension of metastatic papillary thyroid carcinoma: correlation with biochemical endpoints, nodal persistence, and systemic disease progression. Thyroid 23:1099–1105

48.

Schneider DF, Ojomo KA, Chen H, Sippel RS (2013) Remnant uptake as a postoperative oncologic quality indicator. Thyroid 23:1269–1276

49.

Lanz T, Wachsmuth W (1955) Praktische Anatomie. Springer, Berlin Göttingen Heidelberg
Einhaltung ethischer Richtlinien
Interessenkonflikt. H. Dralle und P. Nguyen Thanh haben von der Firma Medtronic und der Firma Inomed finanzielle Unterstützungen zur Durchführung von Vortrags-, Kurs- bzw. Kongressveranstaltungen erhalten. Alle im vorliegenden Manuskript beschriebenen Untersuchungen am Menschen wurden mit Zustimmung der zuständigen Ethikkommission, im Einklang mit nationalem Recht sowie gemäß der Deklaration von Helsinki von 1975 (in der aktuellen, überarbeiteten Fassung) durchgeführt. Von allen beteiligten Patienten liegt eine Einverständniserklärung vor. Alle Patienten, die über Bildmaterial oder anderweitige Angaben innerhalb des Manuskripts zu identifizieren sind, haben hierzu ihre schriftliche Einwilligung gegeben. Im Falle von nicht mündigen Patienten liegt die Einwilligung eines Erziehungsberechtigen oder des gesetzlich bestellten Betreuers vor.
Zusatzmaterial online
Video zu: Totale Thyreoidektomie mit Lymphknotendissektion des zentralen Kompartments(mp4 100MB)
About this article
Cite this article
Dralle, H., Nguyen Thanh, P. Totale Thyreoidektomie mit Lymphknotendissektion des zentralen Kompartments beim nodal-positiven, organkapselinvasiven papillären Schilddrüsenkarzinom. Chirurg 85, 895–903 (2014) doi:10.1007/s00104-014-2802-2
Schlüsselwörter
Papilläres Schilddrüsenkarzinom

Totale Thyreoidektomie

Zentrale Halsdissektion

Nervus recurrens

Neuromonitoring

Video
Keywords
Papillary thyroid cancer

Total thyroidectomy

Central neck dissection

Recurrent laryngeal nerve

Neuromonitoring

Video