Zusammenfassung
Wir berichten über einen 67-jährigen Patient mit aortoduodenaler Fistel in Folge eines aortobiiliakalen Gefäßersatzes. Primärsymptom war eine Osteomyelitis des Unterschenkels als Folge septischer Embolien. Die Computertomographie (CT) konnte keinen zentralen Protheseninfekt nachweisen. Eine 18F-Fluorodeoxyglukose Ganzkörper-Positronenemissionstomographie mit gekoppelter Computertomographie (18F-FDG-PET/CT) bestätigte den zentralen Protheseninfekt. Mittels Anlage eines axillobifemoralen Bypasses und 2-zeitiger Prothesenexplantation, Übernähung des Duodenums und Omentum-majus-Plastik wurde der Patient erfolgreich therapiert. Der Stellenwert der 18F-FDG-PET/CT-Untersuchung zum Nachweis zentraler Gefäßprotheseninfekte wird anhand dieser Kasuistik im Rahmen einer aktuellen Literaturrecherche diskutiert.
Abstract
A 67-year-old male patient presented with recurrent fever and septic emboli due to an aorto-duodenal fistula after previous aortobiiliac bypass grafting with suspected graft infection. Imaging by ultrasound, computed tomography scan (CT) and magnetic resonance imaging (MRI) could not confirm graft infection. A scan using 2-deoxy-2-fluoro-[18F]-d-glucose positron emission tomography CT (18F-FDG-PET/CT) revealed a pathological uptake. The bifurcated graft was removed und revascularization was performed by axillobifemoral bypass grafting. The clinical role of CT scanning with 18F-FDG-PET/CT is discussed including a review of the recent literature.
This is a preview of subscription content, log in to check access.
Access options
Buy single article
Instant access to the full article PDF.
US$ 39.95
Price includes VAT for USA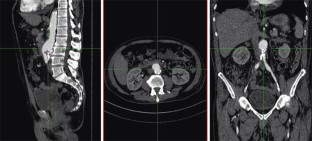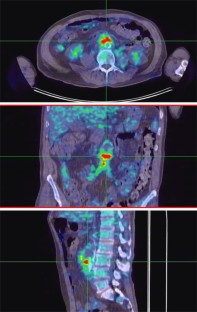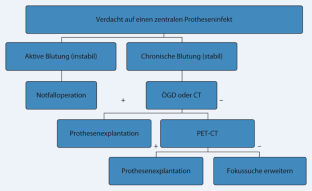 Literatur
1.

Antinori CH, Andrew CT, Santasirt JS et al (1996) The many faces of aortoenteric fistulas. Am Surg 62:344–349

2.

Böckler D, Lange R, Kaufmann M et al (2000) Die periphere septische Embolie als Primärsymptom eines infizierten aortobifemoralen Bypasses mit sekundärer aortoduodenaler Fistel. Gefässchirurgie 5:196–199

3.

Kazuki F, Yoshio I, Masahiro H et al (2005) Detection of aortic graft infection by fluorodeoxyglucose positron emission tomography: comparison with computed tomographie. J Vasc Surg 42(5):919–925

4.

Keidar Z, Engel A, Hoffmann A et al (2007) Prosthetic vascular graft infection: the role of 18F-FDG-PET/CT. J Nucl Med 48:1230–1236

5.

Oderich GS, Panneton JM, Bower TC et al (2001) Infected aortic aneurysms: aggressive presentation, complicated early outcome, but durable results. J Vasc Surg 34:900–908

6.

Stadler P, Blohlavek O, Spacek M, Michalek P (2004) Diagnosis of vascular prosthesis infection with FDG-PET/CT. J Vasc Surg 40(6):1246–1247

7.

Vollmar JF (1995) Komplikationen bei rekonstruktiven Eingriffen am Arteriensystem. Vollmar J (Hrsg) Rekonstruktive Chirurgie der Arterien, 4 Aufl. Thieme, Stuttgart New York, S 422–425

8.

Wasselius J, Malmstedt J, Kalin B et al (2008) High 18-F-FDG uptake in synthetic aortic vascular grafts on PET/CT in symptomatic and asymptomatic patients. J Nucl Med 49:1601–1605

9.

Zühlke H (2006) Autologe Verfahren zur Therapie von Gefäßinfektionen. Gefässchirurgie 11:408–422

10.

Hyhlik-Dürr A, Geisbüsch P, Hakimi M et al (2009) Management sekundärer aortobronchialer und -enteraler Fisteln nach endovaskulärer Aortenchirurgie. Chirurg 80(10):947–955

11.

Bianchi P, Dalainas I, Ramponi F et al (2007) Late gastrointestinal bleeding after infrarenal aortic grafting: a 16-year experience. Surg Today 37(12):1053–1059

12.

Bergqvist D, Björck M (2009) Secondary arterioenteric fistulation – A systematic literature analysis. Eur J Vasc Endovasc Surg 37:31–42
Interessenkonflikt
Der korrespondierende Autor gibt an, dass kein Interessenkonflikt besteht.
About this article
Cite this article
Kilk, K., Hyhlik-Dürr, A., Afshar-Oromieh, A. et al. Chronischer zentraler Gefäßprotheseninfekt. Chirurg 81, 653–656 (2010). https://doi.org/10.1007/s00104-010-1886-6
Schlüsselwörter
Aortoenterale Fistel

Protheseninfekt

18F-FDG-PET/CT

Septische embolie
Keywords
Aorto-enteric fistula

Prosthesis infection

18F-FDG-PET/CT

Septic embolization