Abstract
Introduction
Frailty is a geriatric syndrome, leading to declines in homeostatic reserve and physical resistance. It has been considered as a risk factor for falls, fractures, need of institutionalization, length of stay and mortality. Our aim was to evaluate the relationship between frailty, 30-day postoperative mortality and morbidity, for elderly patients undergoing surgical emergencies.
Material and methods
Prospective, observational cohort Study (September 2017–April 2019), using four different frailty scales (Clinical Frailty Scale, FRAIL scale, TRST and Share-FI) as a risk factor of 30-day postoperative outcomes, for patients older than 70 years undergoing emergency surgery. We analyzed diagnoses, clinical examination at admission, surgical procedures, and postoperative outcomes during the first 30 days or until discharge.
Results
92 patients were included, with a mean age was 78.7 years (SD 6.3). Frailty prevalence varied since 14.1% obtained using FRAIL scale, to 25%, 29.2% and 30.4%, from Clinical Frailty Scale, TRST and Share-FI, respectively. All four frailty scales show statistical differences to predict major complication and mortality in our sample. FRAIL scale showed the highest sensitivity–specificity pair to predict mortality in our sample (AUC = 0.870). TRST and FRAIL scales showed the strongest measure of association (OR 7.69 and 5.92, respectively) for major complications. Regarding need for admission to the ICU, hospital stay or reoperation rate, only FRAIL scale showed a statistically significant association.
Conclusion
Frailty represents a predictive marker of mortality and major complications, in surgical emergencies. FRAIL score, shows the strongest relationship with mortality and complications, compared to other frailty scales.
This is a preview of subscription content, log in to check access.
Access options
Buy single article
Instant access to the full article PDF.
US$ 39.95
Price includes VAT for USA
Subscribe to journal
Immediate online access to all issues from 2019. Subscription will auto renew annually.
US$ 199
This is the net price. Taxes to be calculated in checkout.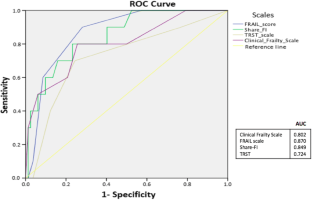 References
1.

Hogan DB, Maxwell CJ, Afilalo J, Arora RC, Bagshaw SM, Basran J, et al. A scoping review of frailty and acute care in middle-aged and older individuals with recommendations for future research. Can Geriatr J. 2017;20:22.

2.

Rockwood K, Stadnyk K, MacKnight C, McDowell I, Hébert R, Hogan DB. A brief clinical instrument to classify frailty in elderly people. Lancet. 1999;353:205–6.

3.

Fried LP, Tangen CM, Walston J, Newman AB, Hirsch C, Gottdiener J, et al. Frailty in older adults: evidence for a phenotype. J Gerontol A Biol Sci Med Sci. 2001;56:M146–M156156.

4.

Shamliyan T, Talley KMC, Ramakrishnan R, Kane RL. Association of frailty with survival: a systematic literature review. Ageing Res Rev. 2013;12:719–36.

5.

Fried LP, Ferrucci L, Darer J, Williamson JD, Anderson G. Untangling the concepts of disability, frailty, and comorbidity: implications for improved targeting and care. J Gerontol Ser A Biol Sci Med Sci. 2004;59:M255–M263263.

6.

Cigolle CT, Ofstedal MB, Tian Z, Blaum CS. Comparing models of frailty: the health and retirement study. J Am Geriatr Soc. 2009;57:830–9.

7.

Abizanda P, Romero L, Sánchez-Jurado PM, Martínez-Reig M, Gómez-Arnedo L, Alfonso SA. Frailty and mortality, disability and mobility loss in a Spanish cohort of older adults: the FRADEA study. Maturitas. 2013;74:54–60.

8.

Bouillon K, Kivimaki M, Hamer M, Sabia S, Fransson EI, Singh-Manoux A, et al. Measures of frailty in population-based studies: an overview. BMC Geriatr. 2013;13:64.

9.

Woo J, Yu R, Wong M, Yeung F, Wong M, Lum C. Frailty screening in the community using the FRAIL scale. J Am Med Dir Assoc. 2015;16:412–9.

10.

Carpenter CR, Shelton E, Fowler S, et al. Risk factors and screening instruments to predict adverse outcomes for undifferentiated older emergency department patients: a systematic review and meta-analysis. Acad Emerg Med. 2015;22:1–21.

11.

Rodríguez-queraltó O, Formiga F, López-palop R, et al. FRAIL scale also predicts long-term outcomes in older patients with acute coronary syndromes. J Am Med Dir Assoc. 2019.

12.

Kahlon S, Pederson J, Majumdar SR, Belga S, Lau D, Fradette M, et al. Association between frailty and 30-day outcomes after discharge from hospital. Can Med Assoc J. 2015;187:799–804.

13.

Robinson TN, Wu DS, Stiegmann GV, Moss M. Frailty predicts increased hospital and 6-month healthcare cost following colorectal surgery in older adults. Am J Surg. 2011;202:511–4.

14.

Antoniou SA, Antoniou GA, Koch OO, Pointner R, Granderath F-A. Laparoscopic colorectal surgery confers lower mortality in the elderly: a systematic review and meta-analysis of 66,483 patients. Surg Endosc. 2015;29:322–33.

15.

Goeteyn J, Evans LA, De Cleyn S, et al. Frailty as a predictor of mortality in the elderly emergency general surgery patient. Acta Chir Belg. 2017;117:370–5.

16.

Farhat JS, Velanovich V, Falvo AJ, Horst HM, Swartz A, Patton JH, et al. Are the frail destined to fail? Frailty index as predictor of surgical morbidity and mortality in the elderly. J Trauma Acute Care Surg. 2012;72:1526–31.

17.

Hewitt J, Moug SJ, Middleton M, Chakrabarti M, Stechman MJ, McCarthy K. Prevalence of frailty and its association with mortality in general surgery. Am J Surg. 2015;209:254–9.

18.

Masnoon N, Shakib S, Kalisch-ellett L, Caughey GE. What is polypharmacy? A systematic review of definitions. BMC Geriatr. 2017;17:230.

19.

Dindo D, Demartines N, Clavien P-A. Classification of surgical complications: a new proposal with evaluation in a cohort of 6336 patients and results of a survey. Ann Surg. 2004;240:205–13.

20.

Ethun CG, Bilen MA, Jani AB, Maithel SK, Ogan K, Master VA. Frailty and cancer: implications for oncology surgery, medical oncology, and radiation oncology. CA Cancer J Clin. 2017;67:362–77.

21.

Kojima G. Frailty as a predictor of future falls among community-dwelling older people: a systematic review and meta-analysis. J Am Med Dir Assoc. 2015;16:1027–33.

22.

Salinas GLA, Fernández MS, Izco MP, et al. Frailty predicts major bleeding within 30 days in elderly patients with Acute Coronary Syndrome. Int J Cardiol. 2016;222:590–3.

23.

Carpenter CR, Banerjee J, Keyes D, et al. Accuracy of dementia screening instruments in emergency medicine: a diagnostic meta-analysis. Acad Emerg Med. 2019;26:226–45.

24.

Lewis ET, Dent E, Alkhouri H, Kellett J, Williamson M, Asha S, et al. Which frailty scale for patients admitted via Emergency Department? A cohort study Arch Gerontol Geriatr. 2019;80:104–14.
Funding
The authors declare that no funding was received in relation to this article.
Ethics declarations
Conflict of interest
The authors declare that they have no conflicts of interest in relation to this article.
Ethical responsibilities
The study was approved by the Ethics Committee of Hospital Universitario Virgen del Rocío. All participants granted their consent to participate in the study. All of the authors have confirmed the preservation of confidentiality and respect of patients' rights in the document of author responsibilities, publication agreement and transfer of rights to the European Journal of Trauma and Emergency Surgery.
Electronic supplementary material
Below is the link to the electronic supplementary material.
About this article
Cite this article
Arteaga, A.S., Aguilar, L.T., González, J.T. et al. Impact of frailty in surgical emergencies. A comparison of four frailty scales. Eur J Trauma Emerg Surg (2020). https://doi.org/10.1007/s00068-020-01314-3
Received:

Accepted:

Published:
Keywords
Elderly patient

Frailty

Surgical emergencies

Frailty scales