Abstract
Purpose
The aim of this study was to investigate the influence of different ligamentous Lisfranc injuries on computed tomography (CT) findings under weight-bearing and to emphasize the indications for surgical treatment of their various types.
Methods
Sixteen human cadaveric lower limbs were placed in weight-bearing radiolucent frame for CT scanning. All intact specimens were initially scanned, and then, dorsal approach was used for sequential ligaments cutting of: (1) the dorsal and the interosseous (Lisfranc) ligaments between medical cuneiform (MC) and metatarsal 2 (MT2); (2) the plantar ligament between the MC and MT3; (3) the plantar ligament between MC and MT2. Based on sequential CT scans, the distances MT1–MT2, MC–T2, as well as the alignment and dorsal displacement of MT2 were measured.
Results
Slight increase in the distances MT1–MT2 and MC–MT2 was observed after the disruption of the dorsal and the interosseous ligaments. Further increase in MT1–MT2 and MC–MT2 distances was registered after the disruption of the ligament between MC and MT3. The largest distances MT1–MT2 and MC–MT2 were measured after the final plantar ligament cut between MC and MT2.
Conclusions
Unequivocal instability is observed with simultaneous transection of the Lisfranc ligament with both plantar ligaments. On CT used as diagnostic tool, plantar injuries at the basis of the second and the third metatarsal are indirect signs of violation of the ligaments and represent an indication for surgical treatment. When using magnetic resonance imaging as diagnostic tool, a ruptured Lisfranc ligament alone without dislocation does not necessarily need surgical intervention.
This is a preview of subscription content, log in to check access.
We're sorry, something doesn't seem to be working properly.
Please try refreshing the page. If that doesn't work, please contact support so we can address the problem.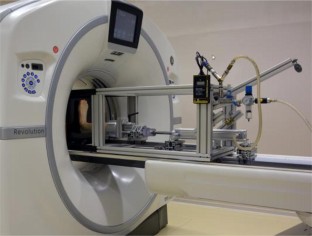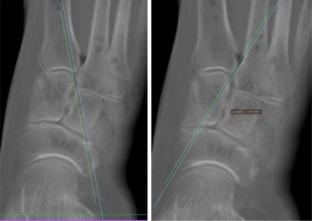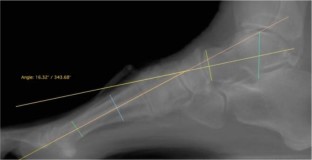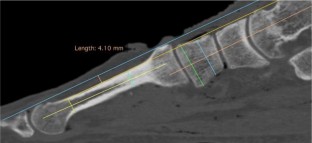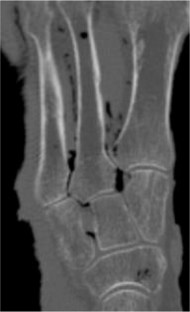 References
1.

Berg JH, Silveri CP, Harris M. Variant of the Lisfranc fracture-dislocation: a case report and review of the literature. J Orthop Trauma. 1998;12:366–9.

2.

Thompson MC, Mormino MA. Injury to the tarsometatarsal joint complex. J Am Acad Orthop Surg. 2003;11:260–7.

3.

Peicha G, Labovitz J, Seibert FJ, Grechenig W, Weiglein A, Preidler KW, et al. The anatomy of the joint as a risk factor for Lisfranc dislocation and fracture-dislocation. An anatomical and radiological case control study. J Bone Jt Surg Br Vol. 2002;84:981–5.

4.

Kaar S, Femino J, Morag Y. Lisfranc joint displacement following sequential ligament sectioning. J Bone Jt Surg Am. 2007;89:2225–32.

5.

Rosenbaum A, Dellenbaugh S, Dipreta J, Uhl R. Subtle injuries to the Lisfranc joint. Orthopedics. 2011;34:882–7.

6.

Nunley JA, Vertullo CJ. Classification, investigation, and management of midfoot sprains: Lisfranc injuries in the athlete. Am J Sports Med. 2002;30:871–8.

7.

Crates JM, Barber FA, Sanders EJ. Subtle lisfranc subluxation: results of operative and nonoperative treatment. J Foot Ankle Surg. 2015;54:350–5.

8.

Yu-Kai Y, Shiu-Bii L. Anatomic parameters of the Lisfranc joint complex in a radiographic and cadaveric comparison. J Foot Ankle Surg. 2015;54:883–7.

9.

Potter HG, Deland JT, Gusmer PB, Carson E, Warren RF. Magnetic resonance imaging of the Lisfranc ligament of the foot. Foot Ankle Int. 1998;19:438–46.

10.

Preidler KW, Brossmann J, Daenen B, Goodwin D, Schweitzer M, Resnick D. MR imaging of the tarsometatarsal joint: analysis of injuries in 11 patients. AJR Am J Roentgenol. 1996;167:1217–22.

11.

Kitsukawa K, Hirano T, Niki H, Tachizawa N, Nakajima Y, Hirata K. MR imaging evaluation of the Lisfranc ligament in cadaveric feet and patients with acute to chronic Lisfranc injury. Foot Ankle Int. 2015;36:1483–92.

12.

da Silva AP, Shimba LG, Ribas LH, de Almeida AS, Naves V, Duarte JA. Turco's injury: diagnosis and treatment. Revista Brasileira de Ortopedia. 2014;49:321–7.

13.

Dullaert K, Hagen J, Klos K, Gueorguiev B, Lenz M, Richards RG, et al. The influence of the Peroneus Longus muscle on the foot under axial loading: a CT evaluated dynamic cadaveric model study. Clin Biomech (Bristol, Avon). 2016;34:7–11.

14.

Dullaert K, Hagen JE, Simons P, Gras F, Gueorguiev B, Richards RG, et al. Influence of tibialis posterior muscle activation on foot anatomy under axial loading: a biomechanical CT human cadaveric study. Foot Ankle Surg. 2017;23:250–4.

15.

Knupp M, Stufkens SA, van Bergen CJ, Blankevoort L, Bolliger L, van Dijk CN, et al. Effect of supramalleolar varus and valgus deformities on the tibiotalar joint: a cadaveric study. Foot Ankle Int. 2011;32:609–15.

16.

Thordarson DB, Schmotzer H, Chon J, Peters J. Dynamic support of the human longitudinal arch. A biomechanical evaluation. Clin Orthop Relat Res. 1995;1995:165–72.

17.

Solan MC, Moorman CT 3rd, Miyamoto RG, Jasper LE, Belkoff SM. Ligamentous restraints of the second tarsometatarsal joint: a biomechanical evaluation. Foot Ankle Int. 2001;22:637–41.

18.

Raikin SM, Elias I, Dheer S, Besser MP, Morrison WB, Zoga AC. Prediction of midfoot instability in the subtle Lisfranc injury. Comparison of magnetic resonance imaging with intraoperative findings. J Bone Jt Surg Am. 2009;91:892–9.

19.

Sripanich Y, Weinberg MW, Krahenbuhl N, Rungprai C, Mills MK, Saltzman CL, et al. Imaging in Lisfranc injury: a systematic literature review. Skeletal Radiol. 2019;31:1–23.
Acknowledgements
The authors are not compensated and there are no other institutional subsidies, corporate affiliations, or funding sources supporting this work unless clearly documented and disclosed. This investigation was performed with the assistance of the AO Foundation.
Ethics declarations
Conflict of interest
The authors declare that there is no conflict of interest.
About this article
Cite this article
Penev, P., Qawasmi, F., Mosheiff, R. et al. Ligamentous Lisfranc injuries: analysis of CT findings under weightbearing. Eur J Trauma Emerg Surg (2020). https://doi.org/10.1007/s00068-020-01302-7
Received:

Accepted:

Published:
Keywords
Ligamentous Lisfranc

Weightbearing

Lisfranc ligament

Plantar ligaments