Abstract
Purpose
Debate remains about the threshold cardiopulmonary resuscitation (CPR) duration associated with futile emergency department thoracotomy (EDT). To validate the CPR duration associated with favorable outcomes, we investigated the relationship between CPR duration and return of spontaneous circulation (ROSC) after EDT in blunt trauma.
Methods
A retrospective observational study was conducted at three tertiary centers over the last 7 years. We included bluntly injured adults who were pulseless and required EDT at presentation, but excluded those with devastating head injuries. After multivariate logistic regression identified the CRP duration as an independent predictor of ROSC, receiver operating characteristic curves were used to determine the threshold CPR duration. Patient data were divided into short- and long-duration CPR groups based on this threshold, and we developed a propensity score to estimate assignment to the short-duration CPR group. The ROSC rates were compared between groups after matching.
Results
Forty patients were eligible for this study and ROSC was obtained in 12. The CPR duration was independently associated with the achievement of ROSC [odds ratio 1.18; 95% confidence interval (CI) 1.01–1.37, P = 0.04], and the threshold CPR duration was 17 min. Among the 14 patients with a short CPR duration, 13 matched with the patients with a long CPR duration, and a short CPR duration was significantly associated with higher rates of ROSC (odds ratio 8.80; 95% CI 1.35–57.43, P = 0.02).
Conclusions
A CPR duration < 17 min is independently associated with higher ROSC rates in patients suffering blunt trauma.
This is a preview of subscription content, log in to check access.
Access options
Buy single article
Instant unlimited access to the full article PDF.
US$ 39.95
Price includes VAT for USA
Subscribe to journal
Immediate online access to all issues from 2019. Subscription will auto renew annually.
US$ 199
This is the net price. Taxes to be calculated in checkout.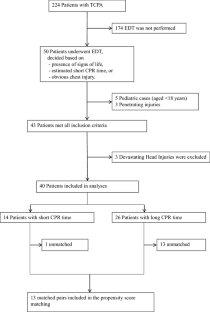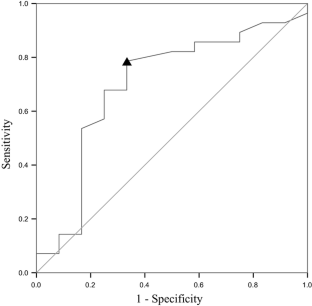 References
1.

Moore EE, Moore JB, Galloway AC, Eiseman B. Postinjury thoracotomy in the emergency department: a critical evaluation. Surgery. 1979;86:590–8.

2.

Cogbill TH, Moore EE, Millikan JS, Cleveland HC. Rationale for selective application of emergency department thoracotomy in trauma. J Trauma. 1983;23:453–60.

3.

Baxter BT, Moore EE, Moore JB, Cleveland HC, McCroskey BL, Moore FA. Emergency department thoracotomy following injury: critical determinants for patient salvage. World J Surg. 1988;12:671–5.

4.

Powell RW, Gill EA, Jurkovich GJ, Ramenofsky ML. Resuscitative thoracotomy in children and adolescents. Am Surg. 1988;54:188–91.

5.

Boyd M, Vanek VW, Bourguet CC. Emergency room resuscitative thoracotomy: when is it indicated? J Trauma. 1992;33:714–21.

6.

Durham LA III, Richardson RJ, Wall MJ Jr., Pepe PE, Mattox KL. Emergency center thoracotomy: impact of prehospital resuscitation. J Trauma. 1992;32:775–9.

7.

Mazzorana V, Smith RS, Morabito DJ, Brar HS. Limited utility of emergency department thoracotomy. Am Surg. 1994;60:516–20.

8.

Branney SW, Moore EE, Feldhaus KM, Wolfe RE. Critical analysis of two decades of experience with postinjury emergency department thoracotomy in a regional trauma center. J Trauma. 1998;45:87–94.

9.

Seamon MJ, Pathak AS, Bradley KM, Fisher CA, Gaughan JA, Kulp H, et al. Emergency department thoracotomy: still useful after abdominal exsanguination? J Trauma. 2008;64:1–7.

10.

Easter JS, Vinton DT, Haukoos JS. Emergent pediatric thoracotomy following traumatic arrest. Resuscitation. 2012;83:1521–4.

11.

Feliciano DV, Bitondo CG, Cruse PA, Mattox KL, Burch JM, Beall AC Jr, et al. Liberal use of emergency center thoracotomy. Am J Surg. 1986;152:654–9.

12.

Rhee PM, Acosta J, Bridgeman A, Wang D, Jordan M, Rich N. Survival after emergency department thoracotomy: review of published data from the past 25 years. J Am Coll Surg. 2000;190:288–98.

13.

Seamon MJ, Goldberg AJ, Schwab CW. Emergency department thoracotomy for gunshot wounds of the heart and great vessels. J Trauma. 2010;68:1514–5.

14.

Seamon MJ, Chovanes J, Fox N, Green R, Manis G, Tsiotsias G, et al. The use of emergency department thoracotomy for traumatic cardiopulmonary arrest. Injury. 2012;43:1355–61.

15.

Slessor D, Hunter S. To be blunt: are we wasting our time? Emergency Department thoracotomy following blunt trauma: a systematic review and meta-analysis. Ann Emerg Med. 2015;65:297–307.e16.

16.

Hopson LR, Hirsh E, Delgado J, Domeier RM, McSwain NE, Krohmer J, National Association of EMS Physicians, American College of Surgeons Committee on Trauma. Guidelines for withholding or termination of resuscitation in prehospital traumatic cardiopulmonary arrest: joint position statement of the National Association of EMS Physicians and the American College of Surgeons Committee on Trauma. J Am Coll Surg. 2003;196:106–12.

17.

Powell DW, Moore EE, Cothren CC, Ciesla DJ, Burch JM, Moore JB, et al. Is emergency department resuscitative thoracotomy futile care for the critically injured patient requiring prehospital cardiopulmonary resuscitation? J Am Coll Surg. 2004;199:211–5.

18.

Moore EE, Knudson MM, Burlew CC, Inaba K, Dicker RA, Biffl WL, et al; WTA Study Group. Defining the limits of resuscitative emergency department thoracotomy: a contemporary Western Trauma Association perspective. J Trauma. 2011;70:334–9.

19.

Burlew CC, Moore EE, Moore FA, Coimbra R, McIntyre RC Jr, Davis JW, et al. Western Trauma Association critical decisions in trauma: resuscitative thoracotomy. J Trauma Acute Care Surg. 2012;73:1359–63.

20.

Seamon MJ, Haut ER, Van Arendonk K, Barbosa RR, Chiu WC, Dente CJ, et al. An evidence-based approach to patient selection for emergency department thoracotomy: a practice management guideline from the Eastern Association for the Surgery of Trauma. J Trauma Acute Care Surg. 2015;79:159–73.

21.

Lewis G, Knottenbelt JD. Should emergency room thoracotomy be reserved for cases of cardiac tamponade? Injury. 1991;22:5–6.

22.

Lorenz HP, Steinmetz B, Lieberman J, Schecoter WP, Macho JR. Emergency thoracotomy: survival correlates with physiologic status. J Trauma. 1992;32:780–5.

23.

Fialka C, Sebök C, Kemetzhofer P, Kwasny O, Sterz F, Vécsei V. Open-chest cardiopulmonary resuscitation after cardiac arrest in cases of blunt chest or abdominal trauma: a consecutive series of 38 cases. J Trauma. 2004;57:809–14.

24.

Kalina M, Teeple E, Fulda G. Are there still selected applications for resuscitative thoracotomy in the emergency department after blunt trauma? Del Med J. 2009;81:195–8.

25.

Lustenberger T, Labler L, Stover JF, Keel MJ. Resuscitative emergency thoracotomy in a Swiss trauma centre. Br J Surg. 2012;99:541–8.

26.

Working group. Ad hoc subcommittee on outcomes. American College of Surgeons' Committee on Trauma. Practice management guidelines for emergency department thoracotomy. J Am Coll Surg. 2001;193:303–9.

27.

Millin MG, Galvagno SM, Khandker SR, Malki A, Bulger EM, Standards Clinical Practice Committee of the National Association of EMS Physicians (NAEMSP), Subcommittee on Emergency Services Prehospital of the American College of Surgeons' Committee on Trauma (ACSCOT). Withholding and termination of resuscitation of adult cardiopulmonary arrest secondary to trauma: resource document to the joint NAEMSP-ACSCOT position statements. J Trauma Acute Care Surg. 2013;75:459–67.

28.

Esposito TJ, Jurkovich GJ, Rice CL, Maier RV, Copass MK, Ashbaugh DG. Reappraisal of emergency room thoracotomy in a changing environment. J Trauma. 1991;31:881–5.

29.

Pahle AS, Pedersen BL, Skaga NO, Pillgram-Larsen J. Emergency thoracotomy saves lives in a Scandinavian hospital setting. J Trauma. 2010;68:599–603.
Ethics declarations
Conflict of interest
Ryo Yamamoto, Masaru Suzuki, Rakuhei Nakama, Kenichi Kase, Kazuhiko Sekine, Tomohiro Kurihara, and Junichi Sasaki declare that they have no conflict of interest.
Ethical approval
All procedures performed in studies involving human participants were in accordance with the ethical standards of the institutional and/or national research committee and with the 1964 Helsinki Declaration and its later amendments or comparable ethical standards.
Informed consent
For this type of retrospective study, formal consent is not required.
About this article
Cite this article
Yamamoto, R., Suzuki, M., Nakama, R. et al. Impact of cardiopulmonary resuscitation time on the effectiveness of emergency department thoracotomy after blunt trauma. Eur J Trauma Emerg Surg 45, 697–704 (2019) doi:10.1007/s00068-018-0967-y
Received:

Accepted:

Published:

Issue Date:
Keywords
Emergency department thoracotomy

Cardiopulmonary resuscitation

Blunt trauma

Traumatic cardiopulmonary arrest