Abstract
Introduction
Fall from heights is high energy injuries and constitutes a fraction of all fall-related trauma evaluations while bearing an increase in morbidity and mortality. We hypothesize that despite advancements in trauma care, the overall survivability has not improved in this subset of trauma patients.
Methods
All adult trauma patients treated after sustaining a fall from heights during a 40-month period were retrospectively reviewed. Admission demographics, clinical data, fall height (ft), injury patterns, ISS, GCS, length of stay, and mortality were reviewed.
Results
116 patients sustained a fall from heights, 90.4% accidental. A mean age of 37± 14.7 years, 86% male, and a fall height of 19 ± 10 ft were encountered. Admission GCS was 13 ± 2 with ISS 10 ± 11. Overall LOS was 6.6 ± 14.9 days and an ICU LOS of 2.8 ± 8.9 days. Falls ≥ 25 ft.(16%) had lower GCS 10.4 ± 5.8, increased ISS 22.6 ± 13.8, a fall height 37.9 ± 13.1 ft and associated increased mortality (p < 0.001). Mortality was 5.2%, a mean distance fallen of 39 ± 22 ft. and an ISS of 31.5 ±16.5. Brain injury was the leading cause of death, 50% with open skull fractures.
Conclusion
Level of height fallen is a good predictor of overall outcome and survival. Despite advances in trauma care, death rates remain unchanged. Safety awareness and injury prevention programs are needed to reduce the risk of high-level falls.
This is a preview of subscription content, log in to check access.
Access options
Buy single article
Instant access to the full article PDF.
US$ 39.95
Price includes VAT for USA
Subscribe to journal
Immediate online access to all issues from 2019. Subscription will auto renew annually.
US$ 199
This is the net price. Taxes to be calculated in checkout.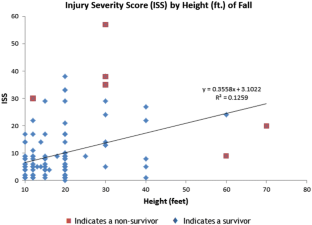 References
1.

David JS, Gelas-Dore B, Inaba K, Levrat A, Riou B, Gueugniaud PY, Schott AM. Are patients with self-inflicted injuries more likely to die? J Trauma. 2007;62(6):1495–500.

2.

Buckman RF, Buckman PD. Vertical deceleration trauma: principles of management. Surg Clin N Am. 1991;71:331–44.

3.

Dong XS, Wang X, Largay JA, Platner JW, Stafford E, Cain CT, Choi SD. Fatal falls in the U.S. residential construction industry. Am J Ind Med. 2014;57(9):992–1000.

4.

Spiegel CN, Lindaman FC. Children can't fly: a pro- gram to prevent childhood morbidity and mortality from window falls. Am J Public Health. 1977;67:1143–7.

5.

Shields BJ, Burkett E, Smith GA. Epidemiology of balcony fall-related injuries, United States, 1990-2006. Am J Emerg Med. 2011;29(2):174–80.

6.

Rosen P. Emergency medicine: concepts and clinical practice. 4th ed. St. Louis: Mosby-Year Book, Inc; 1998. p. 352.

7.

Demetriades D, Murray J, Brown C, Velmahos G, Salim A, Alo K, Rhee P. High-level falls: type and severity of injuries and survival outcome according to age. J Trauma. 2005;58:342–5.

8.

Rozycki GS, Maull KI. Injuries sustained by falls. Arch Emerg Med. 1991;8(4):245–52.

9.

Simmons E, Hedges JR, Irwin L, Maassberg W, Kirkwood HA Jr. Paramedic injury severity perception can aid trauma triage. Ann Emerg Med. 1995;26:461–8.

10.

Goodacre S, Than M, Goyder EC, et al. Can the distance fallen predict serious injury after a fall from a height? J Trauma. 1999;46:1055–8.

11.

Velmahos G, Demetriades D, Theodorou D, et al. Patterns of injury in victims of urban free-falls. World J Surg. 1997;21(8):816–20.

12.

Atanasijevic TC, Savic SN, Nikolic SD, Djoki VM. Frequency and severity of injuries in correlation with the height of fall. J Forensic Sci. 2005;50(3):608–12.

13.

Lowenstein SR, Yaron M, Carrerro R, Devereux D, Jacobs LM. Vertical trauma: injuries to patients who fall and land on their feet. Ann Emerg Med. 1989;18(2):161–5.

14.

Bergner L, Mayer S, Harris D. Falls from heights: a childhood epidemic in an urban area. Am J Public Health. 1971;61:90–6.

15.

Richter D, Hahn MP, Ostermann PAW, et al. Vertical deceleration injuries: a comparative study of the injury patterns of 101 patients after accidental and intentional high falls. Injury. 1996;27:655–9.

16.

Mathis RD, Levine SH, Phifer S. An analysis of accidental free falls from a height: the 'spring break' syndrome. J Trauma. 1993;34:123–6.

17.

Auñón-Martín I, Doussoux PC, Baltasar JL, Polentinos-Castro E, Mazzini JP, Erasun CR. Correlation between pattern and mechanism of injury of free fall. Strateg Trauma Limb Reconstr. 2012;7(3):141–5.

18.

Scalea T, Goldstein A, Phillips T, Sclafani SJA, Panetta T, McAuley J, Shaftan G. An analysis of 161 falls from a height: "the jumper syndrome". J Trauma. 1986;26:706.

19.

Goonetilleke A. Injuries caused by falls from heights. Med Sci Law. 1980;20:262–75.

20.

Wang MY, Kim A, Griffith PM, et al. Injuries from falls in the pediatric population: an analysis of 729 cases. J Pediatr Surg. 2001;36:1628–32.

21.

Mosenthal AC, Livingston DH, Elcavage J, Merritt S, Stucker S, Falls S. Epidemiology and strategies for prevention. J Trauma. 1995;38(5):753–6.
Ethics declarations
Conflict of interest
There are no conflicts of interest or funding reported by the above authors.
Ethical approval
All human and animal studies have been approved by the appropriate ethics committee/IRB and have therefore been performed in accordance with the ethical standards in the 1964 Declaration of Helsinki, later amendments and National laws.
About this article
Cite this article
Alizo, G., Sciarretta, J.D., Gibson, S. et al. Fall from heights: does height really matter?. Eur J Trauma Emerg Surg 44, 411–416 (2018). https://doi.org/10.1007/s00068-017-0799-1
Received:

Accepted:

Published:

Issue Date:
Keywords
High-level fall

Fall from heights

Trauma