Abstract
Purpose
The rise of computed tomography (CT) use in trauma has become the subject of concern given the harms of CT including radiation, cost, over diagnosis and identification of incidental lesions. We developed a novel metric, the Negative CT Score, (∑CT−) which quantifies how often CT imaging identifies important injuries. Our objective was to describe the pattern of CT utilization in trauma at an urban academic level one trauma center using this novel metric.
Methods
This was a retrospective study of intermediate level trauma patients who received CT imaging over a 1-year study period at an urban level one trauma center. We applied the Negative CT Score, (∑CT−) to quantify the results of CT imaging. ∑CT− is computed by subtracting the number of non-extremity body regions (maximum four: head, neck, chest, abdomen) with an important positive CT finding (defined by a priori criteria) from the total number of non-extremity body regions scanned.
Results
Of the 552 cases reviewed during the study period, 410 (74.3%) were male and the mean age was 40.3 years [SD ± 21.2]. Four hundred eighty-six patients (88.0%) suffered blunt trauma; 66 (12.0%) suffered penetrating trauma. The average injury severity score for admitted patients was seven. Four hundred ninety-five cases had at least one CT performed. The average number of regions per patient that received CT imaging was 2.36 (SD ± 1.3), and the average ∑CT− was 2.10 (SD ± 1.2). Three hundred and sixty-seven (74.3%) patients had no important findings on CT imaging.
Conclusions
In a consecutive series of 552 intermediate trauma patients at our urban trauma center, 2.36 body regions were scanned per patient; of these, 2.10 regions revealed no important CT findings. We hope that these results and the Negative CT Score can be used to identify trends, variations in practice, and outliers within and across departments so that CT utilization can be optimized.
This is a preview of subscription content, log in to check access.
Access options
Buy single article
Instant unlimited access to the full article PDF.
US$ 39.95
Price includes VAT for USA
Subscribe to journal
Immediate online access to all issues from 2019. Subscription will auto renew annually.
US$ 199
This is the net price. Taxes to be calculated in checkout.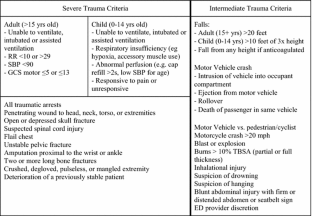 References
1.

Rizzo AG, Steinberg SM, Flint LM. Prospective assessment of the value of computed tomography for trauma. J Trauma. 1995;38(3):338–42.

2.

Kailidou E, Pikoulis E, Katsiva V, Karavokyros IG, Athanassopoulou A, Papakostantinou I, et al. Contrast-enhanced spiral CT evaluation of blunt abdominal trauma. JBR-BTR. 2005;88(2):61–5.

3.

Nagy KK, Joseph KT, Krosner SM, Roberts RR, Leslie CL, Dufty K, et al. The utility of head computed tomography after minimal head injury. J Trauma. 1999;46(2):268–70.

4.

Soto JA, Lucey BC, Stuhlfaut JW, Varghese JC. Use of 3D imaging in CT of the acute trauma patient: impact of a PACS-based software package. Emerg Radiol. 2005;11(3):173–6.

5.

Grieshop NA, Jacobson LE, Gomez GA, Thompson CT, Solotkin KC. Selective use of computed tomography and diagnostic peritoneal lavage in blunt abdominal trauma. J Trauma. 1995;38(5):727–31.

6.

Self ML, Blake AM, Whitley M, Nadalo L, Dunn E. The benefit of routine thoracic, abdominal, and pelvic computed tomography to evaluate trauma patients with closed head injuries. Am J Surg. 2003;186(6):609–13.

7.

Antevil JL, Sise MJ, Sack DI, Kidder B, Hopper A, Brown CV. Spiral computed tomography for the initial evaluation of spine trauma: a new standard of care? J Trauma. 2006;61(2):382–7. doi:10.1097/01.ta.0000226154.38852.e6.

8.

Exadaktylos AK, Sclabas G, Schmid SW, Schaller B, Zimmermann H. Do we really need routine computed tomographic scanning in the primary evaluation of blunt chest trauma in patients with "normal" chest radiograph? J Trauma. 2001;51(6):1173–6.

9.

Guillamondegui OD, Pryor JP, Gracias VH, Gupta R, Reilly PM, Schwab CW. Pelvic radiography in blunt trauma resuscitation: a diminishing role. J Trauma. 2002;53(6):1043–7. doi:10.1097/01.TA.0000028858.23677.AB.

10.

Rhee PM, Bridgeman A, Acosta JA, Kennedy S, Wang DS, Sarveswaran J, et al. Lumbar fractures in adult blunt trauma: axial and single-slice helical abdominal and pelvic computed tomographic scans versus portable plain films. J Trauma. 2002;53(4):663–7. doi:10.1097/01.TA.0000026495.20483.FD.

11.

Ahmadinia K, Smucker JB, Nash CL, Vallier HA. Radiation exposure has increased in trauma patients over time. J Trauma Acute Care Surg. 2012;72(2):410–5. doi:10.1097/TA.0b013e31823c59ee.

12.

Garber BG, Bigelow E, Yelle JD, Pagliarello G. Use of abdominal computed tomography in blunt trauma: do we scan too much? Can J Surg. 2000;43(1):16–21.

13.

Jindal A, Velmahos GC, Rofougaran R. Computed tomography for evaluation of mild to moderate pediatric trauma: are we overusing it? World J Surg. 2002;26(1):13–6. doi:10.1007/s00268-001-0174-5.

14.

Kalra MK, Maher MM, Rizzo S, Kanarek D, Shepard JA. Radiation exposure from chest CT: issues and strategies. J Korean Med Sci. 2004;19(2):159–66.

15.

Worrall JC, Jama S, Stiell IG. Radiation doses to emergency department patients undergoing computed tomography. CJEM. 2014;16(6):477–84.

16.

Bandiera G, Stiell IG, Wells GA, Clement C, De Maio V, Vandemheen KL, et al. The Canadian C-spine rule performs better than unstructured physician judgment. Ann Emerg Med. 2003;42(3):395–402. doi:10.1067/mem.2003.293.

17.

Bode PJ, Edwards MJ, Kruit MC, van Vugt AB. Sonography in a clinical algorithm for early evaluation of 1671 patients with blunt abdominal trauma. AJR Am J Roentgenol. 1999;172(4):905–11. doi:10.2214/ajr.172.4.10587119.

18.

Haydel MJ, Preston CA, Mills TJ, Luber S, Blaudeau E, DeBlieux PM. Indications for computed tomography in patients with minor head injury. N Engl J Med. 2000;343(2):100–5. doi:10.1056/NEJM200007133430204.

19.

Hoffman JR, Mower WR, Wolfson AB, Todd KH, Zucker MI. Validity of a set of clinical criteria to rule out injury to the cervical spine in patients with blunt trauma. National Emergency X-Radiography Utilization Study Group. N Engl J Med. 2000;343(2):94–9. doi:10.1056/NEJM200007133430203.

20.

Richards JR, Derlet RW. Computed tomography for blunt abdominal trauma in the ED: a prospective study. Am J Emerg Med. 1998;16(4):338–42.

21.

Sahdev P, Garramone Jr RR, Schwartz RJ, Steelman SR, Jacobs LM. Evaluation of liver function tests in screening for intra-abdominal injuries. Ann Emerg Med. 1991;20(8):838–41.

22.

Stiell IG, Wells GA, Vandemheen K, Clement C, Lesiuk H, Laupacis A, et al. The Canadian CT Head Rule for patients with minor head injury. Lancet. 2001;357(9266):1391–6.

23.

Griffey RT, Jeffe DB, Bailey T. Emergency physicians' attitudes and preferences regarding computed tomography, radiation exposure, and imaging decision support. Acad Emerg Med Off J Soc Acad Emerg Med. 2014;21(7):768–77. doi:10.1111/acem.12410.

24.

Smith CB, Barrett TW, Berger CL, Zhou C, Thurman RJ, Wrenn KD. Prediction of blunt traumatic injury in high-acuity patients: bedside examination vs computed tomography. Am J Emerg Med. 2011;29(1):1–10. doi:10.1016/j.ajem.2009.05.025.

25.

Huber-Wagner S, Biberthaler P, Haberle S, Wierer M, Dobritz M, Rummeny E, et al. Whole-body CT in haemodynamically unstable severely injured patients–a retrospective, multicentre study. PLoS One. 2013;8(7):e68880. doi:10.1371/journal.pone.0068880.

26.

Huber-Wagner S, Lefering R, Qvick LM, Korner M, Kay MV, Pfeifer KJ, et al. Effect of whole-body CT during trauma resuscitation on survival: a retrospective, multicentre study. Lancet. 2009;373(9673):1455–61. doi:10.1016/S0140-6736(09)60232-4.

27.

Surgeons ACo. Choosing wisely: Five Things Physicians and Patients Should Question. 2013. http://www.choosingwisely.org/societies/american-college-of-surgeons/. Accessed 12 Apr 2016.
Acknowledgements
The authors thank Anju Galer for her assistance in querying the trauma database and are indebted to the residents of the Emergency Medicine Residency at the Icahn School of Medicine at Mount Sinai, whose monthly case reviews provide both the data and the culture of improvement that makes these types of studies possible.
Ethics declarations
Conflict of interest
Christopher Hansen, Reuben Strayer, Bradley Shy, Stuart Kessler, Sheree Givre, and Kaushal Shah declare that they have no conflict of interest.
Funding
No funding received.
About this article
Cite this article
Hansen, C.K., Strayer, R.J., Shy, B.D. et al. Prevalence of negative CT scans in a level one trauma center. Eur J Trauma Emerg Surg 44, 29–33 (2018) doi:10.1007/s00068-016-0741-y
Received:

Accepted:

Published:

Issue Date:
Keywords
Trauma

Imaging

Resource utilization