Abstract
Objective
That the prophylactic, sequential use of bronchoscopy after inhalation injury as a therapeutic tool to remove secretions and carbonaceous material and to screen for the early detection of pneumonia will improve outcome.
Methods
A three-year prospective randomized trial at a regional burn center.
Results
Thirty-three patients with inhalation injury requiring mechanical ventilation were admitted over three years. The bronchoscopy group had a higher initial carboxyhemoglobin level at 11.9 % (95 % CI ± 9.6 %) versus the control group at 9.9 % (95 % CI ± 5.7 %, p = 0.7). There was no difference in the incidence of pneumonia between groups (p = 0.6). There was a trend toward fewer days of antibiotic use in the bronchoscopy group, at 4.5 days (95 % CI ± 4.5 days) versus 9.3 days (95 % CI ± 7.1 days, p = 0.3). Fewer patients were treated with antibiotics in the bronchoscopy group (4/13, 31 %) versus the control group (9/15, 60 %, p = 0.1). There was a statistically significant difference in the morbidity that favored the bronchoscopy group (3/13, 23 %) over the control group (9/15, 60 %, p = 0.04). There was no statistically significant difference between the two groups in days of mechanical ventilation (bronchoscopy 5.1 days, 95 % CI ± 3.6 days, control 6.7 days, 95 % CI ± 6.3 days, p = 0.7), ICU days (bronchoscopy 10 days, 95 % CI ± 10 days, control 18 days, 95 % CI ± 12 days, p = 0.4), and hospital days (bronchoscopy 21 days, 95 % CI ± 12 days, control 26 days, 95 % CI ± 12 days, p = 0.5), although the trends favored the bronchoscopy group for all of the endpoints.
Conclusions
In conclusion, this program of scheduled, sequential bronchoscopy after inhalation injury showed several strong trends towards less morbidity, fewer days of mechanical ventilation, and a shorter length of stay. There was also a strong trend towards less antibiotic use and a shorter duration of treatment. This data is promising and should promote a larger, multi-institutional trial in the future.
This is a preview of subscription content, log in to check access.
Access options
Buy single article
Instant access to the full article PDF.
US$ 39.95
Price includes VAT for USA
Subscribe to journal
Immediate online access to all issues from 2019. Subscription will auto renew annually.
US$ 199
This is the net price. Taxes to be calculated in checkout.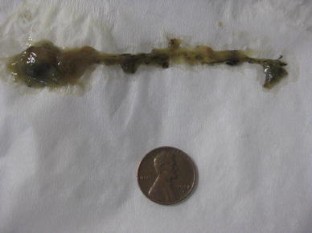 References
1.

Guo F, Chen XL, Wang YJ, Wang F, Chen XY, Sun YX. Management of burns of over 80 % of total body surface area: a comparative study. Burns. 2009;35:210–4.

2.

Bloemsma GC, Dokter J, Boxma H, Oen IM. Mortality and causes of death in a burn center. Burns. 2008;34:1103–7.

3.

Steinvall I, Bak Z, Sjoberg F. Acute respiratory distress syndrome is as important as inhalation injury for the development of respiratory dysfunction in major burns. Burns. 2008;34:441–51.

4.

Marek K, Piotr W, Stanislaw S, Stefan G, Justyna G, Mariusz N, Andriessen A. Fiberoptic bronchoscopy in routine clinical practice in confirming the diagnosis and treatment of inhalation burns. Burns. 2007;33:554–60.

5.

Irrazabal CL, Capdevila AA, Revich L, DelBosco CG, Luna CM, Vujacich P, Villa R, Jorge MA. Early and late complications among 15 victims exposed to indoor fire and smoke inhalation. Burns. 2008;34:533–8.

6.

Masanes MJ, Legendre C, Lioret N, Maillard D, Saizy R, Lebeau B. Fiberoptic bronchoscopy for the early diagnosis of subglottal inhalation injury: comparative value in the assessment of prognosis. J Trauma. 1994;36:59–67.

7.

Arakawa A, Fukamizu H, Hashizume I, Kasamatsu N, Nagayoshi M, Shinozuka N, Yasuda T, Ozawa T. Macroscopic and histologic findings in the healing process of inhalation injury. Burns. 2007;33:855–9.

8.

Mosier MJ, Gamelli RL, Halerz MM, Silver G. Microbial contamination in burn patients undergoing urgent intubation as part of their early airway management. J Burn Care Res. 2008;29:304–10.

9.

Brenner M, Kreuter K, Ju J, Mahon S, Tseng L, Mukai D, Burney T, Guo S, Su J, Tran A, Batchinsky A, Cancio LC, Narula N, Chen Z. In vivo optical coherence tomography detection of differences in regional large airway smoke inhalation induced injury in a rabbit model. J Biomed Opt. 2008;13:034001.

10.

Carr JA, Phillips BD, Bowling WM. The utility of bronchoscopy after inhalation injury complicated by pneumonia in burn patients: results from the National Burn Repository. J Burn Care Res. 2009;30:967–74.

11.

Kollef MH. What is ventilator-associated pneumonia and why is it important? Respir Care. 2005;50:714–24.

12.

American Thoracic Society. Guidelines for the management of adults with hospital-acquired, ventilator-associated, and healthcare-associated pneumonia. Am J Respir Crit Care Med. 2005;171:388–416.

13.

Wahl WL, Ahrns KS, Brandt MM, Rowe SA, Hemmila MR, Arbabi S. Bronchoalveolar lavage in diagnosis of ventilator-associated pneumonia in patients with burns. J Burn Care Rehabil. 2005;26:57–61.

14.

Ettensohn DB, Jankowski MJ, Duncan PG, Lalor PA. Bronchoalveolar lavage in the normal volunteer subject. I. Technical aspects and intersubject variability. Chest. 1988;94:275–80.

15.

Endorf FW, Gamelli RL. Inhalation injury, pulmonary perturbations, and fluid resuscitation. J Burn Care Res. 2007;28:80–3.

16.

Ikonomidis C, Lang F, Radu A, Berger MM. Standardizing the diagnosis of inhalation injury using a descriptive score based on mucosal injury criteria. Burns. 2012;38:513–9.

17.

Mosier MJ, Pham TN, Park DR, Simmons J, Klein MB, Gibran NS. Predictive value of bronchoscopy in assessing the severity of inhalation injury. J Burn Care Res. 2012;33:65–73.

18.

Ligen L, Hongming Y, Feng L, Chuanan S, Daifeng H, Xiaoye T. Morphologic changes and prognosis of the respiratory tract epithelium in inhalation injury and their relationship with clinical manifestations. Surgery. 2012;151:206–12.

19.

Hassan Z, Wong JK, Bush J, Bayat A, Dunn KW. Assessing the severity of inhalation injuries in adults. Burns. 2010;36:212–6.

20.

Mehta AC, Prakash UBS, Garland R, Haponik E, Moses L, Schaffner W, Silvestri G. American College of Chest Physicians and the American Association for Bronchology consensus statement: prevention of flexible bronchoscopy-associated infection. Chest. 2005;128:1742–55.

21.

Wahl WL, Taddonio MA, Arbabi S, Hemmila MR. Duration of antibiotic therapy for ventilator-associated pneumonia in burn patients. J Burn Care Res. 2009;30:801–6.

22.

Wahl WL, Franklin GA, Brandt MM, Sturm L, Ahrns KS, Hemmila MR, Arbabi S. Does bronchoalveolar lavage enhance our ability to treat ventilator-associated pneumonia in a trauma-burn intensive care unit? J Trauma. 2003;54:633–8.

23.

Edelman DA, White MT, Tyburski JG, Wilson RE. Factors affecting prognosis of inhalation injury. J Burn Care Res. 2006;27:848–53.

24.

Edelman DA, Khan N, Kempf K, White MT. Pneumonia after inhalation injury. J Burn Care Res. 2007;28:241–6.
Conflict of interest
The authors did not receive financial support for this research.
Additional information
Clinical trial registration number: NCT 00997555
About this article
Cite this article
Carr, J.A., Crowley, N. Prophylactic sequential bronchoscopy after inhalation injury: results from a three-year prospective randomized trial. Eur J Trauma Emerg Surg 39, 177–183 (2013). https://doi.org/10.1007/s00068-013-0254-x
Received:

Accepted:

Published:

Issue Date:
Keywords
Inhalation injury

Bronchoscopy

Pneumonia

Smoke inhalation

Bronchoalveolar lavage