Abstract
Background
This study aimed to evaluate the outcomes and the toxicity of focal high-dose-rate (HDR) brachytherapy in selected localized prostate cancer patients.
Methods
Fifty patients were treated with focal high-dose-rate brachytherapy between March 2013 and November 2017, representing 5% of the cases treated by our group during this period. Only patients with very limited and localized tumors, according to strict criteria, were selected for the procedure. The prescribed dose for the focal volume was 24 Gy.
Results
The treated volume corresponded to a mean value of 32% of the total prostatic volume. The mean focal D90 in our series was 23 Gy (range 16–26 Gy). The mean initial IPSS was 8.2 (range 0–26), at 6 months 7.5 (range 0–23), and at 24 months 6.7 (range 0–18). No acute or late urinary retention was seen. When the ICIQ-SF score was 0 at the end of treatment, it remained nil thereafter at 1 and 2 years for all patients. No intraoperative or perioperative complications occurred. No rectal toxicity was reported after treatment. Of the total patients identified as potent, only three patients had a very slight decrease of the mean IIEF5. The mean initial PSA was 6.9 ng/mL (range 1.9–13.4). At the last follow-up visit, the mean PSA was 3 ng/ml (range 0.48–8.11).
Conclusion
HDR focal brachytherapy in selected patients with low intermediate-risk prostate cancer could achieve the same satisfactory results in terms of relapse-free survival as conventional whole prostate brachytherapy with less toxicity.
Zusammenfassung
Hintergrund
Zur Beurteilung der Ergebnisse und der Toxizität der fokalen Brachytherapie mit hoher Dosisrate (HDR) bei ausgewählten lokalisierten Prostatakrebspatienten.
Methoden
Fünfzig Patienten wurden zwischen März 2013 und November 2017 mit einer fokalen HDR-Brachytherapie behandelt. Dies entspricht 5 % der Fälle, die unsere Gruppe in diesem Zeitraum behandelte. Für das Verfahren wurden nur Patienten mit sehr begrenzten und lokalisierten Tumoren nach strengen Kriterien ausgewählt. Die verschriebene Dosis für das Fokusvolumen betrug 24 Gy.
Ergebnisse
Das behandelte Volumen entsprach einem Mittelwert von 32 % des gesamten Prostatavolumens. Die mittlere Brennweite D90 in unserer Serie betrug 23 Gy (Spanne 16–26 Gy). Der mittlere anfängliche IPSS betrug 8,2 (Spanne 0–26), nach 6 Monaten 7,5 (Spanne 0–23) und nach 24 Monaten 6,7 (Spanne 0–18). Es wurde keine akute oder späte Harnverhaltung beobachtet. Wenn der ICIQ-SF-Wert am Ende der Behandlung 0 war, bleibt er bei 1 und 2 Jahren für alle Patienten gleich Null. Es traten keine intraoperativen oder perioperativen Komplikationen auf. Nach der Behandlung wurde keine rektale Toxizität berichtet. Von der Gesamtzahl der als potenziell identifizierten Patienten hatten nur drei Patienten eine sehr leichte Abnahme des mittleren IIEF5. Der mittlere anfängliche PSA betrug 6,9 ng/ml (Spanne 1,9–13,4 ng/ml). Bei der letzten Nachuntersuchung betrug der mittlere PSA-Wert 3 ng/ml (Spanne 0,48–8,11 ng/ml).
Schlussfolgerung
Die fokale HDR-Brachytherapie bei ausgewählten Patienten mit Prostatakrebs mit niedrigem mittlerem Risiko könnte hinsichtlich des rückfallfreien Überlebens die gleichen befriedigenden Ergebnisse erzielen wie die herkömmliche Gesamt-Prostata-Brachytherapie ohne Toxizität.
This is a preview of subscription content, log in to check access.
Access options
Buy single article
Instant unlimited access to the full article PDF.
US$ 39.95
Price includes VAT for USA
Subscribe to journal
Immediate online access to all issues from 2019. Subscription will auto renew annually.
US$ 199
This is the net price. Taxes to be calculated in checkout.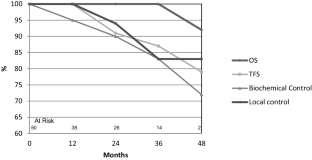 References
1.

Scardino PT (2009) Focal therapy for prostate cancer. Nat Rev Urol 6:175

2.

Noguchi M, Stamey TA, McNeal JE et al (2003) Prognostic factors for multifocal prostate cancer in radical prostatectomy specimens: lack of significance of secondary cancers. J Urol 170:459–463

3.

Karavitakis M, Ahmed HU, Abel PD et al (2011) Tumor focality in prostate cancer: Implications for focal therapy. Nat Rev Clin Oncol 8:48–55

4.

Mouraviev V, Villers A, Bostwick DG et al (2011) Understanding the pathological features of focality, grade and tumour volume of early-stage prostate cancer as a foundation for parenchyma-sparing prostate cancer therapies: active surveillance and focal targeted therapy. BJU Int 108:1074–1085

5.

Eggener SE, Scardino PT, Carroll PR et al (2007) International task force on prostate cancer and the focal lesion paradigm. J Urol 178:2260–2267

6.

Lindner U, Lawrentschuk N, Schatloff O et al (2011) Evolution from active surveillance to focal therapy in the management of prostate cancer. Future Oncol 7:775–787

7.

Hou AH, Sullivan KF, Crawford ED (2009) Targeted focal therapy for prostate cancer: a review. Curr Opin Urol 20:283–289

8.

Edge SB, Byrd DR, Compton CC, Fritz AG, Greene FL, Trotti A (eds) (2010) AJCC cancer staging manual, 7th edn. Springer, New York, NY

9.

Roach M, Hanks G, Thames H, Schellhammer P, Shipley WU, Sokol GH, Sandler H (2006) Defining biochemical failure following radiotherapy with or without hormonal therapy in men with clinically localized prostate cancer: recommendations of the RTOG-ASTRO Phoenix Consensus Conference. Int J Radiat Oncol Biol Phys 65:965–974

10.

Formenti SC, Demaria S (2009) Systemic effects of local radiotherapy. Lancet Oncol 10:718–726

11.

Cosset JM, Cathelineau X, Wakil G et al (2013) Focal brachytherapy for selected low-risk prostate cancers: a pilot study. Brachytherapy 12:331–337

12.

Al-Qaisieh B, Mason J, Bownes P et al (2015) Dosimetry modeling for focal low-dose-rate prostate brachytherapy. Int J Radiat Oncol Biol Phys 92:787–793

13.

Mahdavi SS, Spadinger IT, Salcudean SE et al (2017) Focal application of low-dose-rate brachytherapy for prodtate cancer: a pilot study. J Contemp Brachytherapy 9(3):197–208

14.

Graff P, Portalet D, Lusque A et al (2018) IDEAL 2a phase II study of ultrafocal brachytherapy for low and intermediate risk. Int J Radiat Oncol Biol Phys 2017(2):235–236

15.

Venkatesa AM, Stafford RJ, Duran C et al (2017) Prostate MRI for brachytherapist: diagnosis, imaging pitfalls, and post-therapy assessment. Brachytherapy 16:688–697

16.

Prada PJ, Ferri M, Cardenal J et al (2018) High-Dose-Rate Interstitial Brachytherapy as Monotherapy in one fraction of 20.5 Gy for the treatment of localized prostate cancer: Toxicity and 6‑years biochemical results. Brachytherapy. https://doi.org/10.1016/j.brachy.2018.06.002

17.

Prada PJ, Cardenal J, García Blanco A et al (2016) High-dose-rate interstitial brachytherapy as monotherapy in one fraction for the treatment of favorable stage prostate cancer toxicity and long-term biochemical results. Radiother Oncol 119(3):411–416
Ethics declarations
Conflict of interest
P.J. Prada, J. Cardenal, A. García Blanco, J. Andreescu, M. Ferri, J. Anchuelo, I. Diaz de Cerio, N. Sierrasesumaga, A. Vázquez, M. Pacheco, and S. Ruiz Arrebola declare that they have no competing interests.
About this article
Cite this article
Prada, P.J., Cardenal, J., García Blanco, A. et al. Focal high-dose-rate brachytherapy for localized prostate cancer: toxicity and preliminary biochemical results. Strahlenther Onkol (2020). https://doi.org/10.1007/s00066-019-01561-3
Received:

Accepted:

Published:
Keywords
Focal brachytherapy

High-dose-rate

Prostate cancer

Toxicity

Results
Schlüsselwörter
Fokale Brachytherapie

Hohe Dosisrate

Prostatakarzinom

Toxizität

Ergebnisse