Abstract
Purpose
The current study aimed to assess patterns of failure (PoF) in anaplastic glioma (AG) patients managed with intensity-modulated radiation therapy (IMRT) and their relationship to molecular subtype.
Methods
The outcomes of AG patients managed between 2008 and 2014 and entered into a prospective database were assessed, including PoF. AG was initially defined using the WHO 2007 classification, but for analysis, patients were subsequently recategorised based on WHO 2016 as anaplastic oligodendroglioma (AOD), astrocytoma isocitrate dehydrogenase (IDH) mutant (AAmut) or astrocytoma IDH wildtype (AAwt). Management involved IMRT and temozolomide (TMZ), including from 2011 patients with an IDH mutation (IDHmut) planned with 18F-fluoroethyltyrosine (FET) and 18F-fluorodeoxyglucose (FDG) positron-emission tomography (PET). PoF was local, marginal or distant in relation to the IMRT volume. Relapse-free survival (RFS) was calculated from the start of IMRT.
Results
A total of 156 patients were assessed, with median follow-up of 5.1 years. Of these patients, 75% were IDHmut, 44% were managed at first or later relapse and 73% received TMZ. Relapse occurred in 68 patients, with 6‑year RFS of 75.0, 48.8 and 2.5% for AOD, AAmut and AAwt, respectively (p < 0.001). There was a component of local relapse in 63%, of marginal relapse in 19% and of distant relapse in 37% of relapses. Isolated local, marginal and distant relapse was evident in 51, 9 and 22%, respectively. A distant relapse pattern was more frequent in IDHmut compared to IDHwt patients (26% vs. 45%, p = 0.005), especially within the first 2 years post-IMRT. In multivariate analysis, distant relapse remained associated with AAmut (p < 0.002) and delayed IMRT until the second relapse (p < 0.001).
Conclusion
Although patients with IDH-mutated AG have improved outcomes, there was a higher proportion of distant relapses occurring during the 2 years after IMRT.
Zusammenfassung
Ziel
Die Studie hat das Ziel, Rezidivmuster (PoF) und deren Bezug zum molekularen Subtyp bei Patienten mit anaplastischem Gliom (AG), welche mit intensitätsmodulierter Strahlentherapie (IMRT) behandelt wurden, auszuwerten.
Methoden
Für Patienten mit AG, die zwischen 2008–2014 behandelt wurden, werteten wir prospektiv erfasste Ergebnisse einschließlich PoF aus. Initial wurde AG gemäß WHO-Klassifikation 2007 definiert. Für diese Studie wurden die Patienten nach WHO 2016 als anaplastisches Oligodendrogliom (AOD), Astrozytom mit Isocitrat-Dehydrogenase-(IDH-)Mutation (AAmut) oder Wildtyp-Astrozytom (AAwt) rekategorisiert. Die Behandlung bestand aus IMRT und Temozolomid (TMZ), wobei seit 2011 für Patienten mit IDH-Mutationen (IDHmut) eine 18F-Fluoroethyltyrosin (FET) und eine 18F-Fluorodeoxyglukose-(FDG-)Positronenemissionstomographie (PET) Teil des Planungsprozesses waren. Die PoF-Analyse unterschied Lokal‑, Marginal- und Fernrezidive basierend auf dem Abstand zum IMRT-Volumen. Die rezidivfreie Überlebensrate (RFS) wurde ab IMRT-Beginn berechnet.
Ergebnisse
Eingeschlossen wurden 156 Patienten mit einer medianen Nachbeobachtungszeit von 5,1 Jahren. Von diesen waren 75% IDHmut, bei 44 % wurde ein Erst- oder späteres Rezidiv behandelt und 73 % erhielten TMZ. Ein Rezidiv mit einer 6‑Jahres-RFS von jeweils 75,0 %, 48,8 % und 2,5 % für AOD, AAmut and AAwt entwickelten 68 % (p < 0,001). Es bestand eine Komponente für ein lokales Rezidiv in 68 %, für ein marginales Rezidiv in 19 % und für ein entferntes Rezidiv in 37 % der Fälle. Isolierte Lokal‑, Marginal- und Fernrezidive lagen jeweils in 51 %, 9 % und 22 % vor. Besonders innerhalb der ersten beiden Jahre seit IMRT war ein entferntes Rezidivmuster häufiger für IDHmut verglichen mit IDHwt (26 % vs. 45 %; p = 0,005). In der multivariaten Analyse blieb die Assoziation zwischen Fernrezidiv und AAmut (p < 0,002) und bis zum zweiten Rezidiv verzögerter IMRT (p < 0,001) bestehen.
Schlussfolgerung
Obwohl Patienten mit IDH-mutiertem AG bessere Ergebnisse erzielen, gab es einen relativ hohen Fernrezidivanteil innerhalb der ersten beiden Jahre seit IMRT.
This is a preview of subscription content, log in to check access.
Access options
Buy single article
Instant unlimited access to the full article PDF.
US$ 39.95
Price includes VAT for USA
Subscribe to journal
Immediate online access to all issues from 2019. Subscription will auto renew annually.
US$ 199
This is the net price. Taxes to be calculated in checkout.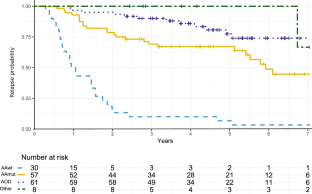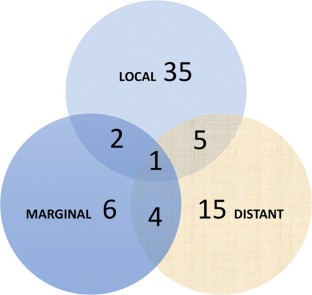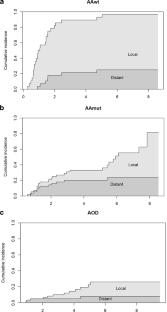 References
1.

Yan H, Parsons DW, Jin G et al (2009) IDH1 and IDH2 mutations in gliomas. N Engl J Med 360:765–773

2.

Cairncross JG, Wang M, Jenkins RB et al (2014) Benefit from procarbazine, lomustine, and vincristine in oligodendroglial tumors is associated with mutation of IDH. J Clin Oncol 32(8):783–790. https://doi.org/10.1200/JCO.2013.49.3726 (Epub 2014 Feb 10)

3.

Olar A, Wani KM, Alfaro-Munoz KD et al (2015) IDH mutation status and role of WHO grade and mitotic index in overall survival in grade II–III diffuse gliomas. Acta Neuropathol 129(4):585–596. https://doi.org/10.1007/s00401-015-1398-z (Epub 2015 Feb)

4.

Zhang B, Chang K, Ramkissoon S, Tanguturi S, Bi WL, Reardon DA, Ligon KL, Alexander BM, Wen PY, Huang RY (2017) Multimodal MRI features predict isocitrate dehydrogenase genotype in high-grade gliomas. Neuro Oncol 19(1):109–117. https://doi.org/10.1093/neuonc/now121 (Epub 2016 Jun 26. PMID:27353503)

5.

Back M, LeMottee M, Crasta C, Bailey D, Wheeler H, Guo L, Eade T (2017) Reducing radiation dose to normal brain through a risk adapted dose reduction protocol for patients with favourable subtype anaplastic glioma. Radiat Oncol 12(1):46

6.

Navarria P, Pessina F, Cozzi L, Ascolese AM, Lobefalo F, Stravato A, D'Agostino G, Franzese C, Caroli M, Bello L, Scorsetti M (2016) Can advanced new radiation therapy technologies improve outcome of high grade glioma (HGG) patients? analysis of 3D-conformal radiotherapy (3DCRT) versus volumetric-modulated arc therapy (VMAT) in patients treated with surgery, concomitant and adjuvant chemo-radiotherapy. BMC Cancer 10(16):362. https://doi.org/10.1186/s12885-016-2399-6 (PMID:27287048)

7.

Grosu AL, Weber WA (2010) PET for radiation treatment planning of brain tumours. Radiother Oncol 96(3):325–327. https://doi.org/10.1016/j.radonc.2010.08.001 (Epub 2010 Aug 20)

8.

Minniti G, Amelio D, Amichetti M et al (2010) Patterns of failure and comparison of different target volume delineations in patients with glioblastoma treated with conformal radiotherapy plus concomitant and adjuvant temozolomid. Radiother Oncol 97(3):377–381 (Epub 2010 Sep 18)

9.

Lundemann M, Costa JC, Law I et al (2017) Patterns of failure for patients with glioblastoma following O‑(2-[18F]fluoroethyl)-L-tyrosine PET- and MRI-guided radiotherapy. Radiother Oncol 122(3):380–386. https://doi.org/10.1016/j.radonc.2017.01.002 (Epub 2017 Jan 19. PMID:28110959)

10.

Louis DN, Ohgaki H, Wiestler OD, Cavenee WK, Burger PC, Jouvet A, Scheithauer BW, Kleihues P (2007) The 2007 WHO classification of tumours of the central nervous system. Acta Neuropathol 114(2):97–109 (Epub 2007 Jul 6. Review. Erratum in: Acta Neuropathol. 2007 Nov;114(5):547.  PMID: 17618441)

11.

Louis DN, Perry A, Reifenberger G, von Deimling A, Figarella-Branger D, Cavenee WK, Ohgaki H, Wiestler OD, Kleihues P, Ellison DW (2016) The 2016 World Health Organization classification of tumors of the central nervous system: a summary. Acta Neuropathol 131(6):803–820. https://doi.org/10.1007/s00401-016-1545-1 (Epub 2016 May 9. Review)

12.

Cairncross G, Wang M, Shaw E et al (2013) Phase III trial of chemoradiotherapy for anaplastic oligodendroglioma: long-term results of RTOG 9402. J Clin Oncol 31(3):337–343. https://doi.org/10.1200/JCO.2012.43.2674 (Epub 2012 Oct 15)

13.

van den Bent MJ, Brandes AA, Taphoorn MJ et al (2013) Adjuvant procarbazine, lomustine, and vincristine chemotherapy in newly diagnosed anaplastic oligodendroglioma: long-term follow-up of EORTC brain tumor group study 26951. J Clin Oncol 31(3):344–350. https://doi.org/10.1200/JCO.2012.43.2229 (Epub 2012 Oct 15)

14.

van den Bent MJ, Baumert B, Erridge SC et al (2017) Interim results from the CATNON trial (EORTC study 26053-22054) of treatment with concurrent and adjuvant temozolomide for 1p/19q non-co-deleted anaplastic glioma: a phase 3, randomised, open-label intergroup study. Lancet 390(10103):1645–1653. https://doi.org/10.1016/S0140-6736(17)31442-3 (Epub 2017 Aug 8. PMID:28801186)

15.

van den Bent MJ, Wefel JS, Schiff D et al (2011) Response assessment in neuro-oncology (a report of the RANO group): assessment of outcome in trials of diffuse low-grade gliomas. Lancet Oncol 12:583–593

16.

Dubbink HJ, Atmodimedjo PN, Kros JM et al (2016) Molecular classification of anaplastic oligodendroglioma using next-generation sequencing: a report of the prospective randomized EORTC Brain Tumor Group 26951 phase III trial. Neuro Oncol 18(3):388–400 (Epub 2015 Sep 9)

17.

Dunet V, Pomoni A, Hottinger A, Nicod-Lalonde M, Prior JO (2016) Performance of 18F-FET versus 18F-FDG-PET for the diagnosis and grading of brain tumors: systematic review and meta-analysis. Neuro Oncol 18(3):426–434. https://doi.org/10.1093/neuonc/nov148 (Epub 2015 Aug 4. Review. PMID:26243791)

18.

van West SE, de Bruin HG, van de Langerijt B, Swaak-Kragten AT, van den Bent MJ, Taal W (2017) Incidence of pseudoprogression in low-grade gliomas treated with radiotherapy. Neuro Oncol 19(5):719–725. https://doi.org/10.1093/neuonc/now194 (PMID:28453748)
Ethics declarations
Conflict of interest
M. Back, D. Jayamanne, D. Brazier, A. Newey, D. Bailey, G. Schembri, E. Hsiao, M. Khasraw, M. Wong, M. Kastelan, C. Brown and H. Wheeler declare that they have no competing interests.
Ethical standards
The database for this study was approved by the Institutional Ethics Review Board. Patient data were collected following written informed consent. The research was performed in accordance with the ethical standards laid down in the 1964 Declaration of Helsinki and its later amendments.
About this article
Cite this article
Back, M., Jayamanne, D., Brazier, D. et al. Pattern of failure in anaplastic glioma patients with an IDH1/2 mutation. Strahlenther Onkol 196, 31–39 (2020) doi:10.1007/s00066-019-01467-0
Received:

Accepted:

Published:

Issue Date:
Keywords
Isocitrate dehydrogenase

Recurrence

Radiotherapy

Temozolomide

Survival
Schlüsselwörter
Isocitrat-Dehydrogenase

Rückfall

Strahlentherapie

Temozolomid

Überleben