Zusammenfassung
Operationsziel
Beseitigung von Schmerzen oder Instabilitäten durch Versteifung des Daumengrundgelenks in funktioneller Position mit Hilfe einer dorsalen Plattenosteosynthese.
Indikationen
Schmerzhafte primäre oder sekundäre Arthrose des Daumengrundgelenks, nichtrekonstruierbare ulnare, radiale oder palmare Instabilität des Daumengrundgelenks, posttraumatische Fehlstellung, Defektverletzungen, Knochentumore im Bereich des Daumengrundgelenks.
Kontraindikationen
Lokale Infektion des Daumengrundgelenkbereichs.
Operationstechnik
Dorsaler Zugang über dem Daumengrundgelenk, Spaltung der Streckaponeurose zwischen der Extensor-pollicis-longus- und der Extensor-pollicis-brevis-Sehne. Türflügelartige Öffnung der Grundgelenkkapsel und Abtrennung der Kollateralbänder, Aufklappen des Gelenks, schmale konkave und konvexe Gelenkflächenresektionen, Einstellen der Arthrodesenposition in 10°- bis 20°-Beugestellung und Kirschner-Draht-Transfixation, dorsale Plattenosteosynthese, Feineinstellung der Flexion, Achse und Pronationsstellung. Verschluss der Kapsel und des Periostgleitgewebes über der Platte, Streckaponeurosennaht.
Weiterbehandlung
Daumenschiene unter Freilassung des Handgelenks für 3 Wochen. Vollbelastung erst nach 6–8 Wochen.
Ergebnisse
Die dorsale Plattenarthrodese des Daumengrundgelenks ist eine zuverlässige Operationsmethode mit einem meist sehr guten funktionellen Ergebnis.
Abstract
Objective
Elimination of pain or instability by arthrodesis of the thumb joint in functional position by dorsal plateosteosynthesis.
Indications
Painful primary or secondary arthrosis of the thumb, nonreconstructable ulnar, radial or palmar instability, posttraumatic dislocation, defect injuries, bone tumors in the region of the thumb metacarpophalangeal joint.
Contraindications
Local infection of the thumb metacarpophalangeal joint area.
Surgical technique
Dorsal approach to the thumb metacarpophalangeal (MP) joint, splitting of the extensor aponeurosis between the extensor pollicis longus and extensor pollicis brevis tendon. Opening of the anterior capsule and separation of the collateral ligaments, open up the joint, narrow concave and convex joint surface resections, adjustment of the arthrodesis position in 10–20° flexion and K‑wire transfixation, dorsal plateosteosynthesis, fine adjustment of the flexion, axis and pronation position. Closure of the capsule and the periosteal gliding tissue over the plate, reconstruction of the extensor aponeurosis.
Postoperative management
Splint for 3 weeks. Full load after 6–8 weeks.
Results
The dorsal plate arthrodesis of the thumb MP joint is a reliable surgical method with very good functional results.
This is a preview of subscription content, log in to check access.
Access options
Buy single article
Instant access to the full article PDF.
US$ 39.95
Price includes VAT for USA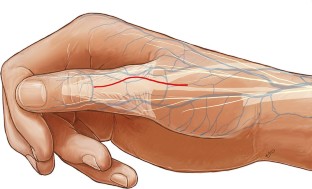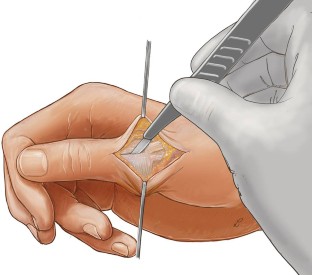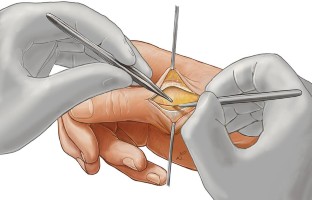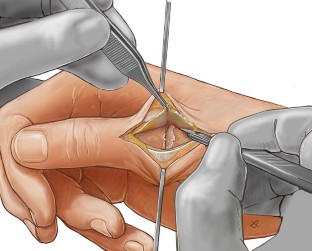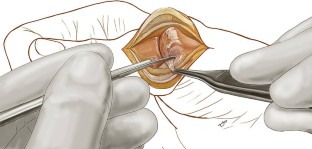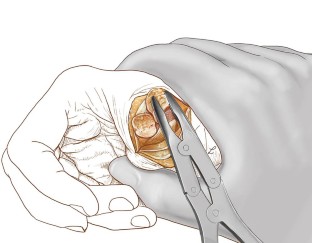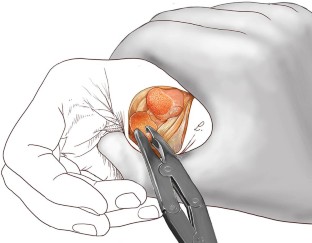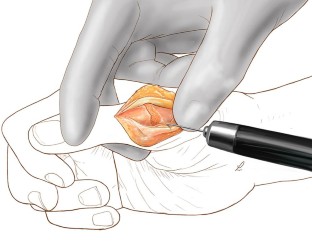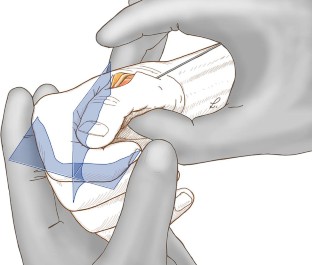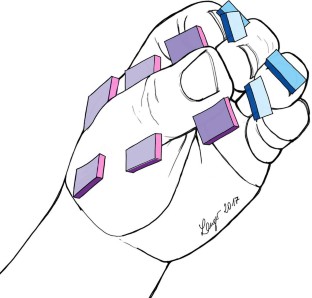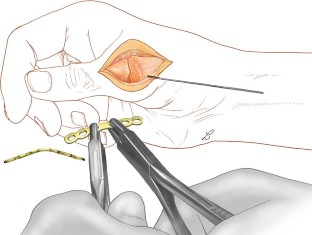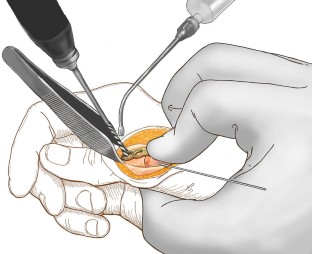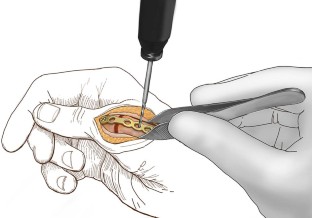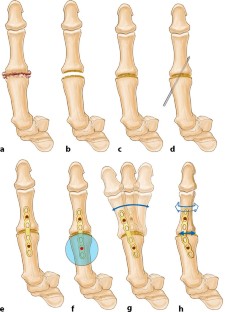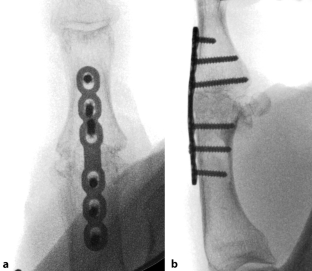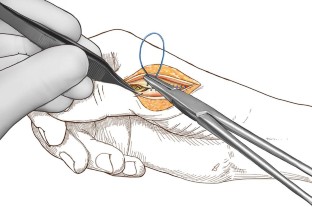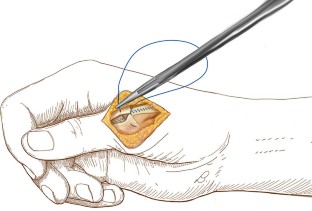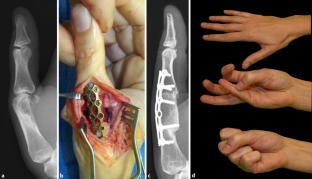 Literatur
1.

Allende BT, Engelem JC (1980) Tension band arthrodesis of finger joints. J Hand Surg 5:269–271

2.

Bicknell RT, MacDermid J, Roth JH (2007) Assessment of thumb metacarpophalangeal joint arthrodesis using a single longitudinal K‑wire. J Hand Surg Am 32A:677–684

3.

Braun RM, Rhoades CE (1985) Dynamic compression for small bone arthrodesis. J Hand Surg 10A:340–343

4.

Brumfield RH, Conaty JP (1980) Reconstructive surgery of the thumb in rheumatoid arthritis. Orthopedics 3:529–533

5.

Dederich R (1955) Untersuchungen über die normale Beweglichkeit im Daumengrundgelenk und die Bewertung unfallbedingter Bewegungseinschränkungen und Versteifungen. Arch Orthop Unfallchir 47:115–127

6.

Faithful DK, Herbert TJ (1984) Small joint fusions oft he hand using the Herbert bone screw. J Hand Surg 9B:167–168

7.

Ferlic DC, Turner BD, Clayton ML (1983) Compression arthrodesis of the thumb. J Hand Surg 8:207–210

8.

Goldner JL, Koman LA, Gelberman R, Levin S, Goldner RD (1990) Arthrodesis of the metacarpophalangeal joint of the thumb in children and adults. Adjunctive treatment of thumb-in-palm deformity in cerebral palsy. Clin Orthop 253:75–89

9.

Hagan HJ, Hastings H II (1988) Fusion of the thumb metacarpo-phalangeal joint to treat posttraumatic arthritis. J Hand Surg 13A:750–753

10.

Harrison S, Smith P, Maxwell D (1977) Stabilization of the first metacarpophalangeal and terminal joints of the thumb. Hand 9:242–249

11.

Khuri SM (1986) Tension band arthrodesis in the hand. J Hand Surg 11A:41–45

12.

Langer MF (2006) Bedeutung des dorsolateralen Periost-Gleitgewebelappens bei der Plattenosteosynthese von Grundgliedfrakturen. 47. Kongress der Deutschen Gesellschaft für Handchirurgie,, Heidelberg, 19.–21.10. 2006

13.

Langer MF, Hermann K, Oeckenpöhler S, Wieskötter B (2015) Ulnare Kollateralbandplastik des Daumengrundgelenks bei chronischer Instabilität. Oper Orthop Traumatol 27:380–393

14.

Langer MF, Oeckenpöhler S, Lötters E, Wieskötter B (2016) Treatment of instability of the metacarpophalangeal and trapeziometacarpal joints of the thumb. Unfallchirurg 119:993–999

15.

Lister G (1978) lntraosseous wiring of the digital skeleton. J Hand Surg 3:427–435

16.

McGlynn JT, Smith RA, Bogumill GP (1988) Arthrodesis of small joint oft he hand. A rapid and effective technique. J Hand Surg 13A:595–599

17.

Messer TM, Nagle DJ, Martinez AG (2002) Thumb metacarpophalangeal joint arthrodesis using the AO 3.0-mm cannulated screw: surgical technique. J Hand Surg 27A:910–912

18.

Proubasta I, Lamas C, Trullols L et al (2006) Arthrodesis of the metacarpophalangeal joint of the thumb using a Herbert screw. Tech Hand Up Extrem Surg 10:73–78

19.

Rasmussen C, Roos S, Boeckstyn M (2011) Low-profile plate fixation in arthrodesis of the first metacarpophalangeal joint. J Hand Surg 36(6):509–513

20.

Rao SB (2012) Arthrodesis oft he thumb metacarpophalangeal joint with plate fixation. Tech Hand Up Extrem Surg 16:215–217

21.

Rizzo M (2011) Metacarpophalangeal joint arthritis. J Hand Surg 36A:345–353

22.

Rizzo M (2006) Thumb arthrodesis. Tech Hand Up Extrem Surg 10:43–46

23.

Saldana MJ, Clark EN, Aulicino PL (1987) The optimal position for arthrodesis oft he metacarpophalnageal joint oft he thumb. A clinical study. J Hand Surg 12B:256–259

24.

Schmidt CC, Zimmer SM, Boles SD (2004) Arthrodesis of the thumb metacarpophalangeal joint using a cannulated screw and threaded washer. J Hand Surg 29A:1044–1050

25.

Segmüller G (1973) Zur Fingergelenksarthrodese. Orthop Prax 11:460–465

26.

Spies CK, Langer M, Hahn P, Müller L, Unglaub F (2018) The treatment of primary arthritis of the finger and thumb joint. Dtsch Arztebl Int 115(16):269–275

27.

Stellbrink G (1969) Äußeres Fixationsgerät für Fingerarthrodesen. Chirurg 40:422–423

28.

Terrono A, Millender L (1989) Surgical treatment of the boutonniere rheumatoid thumb deformity. Hand Clin 5:239–248

29.

Toledano B, Terrono AL, Millender LH (1992) Reconstruction of the rheumatoid thumb. Hand Clin 8:121–129

30.

Tung TC, Chen HC, Hsiao CW, Wie FC (1996) Chronic volar dislocation oft he metacarpophalangeal joint oft he thumb. J Trauma 41:561–564

31.

Vanderzanden JC, Adams BD, Guan JJ (2014) MCP arthrodesis using an intramedullary interlocking device. Hand 9:209–213

32.

Voche P, Merle M, Membre H, Fockens W (1995) Bioabsorbable rods and pins for fixation of metacarpophalangeal arthrodesis of the thumb. J Hand Surg 20A:1032–1036

33.

Watson HK, Shaffer SR (1970) Concave-convex arthrodesis in joints oft he hand. Plast Reconstr Surg 46:368–371

34.

Wright CS, McMurtry RY (1983) AO arthrodesis in the hand. J Hand Surg 8A:932–935

35.

Wulle C (1994) Bandplastik und Arthrodese am Daumengrundgelenk. In: Stuhler T (Hrsg) Arthrodesen. Thieme, Stuttgart, S 133–139
Ethics declarations
Interessenkonflikt
M.F. Langer, S. Oeckenpöhler, C.K. Spies, J.G. Grünert, S. Breiter, J. Glasbrenner und B. Wieskötter geben an, dass kein Interessenkonflikt besteht.
Alle beschriebenen Untersuchungen am Menschen wurden mit Zustimmung der zuständigen Ethik-Kommission, im Einklang mit nationalem Recht sowie gemäß der Deklaration von Helsinki von 1975 (in der aktuellen, überarbeiteten Fassung) durchgeführt. Von allen beteiligten Patienten liegt eine Einverständniserklärung vor. Alle Patienten, die über Bildmaterial oder anderweitige Angaben innerhalb des Manuskripts zu identifizieren sind, haben hierzu ihre schriftliche Einwilligung gegeben.
Additional information
Redaktion
F. Unglaub, Bad Rappenau
Zeichner
M.F. Langer, Münster
About this article
Cite this article
Langer, M.F., Oeckenpöhler, S., Spies, C.K. et al. Die Arthrodese des Daumengrundgelenks durch Plattenosteosynthese. Oper Orthop Traumatol 32, 47–57 (2020). https://doi.org/10.1007/s00064-019-0592-x
Received:

Accepted:

Published:

Issue Date:
Schlüsselwörter
Arthrose

Daumen

Fingergelenk

Gelenkinstabilität

Plattenarthrodese
Keywords
Arthrosis

Thumb

Finger joint

Joint instability

Plate osteosynthesis