Zusammenfassung
Operationsziel
Beübungsstabile Refixation der Glutealsehnen am anatomischen Footprint durch breitflächiges Anpressen mittels knotenloser Doppelreihentechnik (Hip-Bridge-Technik).
Indikationen
Symptomatische Ruptur der Sehnen des M. gluteus medius und/oder M. gluteus minimus nach frustraner konservativer Therapie, traumatische oder chronische rekonstruierbare Massenruptur mit glutealer Muskelinsuffizienz oder Revisionen bei Refixationsversagen.
Kontraindikationen
Nichtrekonstruierbare Massenruptur, Atrophie oder fettige Degeneration der Glutealmuskeln vom Grad 4 nach Goutallier, Infektionen.
Operationstechnik
Seitenlage. Longitudinaler Hautschnitt über Trochanter major, Traktusspaltung, Bursektomie der Bursa trochanterica subglutea maxima, Längsspaltung des Glutealsehnenspiegels über der Ruptur, Débridement und Mobilisation zur Distalisierung des Sehnenstumpfs an den anatomischen Ansatz. Anfrischung des Sehnenansatzes am Trochanter major, Ankörnen und ggf. Gewindeschneiden der proximalen Ankerreihe. Platzierung der beiden proximalen Anker, welche mit einem nicht resorbierbaren Fadenband armiert werden. Fächerförmige 4‑malige Glutealsehnenperforation am myotendinösen Übergang, doppel-V-förmiges Überkreuzen der Fadenbänder, Ankörnen und ggf. Gewindeschneiden der distalen Ankerreihe. Fixation der Fadenbänder durch die beiden distalen knotenlosen Fadenanker unter leichter Vorspannung. Adaptierende Seit-zu-Seit-Sehnennaht, Verschluss des vastoglutealen Verbunds, Wundverschluss.
Weiterbehandlung
Stadiengerechte Nachbehandlung mit 20-kg-Teilbelastung für 6 Wochen, Vermeidung von aktiver Abduktion, Adduktion und Außenrotation in Flexion für 6 Wochen postoperativ. Ab 7. postoperativer Woche freie Beweglichkeit, Beginn mit aktiv-assistierter Abduktion und Belastungssteigerung um 15 kg/Woche. Keine Spitzenbelastung für 4 Monate. Thromboemboliepropyhlaxe bis zur Vollbelastung.
Ergebnisse
Bei noch nicht wesentlicher Atrophie der Glutealmuskeln sind Erfolgsraten von 80–90 % zu erwarten.
Abstract
Objective
Stable refixation of gluteal tendons at the anatomic footprint by large-area contact by the means of knotless double-row anchor fixation (HipBridge technique).
Indications
Symptomatic tear of gluteus medius and/or gluteus minimus tendon with persisting pain after nonsurgical treatment, or primarily reconstructable mass rupture with gluteal insufficiency, revision surgeries.
Contraindications
Primary nonreconstructable mass ruptures, atrophic or fatty degeneration of gluteal muscles grade Goutallier 4, local infections.
Surgical technique
Lateral position, longitudinal skin incision over greater trochanter, longitudinal incision of iliotibial band, resection of trochanteric subgluteus maximus bursa, longitudinal splitting of gluteal tendons over tear, debridement and mobilisation of tendons for sufficient distalisation to tendon footprint at anterior and lateral trochanteric facet, debridement of sclerotic greater trochanter, punching and tapping of proximal row, placement of two proximal anchors loaded with nonresorbable suture tape, fan-shaped four times gluteal tendon perforation at myotendinous transition zone, double-V-shape crossing of suture tapes, punching and tapping of distal row, fixation of crossed tapes with two distal knotless suture anchors under mild pretensioning of gluteal tendons, side-to-side tendon suture, vastogluteal and iliotibial band closure, wound closure.
Postoperative management
Stage-dependent physiotherapy with partial weight-bearing with 20 kg for 6 weeks, no active abduction, no adduction and no external rotation in flexion for 6 weeks after surgery. From week 7 after surgery, free range of motion, active-assisted abduction and increase in weight-bearing by 15 kg/week. No peak load for 4 months. Thromboembolic prophylaxis until full weight-bearing is reached.
Results
Success rates of 80–90% can be expected in cases with no or only minor muscle atrophy.
This is a preview of subscription content, log in to check access.
Access options
Buy single article
Instant unlimited access to the full article PDF.
US$ 39.95
Price includes VAT for USA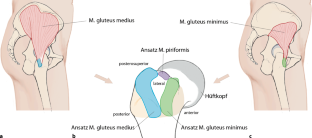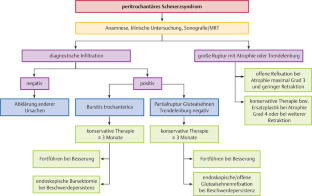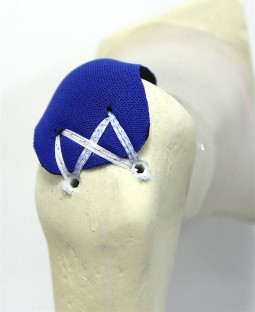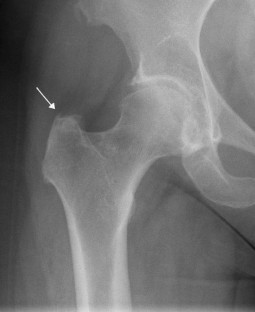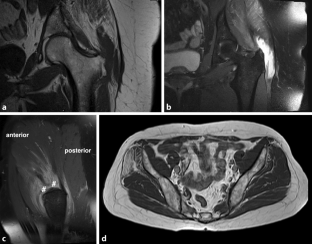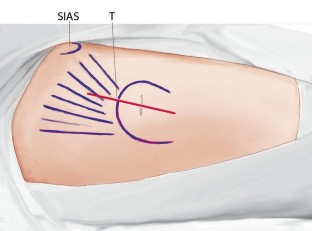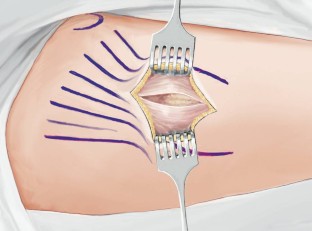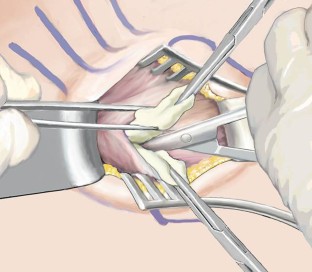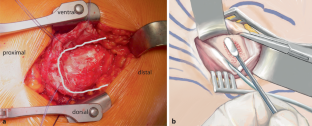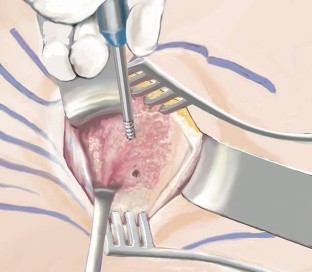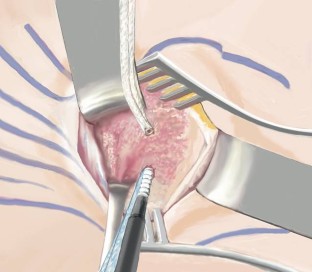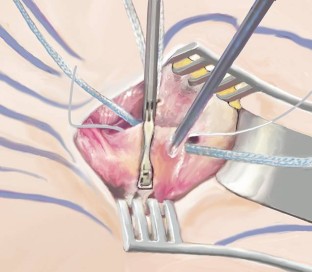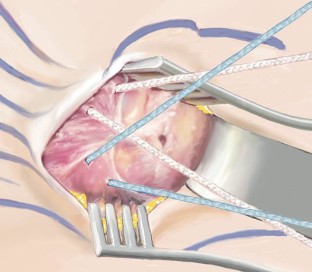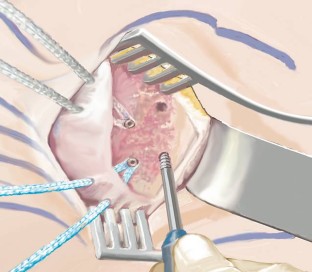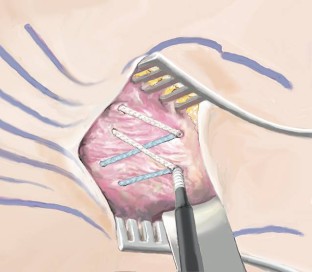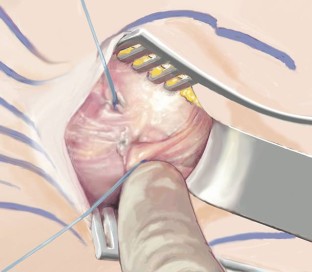 Literatur
1.

Long SS, Surrey DE, Nazarian LN (2013) Sonography of greater trochanteric pain syndrome and the rarity of primary bursitis. AJR Am J Roentgenol 201:1083–1086

2.

Bird PA, Oakley SP, Shnier R et al (2001) Prospective evaluation of magnetic resonance imaging and physical examination findings in patients with greater trochanteric pain syndrome. Arthritis Rheum 44:2138–2145

3.

Davies JF, Stiehl JB, Davies JA, Geiger PB (2013) Surgical treatment of hip abductor tendon tears. J Bone Joint Surg Am 95:1420–1425

4.

Fearon AM, Scarvell JM, Neeman T, Cook JL, Cormick W, Smith PN (2013) Greater trochanteric pain syndrome: defining the clinical syndrome. Br J Sports Med 47:649–653

5.

Bunker TD, Esler CN, Leach WJ (1997) Rotator-cuff tear of the hip. J Bone Joint Surg Br 79:618–620

6.

Fearon AM, Cook JL, Scarvell JM et al (2014) Greater trochanteric pain syndrome negatively affects work, physical activity and quality of life: a case control study. J Arthroplasty 29:383–386

7.

Gollwitzer H, Harrasser N, Hauschild M, Banke I (2018) Bursitis trochanterica und Glutealsehnenpathologien. In: Sobau C, Möckel G, Gollwitzer H (Hrsg) Hüftarthroskopie. Thieme, Stuttgart, S 207–215

8.

Banke IJ, Imhoff AB (2012) Knotenlose und flächige Refixation von Rotatorenmanschettendefekten mittels maßgeschneiderter Speedbridge-Technik. Orthopäd Unfallchir Prax 6/2012:244–248

9.

Banke IJ, Minzlaff P, Pedersen SN, Braun S, Imhoff AB (2012) Möglichkeiten der Speedbridge-Technik. Artroskopie 25:99–102

10.

Nelson CO, Sileo MJ, Grossman MG, Serra-Hsu F (2008) Single-row modified mason-allen versus double-row arthroscopic rotator cuff repair: a biomechanical and surface area comparison. Arthroscopy 24:941–948

11.

Dishkin-Paset JG, Salata MJ, Gross CE et al (2012) A biomechanical comparison of repair techniques for complete gluteus medius tears. Arthroscopy 28:1410–1416

12.

Engelken J, Engelken F, Wassilew GI, Köhlitz T, Brockhaus S, Hamm B, Perka C, Diederichs UG (2014) Assessment of fatty degeneration of the gluteal muscles in patients with THA using MRI: reliability and accuracy of the Goutallier and quartile classification systems. J Arthroplasty 29:149–153

13.

Domb BG, Botser I, Giordano BD (2013) Outcomes of endoscopic gluteus medius repair with minimum 2‑year follow-up. Am J Sports Med 41:988–997

14.

McCormick F, Alpaugh K, Nwachukwu BU, Yanke AB, Martin SD (2013) Endoscopic repair of full-thickness abductor tendon tears: surgical technique and outcome at minimum of 1‑year follow-up. Arthroscopy 29:1941–1947

15.

Makridis KG, Lequesne M, Bard H, Djian P (2014) Clinical and MRI results in 67 patients operated for gluteus medius and minimus tendon tears with a median follow-up of 4.6 years. Orthop Traumatol Surg Res 100:849–853

16.

Chandrasekaran S, Lodhia P, Gui C, Vemula SP, Martin TJ, Domb BG (2015) Outcomes of open versus endoscopic repair of abductor muscle tears of the hip: a systematic review. Arthroscopy 31:2057–2067.e2

17.

Drummond J, Fary C, Tran P (2016) The outcome of endoscopy for recalcitrant greater trochanteric pain syndrome. Arch Orthop Trauma Surg 136:1547–1554

18.

Coulomb R, Essig J, Mares O, Asencio G, Kouyoumdjian P, May O (2016) Clinical results of endoscopic treatment without repair for partial thickness gluteal tears. Orthop Traumatol Surg Res 102:391–395
Ethics declarations
Interessenkonflikt
H. Gollwitzer, M. Hauschild und I.J. Banke geben Unterstützung von Forschungsprojekten durch die Firma Arthrex an. H. Gollwitzer und I.J. Banke geben außerdem Beratertätigkeit für Firma Medacta und Firma Arthrex an. N. Harrasser und R. von Eisenhart-Rothe geben an, dass kein Interessenkonflikt besteht.
Dieser Beitrag beinhaltet keine von den Autoren durchgeführten Studien an Menschen oder Tieren.
Additional information
Redaktion
O. Rühmann, Laatzen
Zeichner
J. Kühn, Mannheim
Caption Electronic Supplementary Material
Video zur Operationstechnik der knotenlosen Doppelreihenrefixation bei Glutealsehnenruptur. Mit freundlicher Genehmigung von Arthrex. Alle Rechte vorbehalten.
About this article
Cite this article
Gollwitzer, H., Hauschild, M., Harrasser, N. et al. Knotenlose Doppelreihenrefixation bei Glutealsehnenruptur. Oper Orthop Traumatol 30, 410–418 (2018) doi:10.1007/s00064-018-0568-2
Received:

Revised:

Accepted:

Published:

Issue Date:
Schlüsselwörter
Peritrochantäres Schmerzsyndrom

Sehnenverletzung

Tendinopathie

Glutealregion

Trendelenburg
Keywords
Greater trochanteric pain syndrome

Tendon injuries

Tendinopathy

Gluteal region

Trendelenburg