Abstract
Objective
Surgical repair of a partial or complete tear of the pectoralis major muscle to restore internal rotation, adduction, and anteversion.
Indications
Acute avulsion, acute tear of the tendinous insertion, acute tear of the musculotendinous region (<6 weeks after trauma). Relative indication: chronic retracted tear (>6 weeks).
Contraindications
Muscular tears, local infection, other general contraindications.
Surgical technique
Open repair using suture anchors or flip buttons.
Postoperative management
Week 1–3: early passive-assisted functional physical therapy. Week 3–6: early active-assisted functional physical therapy. Week 7–9: active assisted free range of motion (ROM). From week 9: free ROM. From week 12: exercise with resistance, careful strengthening.
Results
Between 2005 and 2017, 20 men with an acute or subacute tear of the pectoralis major muscle underwent surgery. Mean age 36 years (range 28–55 years). No previous antibiotic treatment or steroid abuse/treatment reported. Reasons for rupture were weight lifting (bench-press, n = 10), skiing and snowboard accidents (n = 3), fitness training (n = 3), soccer (n = 1), martial arts (n = 1), a canyoning accident (n = 1), and a simple fall (n = 1). Follow-up examinations were performed 6 weeks and 3 months postoperative. No infections or wound healing disorders; no revisions necessary. Normal muscle function via open refixation of the tendon stump. No re-rupture observed. Free ROM observed 3 months after surgery.
Zusammenfassung
Operationsziel
Operative Rekonstruktion einer (Teil‑)Ruptur des M. pectoralis major zur Wiederherstellung der Innenrotation, Adduktion und Anteversion.
Indikationen
Akuter knöcherner Ausriss, akute intratendinöse Ruptur, akute Ruptur im Bereich des muskulotendinösen Übergangs (<6 Wochen nach Trauma). Relative Indikation: chronisch (retrahierte) Ruptur (>6 Wochen).
Kontraindikationen
Rein muskuläre Verletzungen, lokaler Infekt, sonstige allgemeine Kontraindikationen.
Operationstechnik
Offene Rekonstruktion mit Fadenankern oder "flip buttons".
Weiterbehandlung
Woche 1–3: passiv assistierte frühfunktionelle Beübung; Woche 3–6: aktiv assistierte frühfunktionelle Beübung; Woche 7–9: freie aktiv assistierte Beübung; ab Woche 9: freies Bewegungsausmaß; ab Woche 12: Übungen gegen Widerstand, vorsichtiger Kraftaufbau.
Ergebnisse
Zwischen 2005 und 2017 wurden insgesamt 20 ausschließlich männliche Patienten mit akuten bzw. subakuten M.-pectoralis-major-Ab- oder Ausrissen operativ versorgt. Durchschnittsalter bei Ruptur 36 Jahre (28–55 Jahre). Anamnestisch kein Anhalt für vorangehende Antibiotikatherapien oder Steroidabusus/-therapie. Ursachen für die Ruptur waren Kraftsport (Bankdrücken; n = 10), Ski- und Snowboardstürze (n = 3), Fitnesstraining (n = 3), Fußball (n = 1), Kampfsport (n = 1), ein Canyoning-Unfall (n = 1) und ein Sturz (n = 1). Nachuntersuchungen erfolgten 6 Wochen und 3 Monate postoperativ. Keine postoperativen Wundheilungsstörungen oder Infekte, keine Revisionsoperationen notwendig. Wiederherstellung der Muskelfunktion durch offene Reinsertion des Sehnenstumpfs. Keine Rerupturen. Freie Beweglichkeit der Schulter 3 Monate postoperativ.
This is a preview of subscription content, log in to check access.
Access options
Buy single article
Instant unlimited access to the full article PDF.
US$ 39.95
Price includes VAT for USA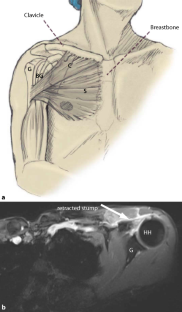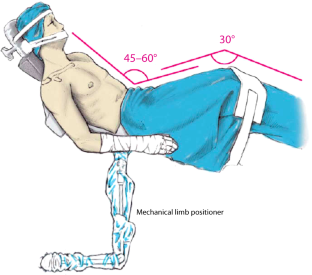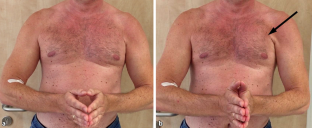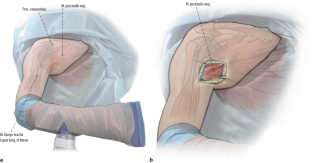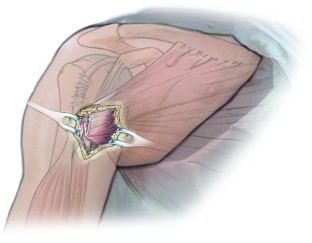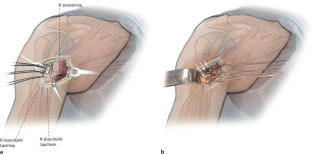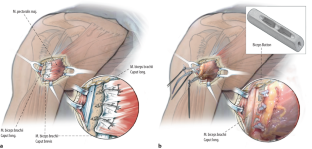 Abbreviations
Abd:

Abduction

Add:

Adduction

a.p.:

Anteroposterior

AV:

Anteversion (shoulder flexion)

ER:

External rotation

IR:

Internal rotation

LHB:

Long head of biceps tendon

MRI:

Magnetic resonance imaging

ROM:

Range of motion
References
1.

Aärimaa V, Rantanen J, Heikkila J, Helttula I, Orava S (2004) Rupture of the pectoralis major muscle. Am J Sports Med 32:1256–1262

2.

Bak K, Cameron EA, Henderson IJ (2000) Rupture of the pectoralis major: a meta-analysis of 112 cases. Knee Surg Sports Traumatol Arthrosc 8:113–119

3.

Balazs GC, Brelin AM, Donohue MA, Dworak TC, Rue JP, Giuliani JR, Dickens JF (2016) Incidence rate and results of the surgical treatment of pectoralis major tendon ruptures in active-duty military personnel. Am J Sports Med 44:1837–1843

4.

Braun S, Minzlaff P, Imhoff AB (2012) Subpectoral tenodesis of the long head of the biceps tendon for pathologies of the long head of the biceps tendon and the biceps pulley. Oper Orthop Traumatol 24:479–485

5.

Chiavaras MM, Jacobson JA, Smith J, Dahm DL (2015) Pectoralis major tears: anatomy, classification, and diagnosis with ultrasound and MR imaging. Skeletal Radiol 44:157–164

6.

Cordasco FA, Mahony GT, Tsouris N, Degen RM (2017) Pectoralis major tendon tears: functional outcomes and return to sport in a consecutive series of 40 athletes. J Shoulder Elbow Surg 26:458–463

7.

de Castro Pochini A, Ejnisman B, Andreoli CV, Monteiro GC, Silva AC, Cohen M, Albertoni WM (2010) Pectoralis major muscle rupture in athletes: a prospective study. Am J Sports Med 38:92–98

8.

ElMaraghy AW, Devereaux MW (2012) A systematic review and comprehensive classification of pectoralis major tears. J Shoulder Elbow Surg 21:412–422

9.

Imhoff A, Feucht M (2017) Atlas sportorthopädisch-sporttraumatologische Operationen. Springer, Berlin

10.

Manske RC, Prohaska D (2007) Pectoralis major tendon repair post surgical rehabilitation. N Am J Sports Phys Ther 2:22–33

11.

Patissier P, Ramazzini B (1822) Traité des maladies des artisans, et de celles qui résultent des diverses professions. Baillière, Paris

12.

Petilon J, Carr DR, Sekiya JK, Unger DV (2005) Pectoralis major muscle injuries: evaluation and management. J Am Acad Orthop Surg 13:59–68

13.

Provencher MT, Handfield K, Boniquit NT, Reiff SN, Sekiya JK, Romeo AA (2010) Injuries to the pectoralis major muscle: diagnosis and management. Am J Sports Med 38:1693–1705

14.

Ritsch M (2010) Evaluation and managent of M. pectoralis major rupture. Obere Extremität 5:179–185. https://doi.org/10.1007/s11678-010-0081-1

15.

Tietjen R (1980) Closed injuries of the pectoralis major muscle. J Trauma 20:262–264

16.

Verfaillie SM, Claes T (1996) Bony avulsion of the pectoralis major muscle. J Shoulder Elbow Surg 5:327–329
Ethics declarations
Conflict of interest
M. Wurm and S. Siebenlist declare no conflict of interest. A. Imhoff is a paid consultant for Arthrex Inc. and medi Gmbh. None of these affiliations have influenced the formation of this article.
This article does not contain any studies with human participants or animals performed by any of the authors.
Additional information
Editor
M. Hessmann, Fulda
Illustrator
R. Himmelhan, Mannheim
Caption Electronic Supplementary Material
About this article
Cite this article
Wurm, M., Imhoff, A.B. & Siebenlist, S. Surgical repair of acute pectoralis major muscle ruptures. Oper Orthop Traumatol 30, 390–397 (2018) doi:10.1007/s00064-018-0557-5
Received:

Revised:

Accepted:

Published:

Issue Date:
Keywords
Tendon injuries

Tear

Tenodesis

Range of motion

Operative surgical procedures
Schlüsselwörter
Sehnenverletzungen

Riss

Tenodese

Bewegungsausmaß

Operativ-chirurgische Verfahren