Zusammenfassung
Operationsziel
Ziel der Triplearthrodese ist es, die zugrundliegende Pes-cavovarus-Deformität dauerhaft zu korrigieren, um einen belastbaren, schmerzfreien und stabilen Rückfuß zu erreichen.
Indikationen
Rigide Pes-cavovarus-Deformität folgender Ätiologie: neurologisch, posttraumatisch, angeboren, idiopathisch.
Kontraindikationen
Allgemeine chirurgische oder anästhesiologische Kontraindikationen, Infektionen, kritische Weichteilverhältnisse, schwere periphere Durchblutungsstörungen, Non-Compliance, eingeschränkte knöcherne Qualität, insulinpflichtiger Diabetes mellitus, hoher Nikotinkonsum.
Operationstechnik
Medialer Zugang zur Darstellung des talonavikularen und subtalaren Gelenks. Entknorpelung der Gelenkoberflächen. Reposition des Rückfußes und Fußes mit Korrektur der zugrundeliegenden Deformität in allen drei Ebenen. Stabilisierung der Arthrodesen mit kanülierten Schrauben. Schichtweiser Wundverschluss.
Weiterbehandlung
Postoperative Anlage eines wattegepolsterten Verbands. Medikamentöse Thrombembolieprophylaxe. Beginn der Mobilisation ab dem 1. postoperativen Tag in stabiler Orthese oder im Unterschenkelgips für 6 Wochen mit 15-kg-Belastung. Klinische und radiologische Kontrolle 6 Wochen postoperativ zur Überprüfung der ossären Konsolidierung der Arthrodesen. Bei regelrechtem postoperativem Verlauf schrittweiser Aufbau zur Vollbelastung 6 Wochen postoperativ.
Ergebnisse
Zwischen Januar 2012 und Juli 2014 wurde bei 11 Patienten (Durchschnittsalter 62 ± 14 Jahre) eine Triplearthrodese aufgrund einer Pes-cavovarus-Deformität durchgeführt. Die mittlere Nachuntersuchungszeit betrug 34 ± 8 Monate (Spanne 24–48 Monate). Die zugrundeliegende Varusdeformität konnte bei allen Patienten signifikant korrigiert werden. Mit dem Eingriff wurde anhand der visuellen analogen Schmerzskala eine deutliche Schmerzlinderung von 7,1 ± 2,2 (Spanne 5–10) auf 1,8 ± 1,5 (Spanne 0–4) gemessen.
Abstract
Objective
The aim is to correct the underlying cavovarus deformity and to achieve a pain-free and stable hindfoot.
Indications
Rigid neurologic, posttraumatic, congenital, and idiopathic cavovarus deformities.
Contraindications
General surgical or anesthesiological risks, infections, critical soft tissue conditions, neurovascular impairment of the lower extremity, noncompliance, patients with severely reduced bone quality, insulin-dependent diabetes mellitus, smoking.
Surgical technique
The talonavicular and subtalar joints are exposed using a single medial approach. Joint cartilage is carefully debrided. Hindfoot reposition with complete correction of cavovarus deformity in all three planes. Joints are stabilized using cannulated screws, followed by wound closure.
Postoperative management
A soft wound dressing is used. Thromboprophylaxis is recommended. Patient mobilization starts on postoperative day 1 using a stabilizing walking boot or cast for 6 weeks with 15 kg partial weight bearing. Clinical and radiographic follow-up 6 weeks postoperatively to assess osseous consolidation at the arthrodesis site. Following clinical and radiographic follow-up at 6 weeks, full weight bearing is gradually initiated.
Results
Between January 2012 and July 2014, triple arthrodesis was performed in 11 patients with a mean age of 62 ± 14 years due to cavovarus deformity. The mean follow-up was 34 ± 8 months (range 24–48 months). In all patients, the cavovarus deformity was substantially corrected. Significant pain relief from 7.1 ± 2.2 (range 5–10) to 1.8 ± 1.5 (range 0–4) on the visual analogue scale was observed.
This is a preview of subscription content, log in to check access.
Access options
Buy single article
Instant unlimited access to the full article PDF.
US$ 39.95
Price includes VAT for USA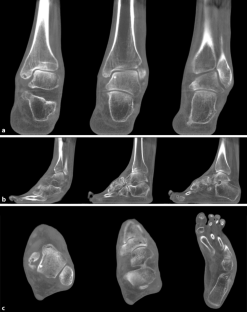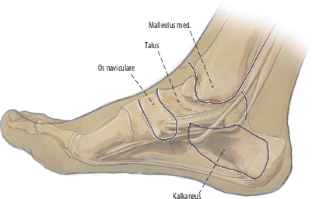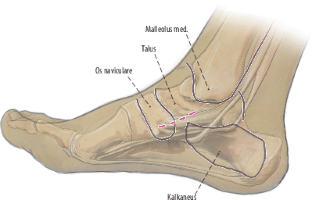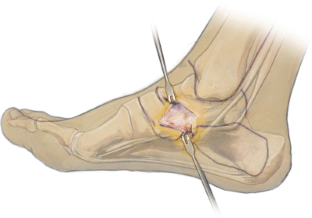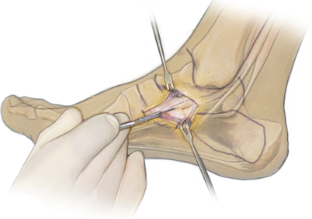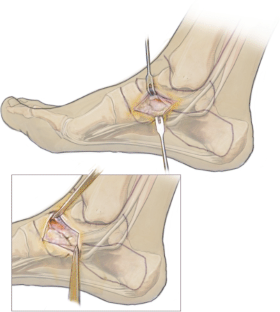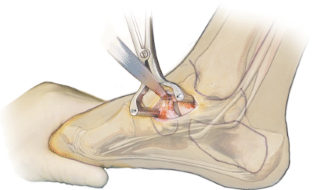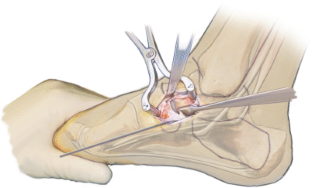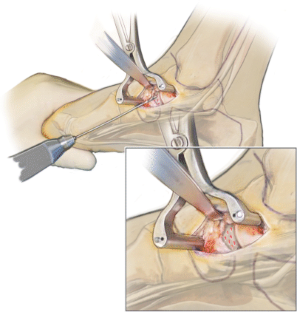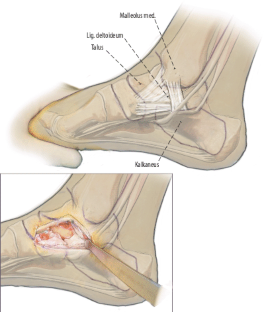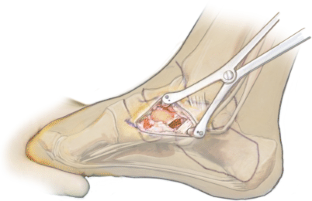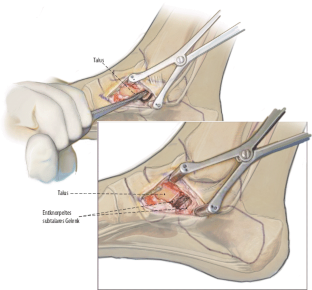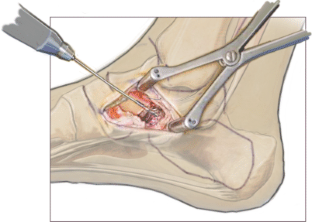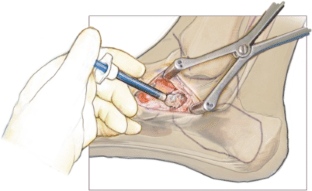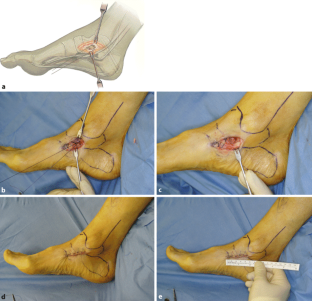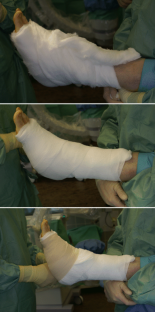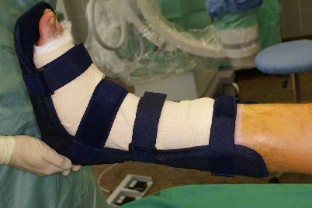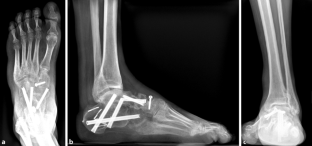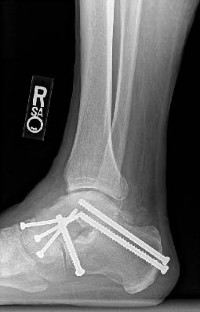 Literatur
1.

Saltzman CL, el-Khoury GY (1995) The hindfoot alignment view. Foot Ankle Int 16:572–576

2.

Barg A, Saltzman CL (2014) Single-stage supramalleolar osteotomy for coronal plane deformity. Curr Rev Musculoskelet Med 7:277–291

3.

Hamel J (2015) Kalkaneus-Scarf-Osteotomie zur Korrektur von subtalaren Rückfuß-Varusdeformitäten. Oper Orthop Traumatol 27:308–316

4.

Mulier E, De Rijcke J, Fabry G, Mulier JC (1990) Triple arthrodesis in neuromuscular disorders. Acta Orthop Belg 56:557–561

5.

Kim BS, Knupp M, Zwicky L, Lee JW, Hintermann B (2010) Total ankle replacement in association with hindfoot fusion: outcome and complications. J Bone Joint Surg Br 92:1540–1547

6.

Barg A, Harris MD, Henninger HB, Amendola RL, Saltzman CL, Hintermann B et al (2012) Medial distal tibial angle: comparison between weightbearing mortise view and hindfoot alignment view. Foot Ankle Int 33:655–661

7.

Knupp M, Ledermann H, Magerkurth O, Hintermann B (2005) The surgical tibiotalar angle: a radiologic study. Foot Ankle Int 26:713–716

8.

Cox JS, Hewes TF (1979) "Normal" talar tilt angle. Clin Orthop Relat Res 140:37–41

9.

Hintermann B (2005) What the orthopaedic foot and ankle surgeon wants to know from MR Imaging. Semin Musculoskelet Radiol 9:260–271

10.

Valderrabano V, Wiewiorski M, Frigg A, Hintermann B, Leumann A (2007) Direkte anatomische Rekonstruktion des lateralen Bandapparates bei chronischer lateraler Instabilität des oberen Sprunggelenks. Unfallchirurg 110:701–704

11.

Pagenstert GI, Barg A, Leumann AG, Rasch H, Muller-Brand J, Hintermann B et al (2009) SPECT-CT imaging in degenerative joint disease of the foot and ankle. J Bone Joint Surg Br 91:1191–1196

12.

Kilger R, Knupp M, Hintermann B (2009) Peroneus longus to peroneus brevis tendon transfer. Tech Foot Ankle Surg 8:146–149

13.

Saltzman CL, Fehrle MJ, Cooper RR, Spencer EC, Ponseti IV (1999) Triple arthrodesis: twenty-five and forty-four-year average follow-up of the same patients. J Bone Joint Surg Am 81:1391–1402

14.

Manoli A 2nd, Graham B (2005) The subtle cavus foot, "the underpronator". Foot Ankle Int 26:256–263

15.

Zide JR, Myerson MS (2013) Arthrodesis for the cavus foot: when, where, and how? Foot Ankle Clin 18:755–767

16.

Knupp M, Pagenstert GI, Barg A, Bolliger L, Easley ME, Hintermann B (2009) SPECT-CT compared with conventional imaging modalities for the assessment of the varus and valgus malaligned hindfoot. J Orthop Res 27:1461–1466

17.

Barg A, Hoerterer H, Jacxsens M, Wiewiorski M, Paul J, Valderrabano V (2015) Dwyer-Osteotomie. Laterale Verschiebeosteotomie des Kalkaneus. Oper Orthop Traumatol 27:283–297

18.

Wetmore RS, Drennan JC (1989) Long-term results of triple arthrodesis in Charcot-Marie-Tooth disease. J Bone Joint Surg Am 71:417–422

19.

McCluskey WP, Lovell WW, Cummings RJ (1989) The cavovarus foot deformity. Etiology and management. Clin Orthop Relat Res 247:27–37

20.

Barg A (2015) Natives Röntgen vom Rückfuß und Saltzman-Aufnahme. Fuss Sprungg 13:58–77

21.

Richter M, Zech S, Hahn S (2015) PedCAT for radiographic 3D-imaging in standing position. Fuss Sprungg 13:85–102

22.

Coleman SS, Chesnut WJ (1977) A simple test for hindfoot flexibility in the cavovarus foot. Clin Orthop Relat Res 1:60–62

23.

Knupp M, Stufkens SA, Bolliger L, Barg A, Hintermann B (2011) Classification and treatment of supramalleolar deformities. Foot Ankle Int 32:1023–1031

24.

Trehan SK, Ihekweazu UN, Root L (2015) Long-term outcomes of triple arthrodesis in cerebral palsy patients. J Pediatr Orthop 35:751–755

25.

Krause FG, Guyton GP (2014) Pes Cavus. In: Coughlin MJ, Saltzman CL, Anderson RB (Hrsg) Mann's surgery of the foot and ankle. Elsevier Saunders, Philadelphia PA

26.

Anderson JG, Bohay DR, Maskill JD, Gadkari KP, Hearty TM, Braaksma W et al (2015) Complications after popliteal block for foot and ankle surgery. Foot Ankle Int 36:1138–1143

27.

Ward CM, Dolan LA, Bennett DL, Morcuende JA, Cooper RR (2008) Long-term results of reconstruction for treatment of a flexible cavovarus foot in Charcot-Marie-Tooth disease. J Bone Joint Surg Am 90:2631–2642

28.

Knupp M, Pagenstert G, Valderrabano V, Hintermann B (2008) Osteotomien zur Entlastung der Varusarthrose im oberen Sprunggelenk. Oper Orthop Traumatol 20:262–273
Danksagung
Die Autoren möchten sich bei Kateryna Nykytina für die sorgfältige Korrektur des Manuskripts bedanken.
Ethics declarations
Interessenkonflikt
A. Barg, R. Ruiz und B. Hintermann geben an, dass kein Interessenkonflikt besteht.
Dieser Beitrag beinhaltet keine von den Autoren durchgeführten Studien an Menschen oder Tieren.
Additional information
Redaktion
R.A. Fuhrmann, Bad Neustadt
Zeichner
R. Himmelhan, Mannheim
Caption Electronic Supplementary Material
Video 1: Computertomographie des Pes cavovarus unter Belastung – koronare Schnittführung
Video 2: Computertomographie des Pes cavovarus unter Belastung – sagittale Schnittführung
Video 3: Computertomographie des Pes cavovarus unter Belastung – axiale Schnittführung
About this article
Cite this article
Barg, A., Ruiz, R. & Hintermann, B. Die Triplearthrodese als Baustein für die Korrektur der Pes-cavovarus-Deformität. Oper Orthop Traumatol 29, 461–472 (2017) doi:10.1007/s00064-017-0519-3
Received:

Revised:

Accepted:

Published:

Issue Date:
Schlüsselwörter
Fußdeformitäten

Pes cavus

Hohlfuß

Fußgelenke

Charcot-Marie-Tooth-Erkrankung
Keywords
Foot deformities

Pes cavus

Cavus foot

Foot joints

Charcot-Marie-Tooth disease