This is a preview of subscription content, log in to check access.
Access options
Buy single article
Instant unlimited access to the full article PDF.
US$ 39.95
Price includes VAT for USA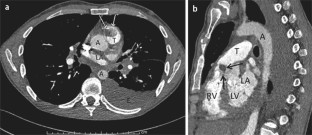 Literatur
1

Attaran S, Desmond M, Ratnasingham J, Scawn N, Pullan DM (2010) Mitral valve involvement in Wegener's granulomatosis. Ann Thorac Surg 90(3):996–997

2

Choong CK, Lawton JS, Moon MR, Damiano RJ Jr (2004) Failure of medical therapy for pulmonary "thromboembolic" disease: beware the unsuspected primary sarcoma of the pulmonary artery. J Thorac Cardiovasc Surg 128:763–765

3

Huang SC, Lee ML, Chen SJ, Wu MZ, Chang CI (2006) Pulmonary artery myxoma as a rare cause of dyspnea for a young female patient. J Thorac Cardiovasc Surg 131:1179–1180

4

Kanjanauthai S, Kanluen T, Ray C (2008) Pulmonary artery sarcoma masquerading as saddle pulmonary embolism. Heart Lung Circ 17(5):417–419

5

Koenigkam-Santos M, Sommer G, Puderbach M, Safi S, Schnabel PA, Kauczor HU, Heussel CP (2014) Primary intrathoracic malignant mesenchymal tumours: computed tomography features of a rare group of chest neoplasms. Insights Imaging 5(2):237–244

6

Mai XL, Fan HJ, Li BX, Zhu B (2013) Primary pulmonary artery myxoma: a rare case. Clin Imaging 37(1):159–162

7

Verma N, Willeke P, Bicsán P, Lebiedz P, Pavenstädt H, Kümpers P (2014) Age-adjusted D-dimer cut-offs to diagnose thromboembolic events: validation in an emergency department. Med Klin Intensivmed Notfmed 109(2):121–128
Ethics declarations
Interessenkonflikt
S. Pena Karan, U. Oltmanns, D.E. Optazaite, M. Klauß, H.A. Katus, S.J. Buß und C.P. Heußel geben an, dass kein Interessenkonflikt besteht.
Dieser Beitrag beinhaltet keine Studien an Menschen oder Tieren.
Additional information
Redaktion
C. P. Heußel, Heidelberg
Electronic Supplementary Material
Die sagittale cine-MRT des Herzens zeigt eine ovale hypointense Raumforderung, die sich mit der Pulmonalisklappe bewegt (AVI 1,372 kb)
About this article
Cite this article
Pena Karan, S., Oltmanns, U., Optazaite, D. et al. Füllungsdefekt der Lungenarterie?. Med Klin Intensivmed Notfmed 110, 459–461 (2015) doi:10.1007/s00063-015-0019-x
Received:

Accepted:

Published:

Issue Date: