This is a preview of subscription content, log in to check access.
Access options
Buy single article
Instant unlimited access to the full article PDF.
US$ 39.95
Price includes VAT for USA
Subscribe to journal
Immediate online access to all issues from 2019. Subscription will auto renew annually.
US$ 99
This is the net price. Taxes to be calculated in checkout.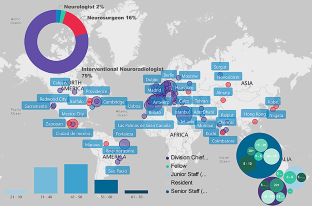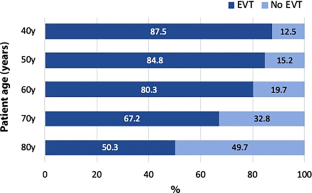 References
1.

Albers GW, Marks MP, Kemp S, Christensen S, Tsai JP, Ortega-Gutierrez S, McTaggart RA, Torbey MT, Kim-Tenser M, Leslie-Mazwi T, Sarraj A, Kasner SE, Ansari SA, Yeatts SD, Hamilton S, Mlynash M, Heit JJ, Zaharchuk G, Kim S, Carrozzella J, Palesch YY, Demchuk AM, Bammer R, Lavori PW, Broderick JP, Lansberg MG; DEFUSE 3 Investigators. Thrombectomy for stroke at 6 to 16 hours with selection by perfusion imaging. N Engl J Med. 2018;378:708–18.

2.

Nogueira RG, Jadhav AP, Haussen DC, Bonafe A, Budzik RF, Bhuva P, Yavagal DR, Ribo M, Cognard C, Hanel RA, Sila CA, Hassan AE, Millan M, Levy EI, Mitchell P, Chen M, English JD, Shah QA, Silver FL, Pereira VM, Mehta BP, Baxter BW, Abraham MG, Cardona P, Veznedaroglu E, Hellinger FR, Feng L, Kirmani JF, Lopes DK, Jankowitz BT, Frankel MR, Costalat V, Vora NA, Yoo AJ, Malik AM, Furlan AJ, Rubiera M, Aghaebrahim A, Olivot JM, Tekle WG, Shields R, Graves T, Lewis RJ, Smith WS, Liebeskind DS, Saver JL, Jovin TG; DAWN Trial Investigators. Thrombectomy 6 to 24 hours after stroke with a mismatch between deficit and infarct. N Engl J Med. 2018;378:11–21.

3.

In Extremis. In Extremis/MOSTE-LASTE Homepage. 2019. https://www.inextremis-study.com. Accessed 08–18 2019.

4.

Alawieh A, Starke RM, Chatterjee AR, Turk A, De Leacy R, Rai AT, Fargen K, Kan P, Singh J, Vilella L, Nascimento FA, Dumont TM, McCarthy D, Spiotta AM. Outcomes of endovascular thrombectomy in the elderly: a 'real-world' multicenter study. J Neurointerv Surg. 2019;11:545–53.

5.

Castonguay AC, Zaidat OO, Novakovic R, Nguyen TN, Taqi MA, Gupta R, Sun CH, Martin C, Holloway WE, Mueller-Kronast N, E English J, Linfante I, Dabus G, Malisch TW, Marden FA, Bozorgchami H, Xavier A, Rai AT, Froehler MT, Badruddin A, Abraham MG, Janardhan V, Shaltoni H, Yoo AJ, Abou-Chebl A, Chen PR, Britz GW, Kaushal R, Nanda A, A Issa M, Nogueira RG. Influence of age on clinical and revascularization outcomes in the North American Solitaire Stent-Retriever Acute Stroke Registry. Stroke. 2014;45:3631–6.

6.

Chandra RV, Leslie-Mazwi TM, Oh DC, Chaudhry ZA, Mehta BP, Rost NS, Rabinov JD, Hirsch JA, González RG, Schwamm LH, Yoo AJ. Elderly patients are at higher risk for poor outcomes after intra-arterial therapy. Stroke. 2012;43:2356–61.

7.

Sharma JC, Fletcher S, Vassallo M. Strokes in the elderly—higher acute and 3‑month mortality—an explanation. Cerebrovasc Dis. 1999;9:2–9.

8.

Lui SK, Nguyen MH. Elderly stroke rehabilitation: overcoming the complications and its associated challenges. Curr Gerontol Geriatr Res. 2018;2018:9853837.

9.

Román LS, Menon BK, Blasco J, Hernández-Pérez M, Dávalos A, Majoie CBLM, Campbell BCV, Guillemin F, Lingsma H, Anxionnat R, Epstein J, Saver JL, Marquering H, Wong JH, Lopes D, Reimann G, Desal H, Dippel DWJ, Coutts S, du Mesnil de Rochemont R, Yavagal D, Ferre JC, Roos YBWEM, Liebeskind DS, Lenthall R, Molina C, Al Ajlan FS, Reddy V, Dowlatshahi D, Sourour NA, Oppenheim C, Mitha AP, Davis SM, Weimar C, van Oostenbrugge RJ, Cobo E, Kleinig TJ, Donnan GA, van der Lugt A, Demchuk AM, Berkhemer OA, Boers AMM, Ford GA, Muir KW, Brown BS, Jovin T, van Zwam WH, Mitchell PJ, Hill MD, White P, Bracard S, Goyal M; HERMES collaborators. Imaging features and safety and efficacy of endovascular stroke treatment: a meta-analysis of individual patient-level data. Lancet Neurol. 2018;17:895–904.

10.

Powers WJ, Rabinstein AA, Ackerson T, Adeoye OM, Bambakidis NC, Becker K, Biller J, Brown M, Demaerschalk BM, Hoh B, Jauch EC, Kidwell CS, Leslie-Mazwi TM, Ovbiagele B, Scott PA, Sheth KN, Southerland AM, Summers DV, Tirschwell DL. Guidelines for the early management of patients with acute Ischemic stroke: 2019 update to the 2018 guidelines for the early management of acute Ischemic stroke: a guideline for healthcare professionals from the American Heart Association/American Stroke Association. Stroke. 2019;50:e344–418.

11.

Turc G, Bhogal P, Fischer U, Khatri P, Lobotesis K, Mazighi M, Schellinger PD, Toni D, de Vries J, White P, Fiehler J. European Stroke Organisation (ESO)—European Society for Minimally Invasive Neurological Therapy (ESMINT) guidelines on mechanical thrombectomy in acute ischemic stroke. J Neurointerv Surg. 2019; https://doi.org/10.1136/neurintsurg-2018-014569.

12.

The TESLA Trial: Thrombectomy for Emergent Salvage of Large Anterior Circulation Ischemic Stroke (TESLA). https://clinicaltrials.gov/ct2/show/NCT03805308

13.

Bendszus M, Bonekamp S, Berge E, Boutitie F, Brouwer P, Gizewski E, Krajina A, Pierot L, Randall G, Simonsen CZ, Zeleňák K, Fiehler J, Thomalla G. A randomized controlled trial to test efficacy and safety of thrombectomy in stroke with extended lesion and extended time window. Int J Stroke. 2019;14:87–93.
Acknowledgements
The authors are most grateful to all participants of the survey.
Funding
There was no funding for this manuscript.
Ethics declarations
Conflict of interest
J.M. Ospel is supported by the University of Basel Research Foundation, the Julia Bangerter Rhyner Foundation and the Freiwillige Akademische Gesellschaft Basel. M. Goyal is a consultant for Medtronic, Stryker, Microvention, GE Healthcare, Mentice. N. Kashani, M. Almekhlafi and R. Chapot declare that they have no competing interests.
Ethical standards
For this article no studies with human participants or animals were performed by any of the authors. All studies performed were in accordance with the ethical standards indicated in each case. Since the study did not involve patients, formal consent was not required.
About this article
Cite this article
Ospel, J.M., Kashani, N., Almekhlafi, M. et al. Influence of Age on EVT Treatment Decision in Patients with Low ASPECTS. Clin Neuroradiol (2020). https://doi.org/10.1007/s00062-019-00872-3
Received:

Accepted:

Published: