This is a preview of subscription content, log in to check access.
Access options
Buy single article
Instant unlimited access to the full article PDF.
US$ 39.95
Price includes VAT for USA
Subscribe to journal
Immediate online access to all issues from 2019. Subscription will auto renew annually.
US$ 99
This is the net price. Taxes to be calculated in checkout.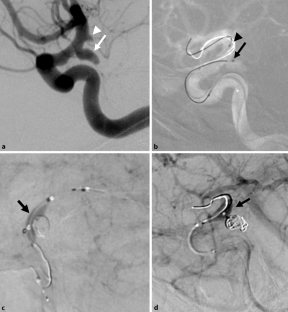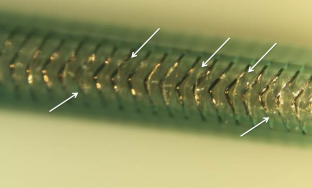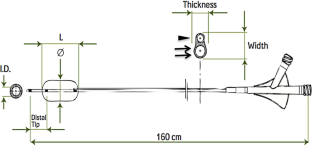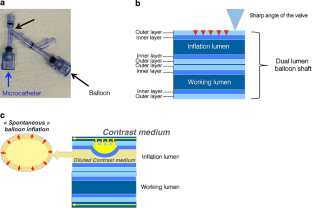 References
1.

Moret J, Cognard C, Weill A, Castaings L, Rey A. The "remodelling technique" in the treatment of wide neck intracranial aneurysms. Angiographic results and clinical follow-up in 56 cases. Interv Neuroradiol. 1997;3:21–35.

2.

Liu YQ, Wang QJ, Zheng T, Zhang X, Li XF, Cui XB, Gao YY, Lai LF, Su SX, He XY, Duan CZ. Single-centre comparison of procedural complications, clinical outcome, and angiographic follow-up between coiling and stent-assisted coiling for posterior communicating artery aneurysms. J Clin Neurosci. 2014;21:2140–4.

3.

Fiorella D, Arthur AS, Chiacchierini R, Emery E, Molyneux A, Pierot L. How safe and effective are existing treatments for wide-necked bifurcation aneurysms? Literature-based objective performance criteria for safety and effectiveness. J Neurointerv Surg. 2017;9:1197–201.

4.

Baldi S, Mounayer C, Piotin M, Spelle L, Moret J. Balloon-assisted coil placement in wide-neck bifurcation aneurysms by use of a new, compliant balloon microcatheter. AJNR Am J Neuroradiol. 2003;24:1222–5.

5.

Pierot L, Spelle L, Leclerc X, Cognard C, Bonafé A, Moret J. Endovascular treatment of unruptured intracranial aneurysms: comparison of safety of remodeling technique and standard treatment with coils. Radiology. 2009;251:846–55.

6.

Shapiro M, Babb J, Becske T, Nelson PK. Safety and efficacy of adjunctive balloon remodeling during endovascular treatment of intracranial aneurysms: a literature review. AJNR Am J Neuroradiol. 2008;29:1777–81.

7.

Piotin M, Blanc R. Balloons and stents in the endovascular treatment of cerebral aneurysms: vascular anatomy remodeled. Front Neurol. 2014;5:41.

8.

Pukenas B, Albuquerque FC, Weigele JB, Hurst RW, Stiefel MF. Use of a new double-lumen balloon catheter for single-catheter balloon-assisted coil embolization of intracranial aneurysms: technical note. Neurosurgery. 2011;69(1 Suppl Operative):ons8-12; discussion ons12-3.

9.

Namba K, Song JK, Niimi Y, Heran NS, Berenstein A. A new hemostasis valve for neuroendovascular procedures. Interv Neuroradiol. 2007;13:51–3.
Acknowledgements
We thank the Quality Team from the Balt Company for their kind help in the bench testing of the device.
Ethics declarations
Conflict of interest
A. Al Raaisi and J. Gabrieli declare that they have no competing interests. N.-A. Sourour is consultant for Covidien, MicroVention; proctor and investor for the Medina Embolization Device (Medtronic). F. Clarençon is consultant for Codman Neurovascular (paid core lab) and for Medtronic (lecturing fees).
Caption Electronic Supplementary Material
Additional material 1. Control DSA run in AP projections showing the "spontaneous" balloon inflatio
Additional material 2. Control DSA run in lateral projections showing the "spontaneous" balloon inflation.
Additional material 3. Video summarizing the proposed mechanism explaining the "spontaneous" balloon inflation.
About this article
Cite this article
Al Raaisi, A., Gabrieli, J., Sourour, N. et al. Dual lumen balloon spontaneous inflation during embolization. Clin Neuroradiol 29, 365–369 (2019) doi:10.1007/s00062-018-0716-y
Received:

Accepted:

Published:

Issue Date: