Abstract
Atrial myxomas are the most common benign cardiac neoplasms. Although the majority occur in the left atrium (LA) and are attached to the interatrial septum (75–80 % of cases), they can arise from any part of the LA and the cardiac chambers. We report the case of a 65-year-old woman who presented with features of worsening dyspnea and persistent headache. During transthoracic echocardiography, a suspected cardiac myxoma was found arising from the posterior wall of the LA.
Zusammenfassung
Atriale Myxome stellen die häufigsten benignen kardialen Neoplasien dar. Obwohl die Mehrzahl der Myxome im linken Vorhof ("left atrium", LA) auftritt und dem interatrialen Septum anhaftet (75–80 % der Fälle), könnten sie an jeder Stelle des LA und den Herzkammern entstehen. Die Autoren berichten über den Fall einer 65-jährigen Frau, die sich mit Symptomen einer sich zunehmend verschlechternden Dyspnoe und persistierenden Kopfschmerzen vorstellte. Während der transthorakalen Echokardiographie (TTE) wurde der Verdacht eines kardialen Myxoms bestätigt, das an der Hinterwand des LA entstanden war.
This is a preview of subscription content, log in to check access.
Access options
Buy single article
Instant unlimited access to the full article PDF.
US$ 39.95
Price includes VAT for USA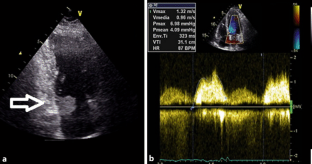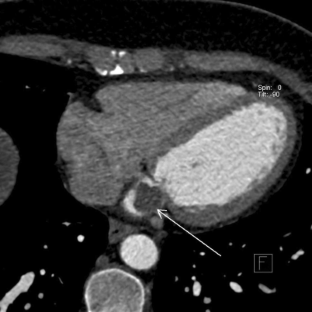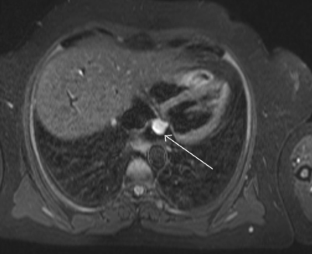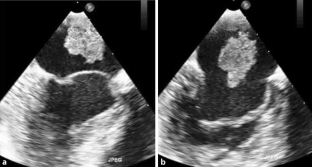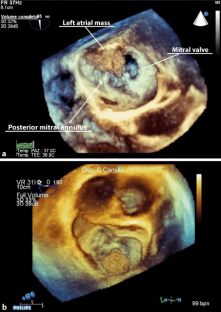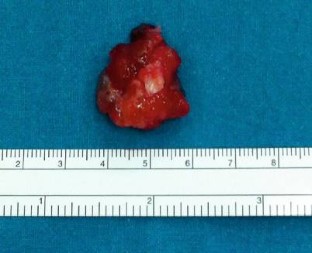 References
1.

Reynen K (1995) Cardiac myxomas. N Engl J Med 333(24):1610–1617

2.

Lam KY, Dickens P, Chan AC (1993) Tumors of the heart. A 20‑year experience with a review of 12.485 consecutive autpsies. Arch Pathol Lab Med 117:1027–1031

3.

Pucci A, Gagliardotto P, Zanini C et al (2000) Histopathologic and clinical characterization of cardiac myxoma: review of 53 cases from a single institution. Am Heart J 140:134–138

4.

Castillo JG, Silvay G (2010) Characterization and management of cardiac tumors. Semin Cardiothorac Vasc Anesth 14:6–20

5.

Swartz MF, Lutz CJ, Chandan VS et al (2006) Atrial myxomas: pathologic types, tumor location, and presenting symptoms. J Card Surg 21:435–440

6.

Sarjeant JM, Butany Cusimano JRJ (2003) Cancer of the heart: epidemiology and management of primary tumors and metastases. Am J Cardiovasc Drugs 3:407–421

7.

Chakfè N, Kretz JG, Valentin P et al (1997) Clinical presentation and treatment options for mitral valve myxoma. Ann Thorac Surg. doi:10.1016/s0003-4975(97)00695-4

8.

Bleasel NR, Stapleton KM (1999) Carney complex: in a patient with multiple blue naevi and lentigines, suspect cardiac myxoma. Australas J Dermatol 40:158–160

9.

Chen MY, Wang JH, Chao SF et al (2003) Cardiac myxoma originating from the anterior mitral leaflet. Jpn Heart J 44:429–434. doi:10.1536/jhj.44.429

10.

Malergue MC, Laurenceau JL, Dumesnil JG, Desaulniers D (1977) Left atrial myxoma: a surgical emergency. Apropos of 2 cases. Arch Mal Coeur Vaiss 70(1):93–97

11.

Scheld HH, Nestle HW, Kling D, Stertmann WA et al (1988) Resection of a heart tumor using autotransplantation. Thorac Cardiovasc Surg 36(1):40–43

12.

Takazawa K, Fuse K, Konishi T, Watanabe Y, Konishi H (1992) Cryosurgery for left atrial myxoma with coronary artery bypass grafting. Kyobu Geka 45(11):1021–1023

13.

Meyns B, Vancleemput J, Flameng W, Daenen W (1993) Surgery of cardiac myxoma. Eur J Cardiothorac Surg 7:437–440

14.

Tsukamoto S, Shiono M, Orime Y et al (1998) Left atrial myxoma with an atrial septal defect: a case report and review of the literature. Ann Thorac Cardiovasc Surg 4(3):133–137

15.

Tsukamoto S, Shiono M, Orime Y (1999) Surgical treatment of 22 cardiac myxomas: A review. Ann Thorac Cardiovasc Surg 5(3):146–149

16.

Toda R, Moriyama Y, Shiota K, Toyohira H, Taira A (1999) Myxoma of mitral valve associated with infective endocarditis. Jpn J Thorac Cardiovasc Surg 47(6):285–287

17.

Centofanti P, Patanè F, Barbato L (1999) Left atrial approach to big myxoma with angiographically visible neovascularity. Report of one case. J Cardiovasc Surg (Torino) 40(3):391–393

18.

Lobo A, Lewis JF, Conti CR (2000) Intracardiac masses detected by echocardiography: case presentations and review of the literature. Clin Cardiol 23(9):702–708

19.

Delange Segura L (2005) Limitations of transesophageal ultrasound in the assessment of intracardiac masses: a case report. Rev Esp Anestesiol Reanim 52(7):421–424

20.

Bernstein JM, Leasure W, Buel A (2007) Getting to the heart of the matter. Skinmed 6(6):290–292

21.

Turhan S, Tulunay C, Altin T, Dincer I (2008) Second recurrence of familial cardiac myxomas in atypical locations. Can J Cardiol 24(9):715–716

22.

Scheffel H, Baumueller S, Stolzmann P et al (2009) Atrial myxomas and thrombi: comparison of imaging features on CT. AJR Am J Roentgenol 192(3):639–645. doi:10.2214/AJR.08.1694

23.

Garatti A, Nano G, Canziani A et al (2012) Surgical excision of cardiac myxomas: twenty years experience at single institution. Ann Thorac Surg 93:825–831

24.

Iltumur K, Demir T, Ariturk Z et al (2015) Simultaneous occurrence of a large asymptomatic prolapsing left atrial myxoma with a cutaneous squamous cell carcinoma. Heart Surg Forum 18(1):E25–E27. doi:10.1532/hsf.1223

25.

Lin J, Xiao J, Chen J et al (2016) Treating cardiac myxomas: a 16-year Chinese single-center study. J Cardiovasc Med 17(1):44–53. doi:10.2459/JCM.0000000000000114

26.

Mackie BD, Shirazi F, Swadley MJ et al (2014) Catastrophic systemic embolization from a left atrial myxoma. Tex Heart Inst J 41(1):64–66

27.

Sieswerda GT, Kamp O, Visser CA (2000) Myocardial contrast echocardiography: clinical benefit and practical issues. Echocardiography 17:S25–S36

28.

Lindner JR (2002) Assessment of myocardial viability with myocardial contrast echocardiography. Echocardiography 19:417–425

29.

Kirkpatrick JN, Wong T, Bednarz JE, Spencer KT, Sugeng L, Ward RP, DeCara JM, Weinert L, Krausz T, Lang RM (2004) Differential diagnosis of cardiac masses using contrast echocardiographic perfusion imaging. J Am Coll Cardiol 43(8):1412–1419
Ethics declarations
Conflict of interest
M. Cottini, A. Pergolini, G. Zampi, V. Buffa, P.G. Pino, V. Polizzi, F. Ranocchi, G. Luzi, A. Montalto, and F. Musumeci state that they have no competing interests.
This article does not contain any studies with human participants or animals performed by any of the authors.
Caption Electronic Supplementary Material
Movie Clip 1: A standard transthoracic echocardiography (TTE) was promptly performed showing a large irregular mass in the left atrium (LA), causing a moderate functional mitral stenosis
Movie Clip 2: A standard transthoracic echocardiography (TTE) was promptly performed showing a large irregular mass in the left atrium (LA), causing a moderate functional mitral stenosis
Movie Clip 3: Real-time three-dimensional (3D) TEE using the en face surgical view from the LA demonstrated that the myxoma was located near to the posterior mitral annulus
About this article
Cite this article
Cottini, M., Pergolini, A., Zampi, G. et al. Posterior wall as atypical localization of left atrial myxoma. Herz 42, 390–394 (2017). https://doi.org/10.1007/s00059-016-4480-y
Received:

Revised:

Accepted:

Published:

Issue Date:
Keywords
Myxoma

Left atrium

Transthoracic echocardiography

Resection

Case report
Schlüsselwörter
Myxom

Linker Vorhof

Transthorakale Echokardiographie

Resektion

Fallbericht