Abstract
Background
Takotsubo cardiomyopathy (TTC) is a transient left ventricular (LV) dysfunction that predominantly affects older women and has three main variants: apical, mid-ventricular, and basal. The recurrence rate of TTC is roughly around 11 % at 4-year follow-up. The pathogenesis of TTC is not clear and various theories have been proposed without concrete evidence.
Case series
We present a case series of 3 patients with recurrent TTC involving a different region of the ventricle during recurrence. All the patients presented with acute coronary syndrome (ACS) during the initial and recurrent episode. At the initial presentation, all the patients underwent selective coronary angiography (CA), transthoracic echocardiography (TTE), and cardiac magnetic resonance imaging (CMR) evaluation. However, the recurrent episodes were diagnosed without the need of CA, except in 1 patient who presented with ST-segment elevation myocardial infarction.
Conclusion
Recurrence of TTC is common and can be diagnosed without CA in some cases. During recurrence, the regional involvement of the left ventricle can vary in the same person. Variable regional involvement in the same patient rules out some of the proposed theories on the pathogenesis such as: beta-receptor gradient, wrap-around left anterior descending, and coronary artery spasm.
Zusammenfassung
Hintergrund
Bei der Takotsubo-Kardiomyopathie (TTC) handelt es sich um eine transiente linksventrikuläre Funktionsstörung, die überwiegend ältere Frauen betrifft und 3 Hauptvarianten aufweist: die apikale, mittventrikuläre und basale Form. Die Rezidivrate der TTC liegt bei einer 4-Jahres-Nachbeobachtung grob um 11 %. Die Pathogenese der TTC ist nicht klar, es bestehen verschiedene Theorien ohne konkrete Belege.
Fallserie
Es wird hier eine Fallserie von 3 Patienten mit rezidivierender TTC und Beteiligung einer anderen Region beim Rezidiv vorgestellt. Bei allen Patienten lag während der Index- und der Rezidivepisode das Bild eines akuten Koronarsyndroms vor. Im Rahmen der Indexerkrankung wurden bei allen Patienten eine selektive Koronarangiographie, eine transthorakale Echokardiographie und eine kardiale MRT-Untersuchung durchgeführt. Die Rezidivepisoden wurden jedoch ohne die Notwendigkeit einer Koronarangiographie außer bei einem Patienten mit ST-Hebungs-Infarkt diagnostiziert.
Schlussfolgerung
Ein Rezidiv einer TTC ist häufig und kann in einigen Fällen ohne Koronarangiographie diagnostiziert werden. Während des Rezidivs kann die regionale Beteiligung des linken Ventrikels bei derselben Person variieren. Die Beteiligung variabler Regionen bei demselben Patienten schließt einige der vorgeschlagenen Theorien zur Pathogenese aus, z. B.: ein Betarezeptorgradient, eine Umhüllung um den Ramus interventricularis anterior der A. coronaria sinistra und ein Koronararterienspasmus.
This is a preview of subscription content, log in to check access.
Access options
Buy single article
Instant unlimited access to the full article PDF.
US$ 39.95
Price includes VAT for USA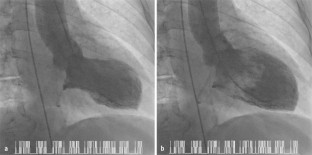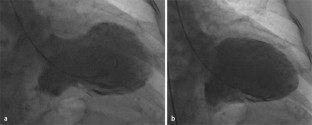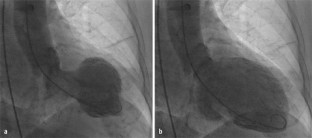 References
1.

Sharkey SW, Lesser JR, Zenovich AG et al (2005) Acute and reversible cardiomyopathy provoked by stress in women from the United States. Circulation 111(4):472–479

2.

Bybee KA, Kara T, Prasad A et al (2004) Systematic review: transient left ventricular apical ballooning: a syndrome that mimics ST-segment elevation myocardial infarction. Ann Intern Med 141(11):858–865

3.

Prasad A, Lerman A, Rihal CS (2008) Apical ballooning syndrome (Tako-Tsubo or stress cardiomyopathy): a mimic of acute myocardial infarction. Am Heart J 155(3):408–417

4.

Parodi G, Del Pace S, Carrabba N et al (2007) Incidence, clinical findings, and outcome of women with left ventricular apical ballooning syndrome. Am J Cardiol 99(2):182–185

5.

Singh K, Parsaik AK, Zeitz CJ (2013) Takotsubo cardiomyopathy mid ventricle variant and cardiac arrest: chicken or the egg? Am J Emerg Med (in press)

6.

Cacciotti L, Camastra GS, Beni S et al (2007) A new variant of Tako-tsubo cardiomyopathy: transient mid-ventricular ballooning. J Cardiovasc Med (12):1052–1054

7.

Hurst RT, Prasad A, Askew JW 3rd et al (2010) Takotsubo cardiomyopathy: a unique cardiomyopathy with variable ventricular morphology. JACC Cardiovasc Imaging 3(6):641–649

8.

Kurowski V, Kaiser A, Hof K von et al (2007) Apical and midventricular transient left ventricular dysfunction syndrome (tako-tsubo cardiomyopathy): frequency, mechanisms, and prognosis. Chest 132(3):809–816

9.

Elesber AA, Prasad A, Lennon RJ et al (2007) Four-year recurrence rate and prognosis of the apical ballooning syndrome. J Am Coll Cardiol 50(5):448–452

10.

Eitel I, Knobelsdorff-Brenkenhoff F von, Bernhardt P et al (2011) Clinical characteristics and cardiovascular magnetic resonance findings in stress (takotsubo) cardiomyopathy. JAMA 20;306(3):277–286

11.

Ibanez B, Navarro F, Farre J et al (2004) Tako-tsubo syndrome associated with a long course of the left anterior descending coronary artery along the apical diaphragmatic surface of the left ventricle (in Spanish). Rev Esp Cardiol 57(3):209–216

12.

Kurisu S, Sato H, Kawagoe T et al (2002) Tako-tsubo-like left ventricular dysfunction with ST-segment elevation: a novel cardiac syndrome mimicking acute myocardial infarction. Am Heart J 143(3):448–455

13.

Shao Y, Redfors B, Scharin Tang M et al (2013) Novel rat model reveals important roles of beta-adrenoreceptors in stress-induced cardiomyopathy. Int J Cardiol (in press)

14.

Akashi YJ, Nakazawa K, Sakakibara M et al (2004) 123I-MIBG myocardial scintigraphy in patients with "takotsubo" cardiomyopathy. J Nucl Med 45(7):1121–1127
Conflict of interest
On behalf of all authors, the corresponding author states that there are no conflicts of interest.
Additional information
Additional material onlineThis article includes three additional Videos. You will find this supplemental at dx.doi.org/10.1007/s00059-013-3896-x.
Electronic supplementary material
Video 1: Cardiac magnetic resonance imaging (CMR) of first patient revealing hypokinetic base and hyperkinetic apex of the left ventricle. (AVI 0,8MB)
Video 2: Transthoracic echocardiogram of second patient showing the presenhce of Takotsubo cardiomyopathy. (AVI 4,7 MB)
About this article
Cite this article
Singh, K., Parsaik, A. & Singh, B. Recurrent takotsubo cardiomyopathy. Herz 39, 963–967 (2014) doi:10.1007/s00059-013-3896-x
Received:

Revised:

Accepted:

Published:

Issue Date:
Keywords
Takotsubo cardiomyopathy

Recurrent

Stress cardiomyopathy

Ventricular involvement

Pathogenesis
Schlüsselwörter
Takotsubo-Kardiomyopathie

Rezidiv

Stresskardiomyopathie

Ventrikelbeteiligung

Pathogenese