Abstract
Acute myocardial infarction (AMI) is a rare, but possibly catastrophic event during pregnancy, delivery, or puerperium, leading to a high mortality rate. It has different pathogenic mechanisms, such as atherosclerosis, vasospasm, thrombosis, and coronary dissection. Although MI has been reported in pregnant women at all stages of pregnancy and postpartum, it occurs more commonly in the third trimester. Pregnancy-associated MI most commonly involves the anterior wall. Pregnancy itself is an independent risk factor for MI, conferring a fourfold higher risk than that of nonpregnant women matched for age. We report the case of a 27-year-old primigravida at 30 weeks' gestation presenting with anterior MI, secondary to severe stenosis of the left anterior descending coronary artery, treated with emergency percutaneous coronary intervention.
Zusammenfassung
Ein akuter Herzinfarkt ist ein seltenes, aber mögliches schweres Ereignis im Verlauf einer Schwangerschaft, einer Entbindung oder des Wochenbetts und führt zu einer hohen Mortalitätsrate. Ihm liegen verschiedene Pathomechanismen zugrunde, z. B. Arteriosklerose, Vasospasmus, Thrombose und Koronardissektion. Zwar sind Herzinfarkte bei schwangeren Frauen in allen Stadien der Schwangerschaft und postpartal beschrieben worden, aber im 3. Trimenon treten sie häufiger auf. Ein schwangerschaftsassoziierter Herzinfarkt betrifft zumeist die Vorderwand. Die Schwangerschaft an sich stellt einen unabhängigen Risikofaktor für einen Herzinfarkt dar, der ein 4-fach erhöhtes Risiko gegenüber nichtschwangeren Frauen entsprechenden Alters bedeutet. Hier wird der Fall einer 27-jährigen Frau mit einem Vorderwandinfarkt infolge einer schweren Stenose des Ramus interventricularis anterior mit notfallmäßiger perkutaner Koronarintervention in der 30. Schwangerschaftswoche ihrer 1. Schwangerschaft beschrieben.
This is a preview of subscription content, log in to check access.
Access options
Buy single article
Instant unlimited access to the full article PDF.
US$ 39.95
Price includes VAT for USA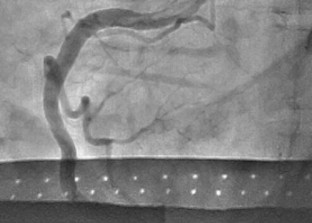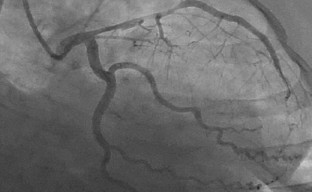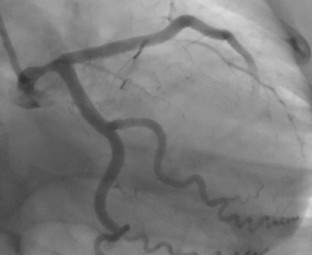 References
1.

Roth A, Elkayam U (2008) Acute myocardial infarction associated with pregnancy. J Am Coll Cardiol 52:171–180

2.

Badui E, Enciso R (1996) Acute myocardial infarction during pregnancy and puerperium: a review. Angiology 47:739–756

3.

Ladner HE, Danielson B, Gilbert WM (2005) Acute myocardial infarction in pregnancy and the puerperium: a population-based study. Obstet Gynecol 105:480–484

4.

James AH, Jamison MG, Biswas MS et al (2006) Acute myocardial infarction in pregnancy: a United States population-based study. Circulation 113:1564–1571

5.

Roth A, Elkayam U (1996) Acute myocardial infarction associated with pregnancy. Ann Intern Med 125(9):751–762

6.

Macarthur A, Cook L, Pollard JK, Brant R (2006) Peripartum myocardial ischemia: a review of Canadian deliveries from 1970 to 1998. Am J Obstet Gynecol 194(4):1027–1033

7.

Yu-Ling Tan J (2010) Cardiovascular disease in pregnancy. Obstet Gynaecol Repro Med 20(4):107–115

8.

Lewis CE, Funkhouser E, Raczynski JM et al (1996) Adverse effect of pregnancy on high density lipoprotein (HDL) cholesterol in young adult women. Am J Epidemiol 144:247–254

9.

Badmanaban B, McCarty D, Mole DJ et al (2002) Spontaneous coronary artery dissection presenting as cardiac tamponade. Ann Thorac Surg 73:1324–1326

10.

Thistlethwaite PA, Trazi RY, Giordano FJ, Jamieson SW (1998) Surgical management of spontaneous left main coronary artery dissection. Ann Thorac Surg 66:258–260

11.

Aliyary S, Mariani MA, Verhorst PM et al (2007) Staged therapeutic approach in spontaneous coronary dissection. Ann Thorac Surg 83:1879–1881

12.

Kearney P, Singh H, Hutter J et al (1993) Spontaneous coronary artery dissection: a report of three cases and review of the literature. Postgrad Med J 69:940–945

13.

Sherif HM, Nguyen HC, Sarter BH et al (2008) Spontaneous coronary dissection in late pregnancy: a multidisciplinary approach to management. Ann Thorac Surg 85:1793–1794

14.

Regitz-Zagrosek V, Blomstrom Lundqvist C, Borghi C et al (2011) European Society of Gynecology; Association for European Paediatric Cardiology; German Society for Gender Medicine; Authors/Task Force Members. The Task Force on the Management of Cardiovascular Diseases during Pregnancy of the European Society of Cardiology (ESC). Eur Heart J 32:3147–3197

15.

Sahni G (2012) Chest pain syndromes in pregnancy. Cardiol Clin 30(3):343–367

16.

Bredy PL, Singh P, Frishman WH (2008) Acute inferior wall myocardial infarction and percutaneous coronary intervention of the right coronary during active labor. Cardiol Rev 16:260–268

17.

Reizig K, Diar N, Walcker JL (2000) Myocardial infarction, pregnancy and anesthesia. Ann Fr Anesth Reanim 19:544–548

18.

Sebastian C, Scherlag M, Kugelmass A et al (1998) Primary stent implantation for acute myocardial infarction during pregnancy: use of abciximab, ticlopidine, and aspirin. Cathet Cardiovasc Diagn 45:275–279

19.

Eickman FM (1996) Acute coronary artery angioplasty during pregnancy. Cathet Cardiovasc Diagn 38:369–372

20.

Sharma GL, Loubeyre C, Morice C (2002) Safety and feasibility of the radial approach for primary angioplasty in acute myocardial infarction during pregnancy. J Invasive Cardiol 14:359–362

21.

Ko WJ, Ho HN, Chu SH (1998) Postpartum myocardial infarction rescued with an intraaortic balloon pump and extracorporeal membrane oxygenator. Int J Cardiol 63:81–84

22.

Chambers CE, Clark SL (1994) Cardiac surgery during pregnancy. Clin Obstet Gynecol 37:316–323

23.

Bernal JM, Miralles PJ (1986) Cardiac surgery with cardiopulmonary bypass during pregnancy. Obstet Gynecol Surv 41:1–6

24.

Parry AJ, Westaby S (1996) Cardiopulmonary bypass during pregnancy. Ann Thorac Surg 61:1865–1869

25.

Pomini F, Mercogliano D, Cavalletti C et al (1996) Cardiopulmonary bypass in pregnancy. Ann Thorac Surg 61:259–268

26.

Antman EM, Anbe DT, Armstrong PW et al (2004) ACC/AHA Guidelines for the management of patients with ST-elevation myocardial infarction: executive summary. J Am Coll Cardiol 44:671–719

27.

Schumacher B, Belfort MA, Card RJ (1997) Successful treatment of acute myocardial infarction during pregnancy with tissue plasminogen activator. Am J Obstet Gynecol 176:716–719

28.

Klutstein MW, Tzivoni D, Bitran D et al (1997) Treatment of spontaneous coronary artery dissection. Cathet Cardiovasc Diagn 40:372–376

29.

Bac DJ, Lotgering FK, Verkaalk AP et al (1995) Spontaneous coronary artery dissection during pregnancy and post-partum. Eur Heart J 16:136–138

30.

Pfeifer GW (1970) Distribution studies on placental transfer of 131Istreptokinase during labor. Ann Med 19:17–18

31.

Shepard TH (1989) Catalog of teratogenic agents, 6th edn. Johns Hopkins University Press, Baltimore (MD), p 655

32.

Leonhardt G, Gaul C, Nietsch HH et al (2006) Thrombolytic therapy in pregnancy. J Thromb Thrombolysis 21:271–276
Conflict of interest
On behalf of all authors, the corresponding author states that there are no conflicts of interest.
Additional information
Additional material onlineThis article includes six additional videos. You will find this supplemental at dx.doi.org/10.1007/s00059-013-3856-5.
Electronic supplementary material
Video 1: Parasternal long axis showing hypokinesia in mid and anterior septum. (AVI 12MB)
Video 2: Parasternal short axis revealing severe hypokinesia in the apex of left ventricle. (AVI 8MB)
About this article
Cite this article
Bezgin, T., Geçmen, Ç., Erden, İ. et al. Pregnancy-associated myocardial infarction. Herz 39, 530–533 (2014). https://doi.org/10.1007/s00059-013-3856-5
Received:

Revised:

Accepted:

Published:

Issue Date:
Keywords
Myocardial infarction

Pregnancy

Primigravida

Coronary artery stenosis

Percutaneous coronary intervention
Schlüsselwörter
Myokardinfarkt

Schwangerschaft

Primigravida

Koronararterienstenose

Perkutanen Koronarintervention