Abstract
Takotsubo cardiomyopathy (TTC) is an acute cardiac syndrome characterized by transient regional wall motion abnormalities of the left ventricular apex or midventricle. Patients often present with chest pain or dyspnea, ST-segment elevation, and minor elevation of cardiac enzyme levels. TTC has been associated with severe emotional or physical stress such as severe burns, spinal cord injury, subarachnoid hemorrhage, multiple traumas, and surgery. We report a case of TTC in a 45-year-old woman who had undergone appendectomy 2 days before presenting to our institution.
Zusammenfassung
Die Takotsubo-Kardiomyopathie (TTC) stellt ein akutes kardiales Syndrom dar, das durch transiente regionale Wandbewegungsstörungen der Spitze oder der Mitte des linken Ventrikels gekennzeichnet ist. Die Patienten weisen häufig Brustschmerzen oder Dyspnoe, eine ST-Strecken-Hebung und einen geringen Anstieg der Herzenzyme auf. Die TTC steht in Zusammenhang mit schwerem emotionalem oder physischem Stress wie schwere Verbrennungen, Rückenmarkverletzung, Subarachnoidalblutung, Mehrfachverletzungen und Operationen. Hier wird der Fall einer TTC bei einer 45-jährigen Frau dargestellt, bei der 2 Tage vor ihrer Vorstellung in unserer Klinik eine Appendektomie erfolgt war.
This is a preview of subscription content, log in to check access.
Access options
Buy single article
Instant unlimited access to the full article PDF.
US$ 39.95
Price includes VAT for USA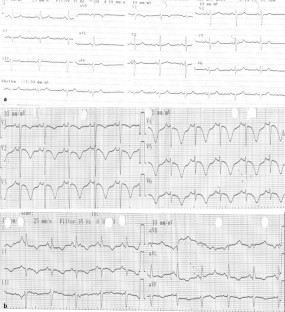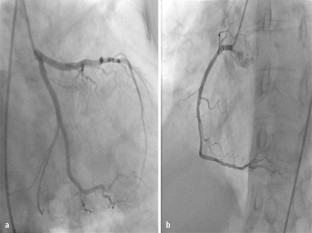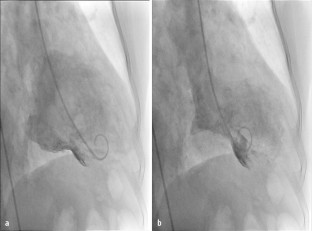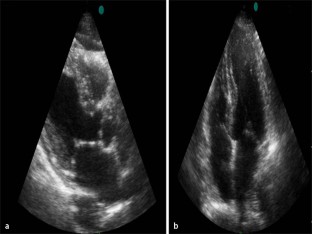 References
1.

Lentschener C, Vignaux O, Spaulding C et al (2006) Early postoperative tako-tsubo-like left ventricular dysfunction: transient left ventricular apical ballooning syndrome. Anesth Analg 103:580–582

2.

Littlejohn FC, Syed O, Ornstein E et al (2008) Takotsubo cardiomyopathy associated with anesthesia: three case reports. Cases J 1:227

3.

Consales G, Campiglia L, Michelagnoli G et al (2007) Acute left ventricular dysfunction due to tako-tsubo syndrome after induction of general anesthesia. Minerva Anestesiol 73:655–658

4.

Cho CK, Jung SM, Kim JY et al (2008) Stress induced cardiomyopathy after local epinephrine use: a case report. Korean J Anesthesiol 54:581–584

5.

Dote K, Sato H, Tateishi H et al (1991) Myocardial stunning due to simultaneous multivessel coronary spasms: a review of 5 cases. J Cardiol 21:203–214

6.

Bybee KA, Prasad A (2008) Stress-related cardiomyopathy syndromes. Circulation 118:397–409

7.

Gianni M, Dentali F, Grandi AM et al (2006) Apical ballooning syndrome or Takotsubo cardiomyopathy: a systematic review. Eur Heart J 27:1523–1529

8.

Madhavan M, Prasad A (2010) Proposed Mayo Clinic criteria for the diagnosis of Tako-Tsubo cardiomyopathy and long-term prognosis. Herz 35(4):240–243

9.

Prasad A, Lerman A, Rihal CS (2008) Apical ballooning syndrome (Tako-Tsubo or stress cardiomyopathy): a mimic of acute myocardial infarction. Am Heart J 155:408–417

10.

Wittstein IS, Thiemann DR, Lima JA et al (2005) Neurohumoral features of myocardial stunning due to sudden emotional stress. N Engl J Med 352:539–548

11.

Abraham J, Mudd JO, Kapur N et al (2009) Stress cardiomyopathy after intravenous administration of catecholamines and beta-receptor agonists. J Am Coll Cardiol 53(15):1320–1325

12.

Nef HM, Möllmann H, Elsässer A (2007) Tako-tsubo cardiomyopathy (apical ballooning). Heart 93:1309–1315

13.

Kurowski V, Kaiser A, Hof K von et al (2007) Apical and midventricular transient left ventricular dysfunction syndrome (tako-tsubo cardiomyopathy): frequency, mechanisms, and prognosis. Chest 132:809–816

14.

Nef HM, Mollmann H, Akashi YJ, Hamm CW (2010) Mechanisms of stress (Takotsubo) cardiomyopathy. Nature Rev Cardiol 7:187–193

15.

Tsuchihashi K, Ueshima K, Uchida T et al (2001) Angina pectoris—myocardial infarction investigations in Japan. Transient left ventricular apical ballooning without coronary artery stenosis: a novel heart syndrome mimicking acute myocardial infarction. Angina pectoris—myocardial infarction investigations in Japan. J Am Coll Cardiol 38:11–18

16.

Sharkey SW, Lesser JR, Zenovich AG et al (2005) Acute and reversible cardiomyopathy provoked by stress in women from the United States. Circulation 111:472–479

17.

Bybee KA, Prasad A, Barsness G et al (2004) Clinical characteristics, outcomes, and impaired myocardial microcirculation in patients with transient left ventricular apical ballooning syndrome: a case-series from a U.S. medical center. Am J Cardiol 94:343–346

18.

Elesber AA, Prasad A, Lennon RJ et al (2007) Four-year recurrence rate and prognosis of the apical ballooning syndrome. J Am Coll Cardiol 50:448–452

19.

Botting JH, Gibson A (1979) Beta-blocker withdrawal syndrome. Lancet 1(8121):875–876
Conflict of interest
On behalf of all authors, the corresponding author states that there are no conflicts of interest.
Additional information
Additional material onlineThis article includes five additional videos. You will find this supplemental at dx.doi.org/10.1007/s00059-013-3841-z.
Electronic supplementary material
Video 1: Coronary angiogram performed emergently, demonstrating normal left coronary system artery (wmv 0,9MB)
Video 2: Coronary angiogram performed emergently, demonstrating normal right coronary system artery (wmv 0,7MB)
Video 3: Left ventriculogram in systole shows preserved contraction of the base of the ventricle and apical ballooning with mild mitral regurgitation (wmv 1,2MB)
Video 4: Parasternal long-axis echocardiography view showing apical 'ballooning' with extension into the antero-septum (avi 19MB)
Video 5: Apical four-chamber echocardiographic view shows apical dyskinesiai (avi 18MB)
About this article
Cite this article
Bezgin, T., Elveran, A., Doğan, C. et al. Takotsubo cardiomyopathy after bisoprolol withdrawal and open appendectomy. Herz 39, 405–411 (2014). https://doi.org/10.1007/s00059-013-3841-z
Received:

Accepted:

Published:

Issue Date:
Keywords
Takotsubo cardiomyopathy

β-Blocker withdrawal

Bisoprolol

Surgical procedure

Appendectomy
Schlüsselwörter
Takotsubo-Kardiomyopathie

Absetzen eines β-Blockers

Bisoprolol

Chirurgischer Eingriff

Appendektomie