This is a preview of subscription content, log in to check access.
Access options
Buy single article
Instant unlimited access to the full article PDF.
US$ 39.95
Price includes VAT for USA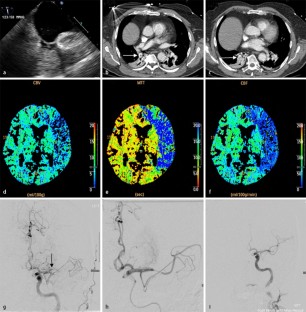 References
1.

Omar HR, Fathy A, Rashad R, Helal E (2010) Concomitant acute right ventricular infarction and ischemic cerebrovascular stroke; possible explanations. Int Arch Med 3:25

2.

Omar HR (2012) Myocardial infarction-stroke association. Int J Cardiol 154(3):340

3.

Hagen PT, Scholz DG, Edwards WD (1984) Incidence and size of patent foramen ovale during the first 10 decades of life: an autopsy study of 965 normal hearts. Mayo Clin Proc 59(1):17–20

4.

Lewis-Carey MB, Kee ST, Feinstein JA (2002) Temporary IVC filtration before patent foramen ovale closure in a patient with paradoxic embolism. J Vasc Interv Radiol 13(12):1275–1278

5.

Allport LE, Butcher KS (2008) Thrombolysis for concomitant acute stroke and pulmonary embolism. J Clin Neurosci 15(8):917–920

6.

Pelletier M, Bugeaud R, Ibrahim R et al (2010) Successful thrombolysis of a stroke with a pulmonary embolism in a young woman. J Emerg Med 39(4):443–448

7.

Pavesi PC, Pedone C, Crisci M et al (2008) Concomitant submassive pulmonary embolism and paradoxical embolic stroke after a long flight: which is the optimal treatment? J Cardiovasc Med 9(10):1070–1073
Conflict of interest
On behalf of all authors, the corresponding author states that there are no conflicts of interest.
Additional information
Additional material onlineThis article includes an additional video. You will find this supplemental at dx.doi.org/10.1007/s00059-013-3782-6.
Electronic supplementary material
Video 1: Transesophageal echocardiogram revealing a positive bubble study (QuickTime mov 0,9 MB)
About this article
Cite this article
Omar, H., Huang, C., Miller, J. et al. Simultaneous pulmonary embolism and cerebrovascular stroke. Herz 38, 884–886 (2013). https://doi.org/10.1007/s00059-013-3782-6
Received:

Accepted:

Published:

Issue Date: