Abstract
Left main coronary artery aneurysms (LMCA) are usually asymptomatic and are rarely encountered during coronary angiography. The most serious complications include coronary thrombosis, acute myocardial infarction and sudden death. Atherosclerosis is the most common cause, although several autoimmune diseases and congenital abnormalities have been associated with the presence of coronary aneurysms. The case of a symptom-free 63-year-old man with a giant LMCA and severely ectatic coronary arteries is presented.
Zusammenfassung
Aneurysmata der A. coronaria sinistra ("left main coronary artery aneurysms", LMCA) verursachen in der Regel keine Symptome und werden bei der Koronarangiographie nur selten gesehen. Zu den wesentlichen Komplikationen zählen Koronarthrombose, akuter Myokardinfarkt und plötzlicher Herztod. Am häufigsten ist ein Aneurysma atherosklerotisch bedingt, doch es tritt auf in Verbindung mit Autoimmunerkrankungen und angeborenen Fehlbildungen auch. Es wird der Fall eines 63-jährigen symptomfreien Patienten mit ausgedehntem LMCA und deutlich ektatischen Koronararterien vorgestellt.
This is a preview of subscription content, log in to check access.
Access options
Buy single article
Instant unlimited access to the full article PDF.
US$ 39.95
Price includes VAT for USA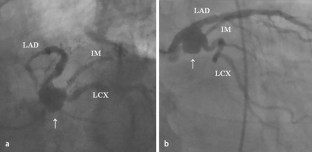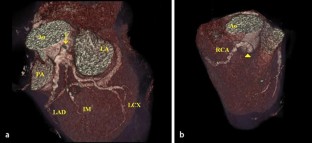 References
1.

Swaye PS, Fisher LD, Litwin P et al (1983) Aneurysmal coronary artery disease. Circulation 67:134–138

2.

Suh SY, Rha SW, Oh DJ (2007) Unruptured left main coronary artery aneurysm presented with acute cerebral infarction. Eur Heart J 28:1792

3.

Moreno N, Gonçalo L, Castro A et al (2011) Left main coronary artery aneurysm. Rev Port Cardiol 30:65–72

4.

Bairaktaris A, Schenk S, Grimmig O, Koerfer R (2008) Surgical correction of a giant aneurysm of the left main coronary artery. Eur J Cardiothorac Surg 34:668

5.

Rigatelli G, Gemelli M, Franco G et al (2004) Unusual combination of coronary artery, abdominal aortic and iliac artery inflammatory aneurysmal disease. Int J Cardiol 96:105–107

6.

Antoniadis AP, Chatzizisis YS, Giannoglou GD (2008) Pathogenetic mechanisms of coronary ectasia. Int J Cardiol 130:335–343
Conflict of interest
The corresponding author states that there are no conflicts of interest.
Electronic supplementary material
Video1 : Left coronary angiography in left anterior oblique projections (QuickTime 1,2 MB)
Video 2:Left coronary angiography in right anterior oblique projections (QuickTime 1,2 MB)
About this article
Cite this article
Pavlidis, A., Malakos , J., Karavolias, G. et al. Left main coronary artery aneurysm. Herz 37, 565–566 (2012) doi:10.1007/s00059-011-3570-0
Received:

Accepted:

Published:

Issue Date:
Keywords
Coronary aneurysm

Coronary artery

Angiography

Ectasia

Computed tomography
Schlüsselwörter
Koronaraneurysma

Koronararterie

Angiographie

Ektasie

Computertomgraphie