Abstract
Coronary artery fistula is a rare abnormality of coronary circulation. It is mostly congenital but acquired forms can also occur. Fistulae are usually asymptomatic and can sometimes be visualized during cardiac imaging such as transthoracic echocardiogram, cardiac magnetic resonance imaging, coronary computed tomography angiography and coronary angiography.
Zusammenfassung
Koronararterienfisteln sind seltene Fehlbildungen der Koronarkreislaufs. Zumeist sind sie angeboren, aber auch erworbene Formen kommen vor. Gewöhnlich sind Fisteln asymptomatisch und lassen sich manchmal im Verlauf von bildgebenden Herzuntersuchungen wie transthorakaler Echokardiographie, kardialer Magnetresonanztomographie, computertomographischer oder herkömmlicher Koronarangiographie darstellen.
This is a preview of subscription content, log in to check access.
Access options
Buy single article
Instant unlimited access to the full article PDF.
US$ 39.95
Price includes VAT for USA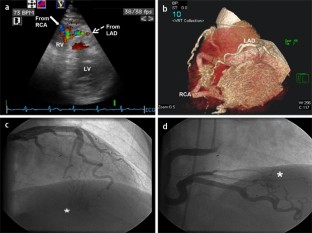 Conflict of interest
The corresponding author states that there are no conflicts of interest.
Electronic supplementary material
Video 1: Color doppler examination (QuickTime Movie 0,4 MB)
Video 2: Selective coronary angiography (QuickTime Movie 0,5 MB)
Video 3: Right coronary angiography (QuickTime Movie 1 MB)
About this article
Cite this article
Okutucu, S., Karakulak, U., Jam, F. et al. Visualization of dual coronary artery fistulae drainage to the right ventricle by transthoracic echocardiography. Herz 37, 308–310 (2012) doi:10.1007/s00059-011-3523-7
Keywords
Coronary artery fistula

Transthoraic echocardiogram

Cardiac MRI

Coronary computed tomography

Coronary angiography
Schlüsselwörter
Koronararterienfistel

Transthorakale Echokardiographie

Kardiale Magnetresonanztomographie

Koronararteriencomputertomographie

Koronarangiographie