Zusammenfassung
Ziel
Mittels eines medizinisch-wissenschaftlichen Fallberichts soll, basierend auf klinisch-fallspezifischen Daten, gewonnenen klinisch-perioperativen Managementerfahrungen und unter Zusammenschau der einschlägigen Literatur, der Kasus einer Patientin mit Sigmavolvulus illustriert werden.
Fallpräsentation
Eine 73-jährige Patientin stellte sich mit seit einer Woche bestehenden, progredienten Unterbauchschmerzen und akutem Stuhlverhalt bei anamnestischen Stuhlunregelmäßigkeiten über mehrere Monate und klinisch palpabler Abdominalschwellung vor. Die körperliche Untersuchung erbrachte einen unspezifischen Befund bei gleichzeitig unauffälligem Labor. Eine initial durchgeführte Röntgen-Abdomenleeraufnahme zeigte eine deutliche Dilatation des Kolons; in der weiterführenden CT-Diagnostik wurde schließlich ein Volvulus des Colon sigmoideum diagnostiziert. Es erfolgten eine mediane Laparotomie mit Resektion der distendierten Anteile des Sigmas bei Colon elongatum und die Anlage einer transanalen Stapler-geführten Anastomose mit Seit-zu-End-Descendorektostomie. Die intraoperative Exploration des übrigen Abdomens zeigte keine Durchblutungskompromittierung. Der postoperative Verlauf gestaltete sich unauffällig.
Schlussfolgerung
Der Sigmavolvulus des vor allem auch älteren Erwachsenen stellt eine seltene, aber notfallmedizinisch hochrelevante Fallkonstellation des im klinischen Alltag nicht seltenen akuten/unklaren Abdomens dar. Die eindeutige Diagnoseklärung gelingt im Regelfall erst durch die CT-Diagnostik und ggf. intraoperative Inspektion bei Operationsindikation durch die erhobene klinische Diagnose des (operationspflichtigen) akuten Abdomens, die bei geringer Ischämiezeit des Darms und nicht unbeträchtlicher Mortalität bei Therapieverzögerung früh in Betracht gezogen werden müssen.
Abstract
Aim
The case of a female patient with sigmoid volvulus is illustrated in a medico-scientific case report, based on case-specific data, clinical perioperative management experience and a summary of the relevant literature.
Case
A 73-year-old female patient presented with a 1-week history of increasing lower abdominal pain and acute constipation with a history of alternating constipation and diarrhea over several months as well as clinically palpable swelling of the abdomen. The physical examination revealed unspecific findings and the laboratory tests were inconspicuous. An initially performed abdominal plain X-ray showed a clear dilatation of the colon and in a computed tomography (CT) scan a volvulus of the sigmoid colon could be diagnosed. Resection of the distended portions of the sigma in an elongated colon was performed via median laparotomy and placement of a transanally stapled anastomosis in side-to-end descendorectostomy. The intraoperative exploration of the rest of the abdomen did not show any signs of compromised perfusion. The postoperative course was uneventful.
Conclusion
Sigmoid volvulus particularly in old people is a rare but highly relevant case constellation in emergency medicine of acute but unclear abdominal pain, which is not uncommon in the clinical routine. The clear diagnostic clarification is as a rule only possible after CT diagnostics of the abdomen and if necessary, by intraoperative inspection if there are indications for surgery. Due to the short ischemic tolerance of the bowels and not inconsiderable mortality when treatment is delayed, early surgical intervention should be promptly considered.
This is a preview of subscription content, log in to check access.
Access options
Buy single article
Instant unlimited access to the full article PDF.
US$ 39.95
Price includes VAT for USA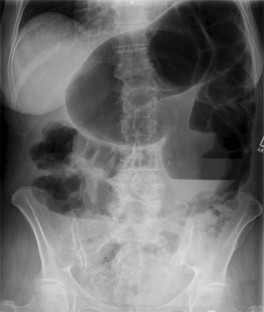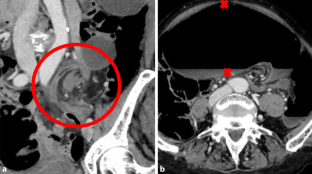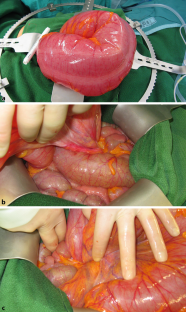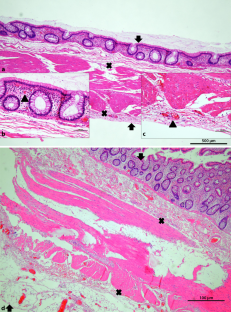 Literatur
1.

Atamanalp SS (2013) Sigmoid volvulus: diagnosis in 938 patients over 45.5 years. Tech Coloproctol 17(4):419–424

2.

Ballantyne GH (1982) Review of sigmoid volvulus: clinical patterns and pathogenesis. Dis Colon Rectum 25:823–830

3.

Brant WE, Helms CA (2012) Fundamentals of diagnostic radiology. Lippincott Williams & Wilkins, Philadelphia, S 681–682

4.

Bruusgard C (1947) Volvulus of the sigmoid colon and its treatment. Surgery 22:466–478

5.

Bubrick MP (1992) Volvulus of the colon. In: Gordon PH, Nivatvongs S (Hrsg) Principles and practice of surgery for the colon, rectum and anus. Quality Medical Publishing, St. Louis, S 799–816

6.

Gingold D, Murrell Z (2012) Management of colonic volvulus. Clin Colon Rectal Surg 25(4):236–244

7.

Heis HA, Bani-Hani KE, Rabadi DK et al (2008) Sigmoid volvulus in the Middle East. World J Surg 32(3):459–464

8.

Hinshaw DB, Carter R (1957) Surgical management of acute volvulus of the sigmoid colon. A study of 55 cases. Ann Surg 146:52–60

9.

Hirao K, Kikawada M, Hanyu H, Iwamoto T (2006) Sigmoid volvulus showing "a whirl sign" on CT. Intern Med 45:331–332

10.

Jean SN, Chiang HJ, Chen YF, Chen JF, Lo TC (2003) Midgut volvulus with acute abdomen in an adult patient: a case report. Chin J Radiol 28(1):37–41

11.

Jones-Ian T, Fazio VS (1989) Colonic volvulus, etiology and management. Dig Dis 7:203–209

12.

Kapadia MR (2017) Volvulus of the small bowel and colon. Clin Colon Rectal Surg 30(1):40–45

13.

Kuzu MA, Aslar AK, Soran A, Polat A, Topcu Ö, Hengirmen S (2002) Emergent resection for acute sigmoid volvulus: results of 106 consecutive cases. Dis Colon Rectum 45:1085–1090

14.

Lankisch PG, Mahlke R, Lübbers H (2006) Das akute Abdomen aus internistischer Sicht. Dtsch Arztbl 103:A2179-A2188

15.

Meyer F, Rapp L, Lippert H (2007) Unusual "twister"-like appearance of a sigmoid volvulus on computed tomography. Endoscopy 39(Suppl 1):E295

16.

Pfeifer J (2003) Volvulus des Dickdarms. J Gastroenterol Hepatol Erkr 1(1):6–13

17.

Shahverdi E, Morshedi M, Allahverdi Khani M, Baradaran Jamili M, Shafizadeh Barmi F (2017) Utility of the CT scan in diagnosing midgut volvulus in patients with chronic abdominal pain. Case Rep Surg. https://doi.org/10.1155/2017/1079192

18.

Vandendries C, Jullès MC, Boulay-Coletta I et al (2010) Diagnosis of colonic volvulus: findings on multidetector CT with three-dimensional reconstructions. Br J Radiol 83(995):983–990
Ethics declarations
Interessenkonflikt
M. Mengoni, H. Ptok, S. Acciuffi, C. Wex, V. Negrini, U. Schittek, J. Rabczak, C. Eßbach, R. Croner und F. Meyer geben an, dass kein Interessenkonflikt besteht.
Für diesen Beitrag wurden von den Autoren keine Studien an Menschen oder Tieren durchgeführt. Für die aufgeführten Studien gelten die jeweils dort angegebenen ethischen Richtlinien. Für Bildmaterial oder anderweitige Angaben innerhalb des Manuskripts, über die Patienten zu identifizieren sind, liegt von ihnen und/oder ihren gesetzlichen Vertretern eine schriftliche Einwilligung vor.
Additional information
M. Mengoni ist Medizin-Studierende im 6. Stj. der Med. Fakultät der Otto-von-Guericke-Universität zu Magdeburg, die den vorgelegten Fall im Rahmen ihres obligatorischen chirurgischen PJ-Tertials wissenschaftlich aufarbeitete.
Caption Electronic Supplementary Material
Zusätzliches Video 1a: Videosequenz von CT-Bildern zur Markierung des "whirl signs" mit blauer Einkreisung des interessierenden Areals der Bildgebung. Axial
Zusätzliches Video 1B: Videosequenz von CT-Bildern zur Markierung des "whirl signs" mit blauer Einkreisung des interessierenden Areals der Bildgebung: Koronar
About this article
Cite this article
Mengoni, M., Ptok, H., Acciuffi, S. et al. Sigmavolvulus des älteren Erwachsenen. coloproctology 41, 280–284 (2019). https://doi.org/10.1007/s00053-019-0354-0
Schlüsselwörter
Differenzialdiagnose

Akutes Abdomen

Chirurgischer Notfall

Perioperatives Management

Fallbericht
Keywords
Differential diagnosis

Acute abdomen

Surgical emergency

Perioperative management

Case report