Abstract
To discover a novel lead structure for antiphytopathogenic fungus agent, a series of (R)-2-phenyl-4,5-dihydrothiazole-4-carboxamide derivatives containing a sulfonohydrazide moiety were designed and synthesized. They were determined by melting points, 1H NMR, 13C NMR, and elemental analysis (EA). The biological activity results revealed that these title compounds possessed antifungal and insecticidal activities. Some title compounds against Alternaria solani, Physalospora piricola, Cercospora arachidicola, Phytophthora capsici, Fusarium graminearum, and Sclerotinia sclerotiorum displayed moderate to good antifungal activities at 50 mg/L, especially, compounds 6b and 6p displayed good and broad-spectrum antifungal activities. The structure activity relationships were discussed. A 3D-QSAR model was established based on the antifungal activity against Phytophthora capsici, indicating that electrostatic and hydrophobic fields were the two most significant factors for antifungal activity. Hence, structure optimization based on the CoMSIA model was performed to find compound 6p with excellent activity against Phytophthora capsici, and the EC50 values of compound 6p were comparable to those of chlorothalonil. Furthermore, the insecticidal activity of compound 6p against Culex pipiens larvae at 1 mg/L was considerable to that of chlorantraniliprole. Therefore, compound 6p can be used as a novel lead structure for antiphytopathogenic fungus and insecticidal agent development.
This is a preview of subscription content, log in to check access.
Access options
Buy single article
Instant unlimited access to the full article PDF.
US$ 39.95
Price includes VAT for USA
Subscribe to journal
Immediate online access to all issues from 2019. Subscription will auto renew annually.
US$ 99
This is the net price. Taxes to be calculated in checkout.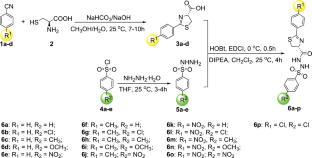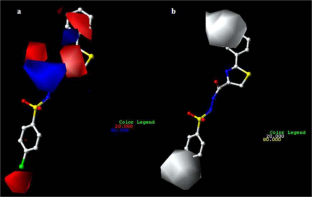 References
Ardjani ATE, Mekelleche SMJ (2017) Theoretical investigation and molecular docking approach on the antioxidant activity of Schiff bases and their tautomers. Theor Comput Chem 16:1750001

Backes GL, Jursic BS, Neumann DM (2015) Potent antimicrobial agents against azole-resistant fungi based on pyridinohydrazide and hydrazomethylpyridine structural motifs. Bioorg Med Chem 23:3397–3407

Crouse GD, Demeter DA, Samaritoni G, McLeod CL, Sparks TC (2018) De novo design of potent, insecticidal synthetic mimics of the spinosyn macrolide natural products. Sci Rep. 8:4861

Dixit RB, Vanparia SF, Patel TS, Jagani CL, Doshi HV, Dixit BC (2010) Synthesis and antimicrobial activities of sulfonohydrazide-substituted 8-hydroxyquinoline derivative and its oxinates. Appl Organomet Chem 24:408–413

Duke SO, Dayan FE, Romagni JG, Rimando AM (2010) Insecticidal activity of natural products against vineyard mealybugs (Hemiptera: Pseudococcidae). Weed Resin 40:99–111

Forgash AJ (1984) History, evolution, and consequences of insecticide resistance. Pestic Biochem Physiol 22:178–186

Godfray HCJ, Beddington JR, Crute IR, Haddad L, Lawrence D, Muir JF, Pretty J, Robinson S, Thomas SM, Toulmin C (2010) Food security: the challenge of feeding 9 billion people. Science 327:812–818

Gududuru V, Hurh E, Sullivan J, Dalton JT, Miller DD (2005) SAR studies of 2-arylthiazolidine-4-carboxylic acid amides: a novel class of cytotoxic agents for prostate cancer. Bioorg Med Chem Lett 15:4010–4013

Kamal A, Khan MNA, Reddy KS, Rohini K (2007) Synthesis of a new class of 2-anilino substituted nicotinyl arylsulfonylhydrazides as potential anticancer and antibacterial agents. Bioorg Med Chem 15:1004–1013

Li D, Luong TTM, Dan WJ, Ren YL, Nien HX, Zhang AL, Gao JM (2018) Natural products as sources of new fungicides (IV): Synthesis and biological evaluation of isobutyrophenone analogs as potential inhibitors of class-II fructose-1,6-bisphosphate aldolase. Bioorg Med Chem 26:386–393

Liu JB, Li FY, Dong JY, Li YX, Zhang XL, Wang YH, Xiong LX, Li ZM (2018) Anthranilic diamides derivatives as potential ryanodine receptor modulators: synthesis, biological evaluation and structure activity relationship. Bioorg Med Chem 26:3541–3550

Liu JB, Li FY, Wang YH, Zhang HX, Dong JY, Sun PW, Li YX, Li ZM (2019) Synthesis, biological activities and 3D-QSAR studies of (R)-2-phenyl-4,5-dihydrothiazole-4-carboxamide derivatives containing a sulfur ether moiety. Chin Chem Lett 30:668–671

Liu JB, Li YX, Chen YW, Hua XW, Wan YY, Wei W, Song HB, Yu SJ, Zhang X, Li ZM (2015) Design, synthesis, antifungal activities and SARs of (R)-2-aryl-4,5-dihydrothiazole-4-carboxylic acid derivatives. Chin J Chem 33:1269–1275

Liu JB, Li YX, Chen YW, Wu CC, Wan YY, Wei W, Xiong LX, Zhang X, Yu SJ, Li ZM (2016) Design, synthesis andbiological activities of novel anthranilic diamides containingdihydroisoxazoline and isoxazole. Chem Res Chin Univ 32:41–48

Ma YT, Fan HF, Gao YQ, Li H, Zhang AL, Gao JM (2013) Natural products as sources of new fungicides (I): synthesis and antifungal activity of acetophenone derivatives against phytopathogenic fungi. Chem Biol Drug Des 81:545–552

Pattenden G, Thom STJ (1993) Naturally occurring linear fused thiazoline-thiazole containing metabolites: total synthesis of (–)-didehydromirabazole A, a cytotoxic alkaloid from blue–green algae. J Chem Soc Perkin Trans 1 14:1629–1636

Ray DK, Mueller ND, West PC, Foley JA (2013) Yield trends are insufficient to double global crop production by 2050. PLoS ONE 8:e66428

Selvakumar B, Vaidyanathan SP, Madhuri S, Elango KP (2017) Synthesis and antiviral activity of sulfonohydrazide and 1,3,4-oxadiazole derivatives of 6,6-dimethyl-9-oxo-4,5,6,7,8,9-hexahydropyrazolo[5,1-b]quinazoline. J Chem Res 4:221–224

Siddiqa A, Rehman A, Abbasi MA, Rasool S, Khan KM, Ahmad I, Afzal S (2014) Synthesis and antibacterial evaluation of 2-(1,3-Benzodioxol-5-ylcarbonyl)arylsulfonohydrazide derivatives. Trop J Pharm Res 13:1689–1696

Tabashnik BE, Mota-Sanchez D, Whalon ME, Hollingworth RM, Carriere Y (2014) Defining terms for proactive management of resistance to Bt crops and pesticides. J Econ Entomol 107:496–507

Tacoli F, Bell VA, Cargnus E, Pavan F (2018) Insecticidal activity of natural products against vineyard mealybugs (Hemiptera: Pseudococcidae). Crop Prot 111:50–57

Zamri A, Schalk IJ, Pattus F, Abdallah MA (2003) Bacterial siderophores: synthesis and biological activities of novel pyochelin analogues. Bioorg Med Chem Lett 13:1147–1150
Acknowledgements
This study was supported by the National Natural Science Foundation of China (nos. 31901908 and 31972287), the Natural Science Foundation of Tianjin (no. 19JCQNJC04600), the Scientific Project of Tianjin Municipal Education Commission (no. 2018KJ008), the National Student's Platform for Innovation and Entrepreneurship Training Program (no. 201810061003).
Ethics declarations
Conflict of interest
The authors declare that they have no conflict of interest.
Additional information
Publisher's note Springer Nature remains neutral with regard to jurisdictional claims in published maps and institutional affiliations.
Supplementary Information
About this article
Cite this article
Liu, J., Li, F., Wang, Y. et al. Synthesis, biological activities, and 3D-QSAR studies of (R)-2-phenyl-4,5-dihydrothiazole-4-carboxamide derivatives containing a sulfonohydrazide moiety. Med Chem Res (2020) doi:10.1007/s00044-020-02499-3
Received:

Accepted:

Published:
Keywords
(R)-2-phenyl-4,5-dihydrothiazole-4-carboxamide

Sulfonohydrazide

Antifungal activity

Insecticidal activity

Structure activity relationship