Abstract
Novel N,4-diphenylthiazol-2-amine derivatives were designed and synthesized employing Hantzsch method. The three-step reaction involved in the synthesis occurred at a faster rate with excellent yields in eco-friendly conditions. The synthesized derivatives were characterized by spectral techniques such as 1H NMR, 13C NMR, FT-IR and GCMS. Single-crystal X-ray diffraction studies also confirmed the formation of title compounds. These compounds were evaluated in vitro for their antimicrobial and anti-inflammatory activities. The results demonstrated that most of the tested compounds showed potent antifungal activity. Interestingly, these compounds also exhibited good anti-inflammatory and moderate antibacterial activity towards sensitive as well as resistant bacterial strains. In silico studies depicted their good binding affinity profile against S. aureus (PDB ID: 1AD4) and C. albicans (PDB ID: 1AI9).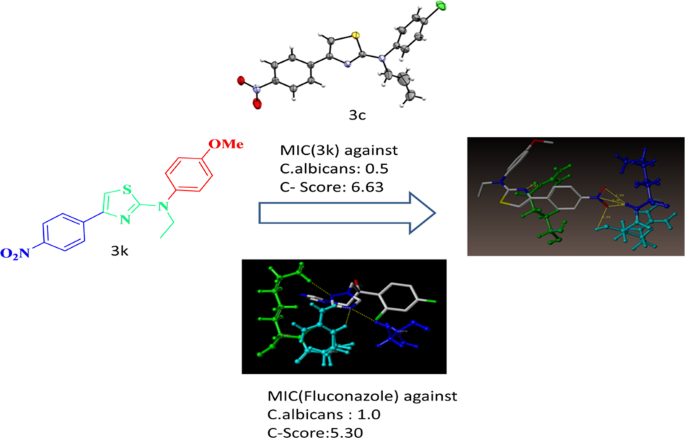 This is a preview of subscription content, log in to check access.
Access options
Buy single article
Instant access to the full article PDF.
US$ 39.95
Price includes VAT for USA
Subscribe to journal
Immediate online access to all issues from 2019. Subscription will auto renew annually.
US$ 99
This is the net price. Taxes to be calculated in checkout.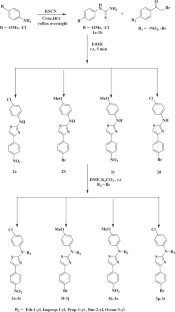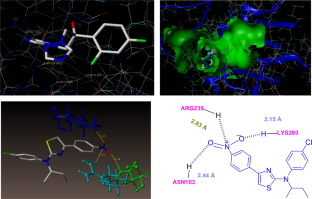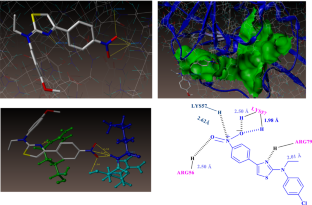 References
Arora P, Narang R, Bhatia S, Nayak SK, Singh SK, Narasimhan B (2015) Synthesis, molecular docking and QSAR studies of 2, 4-disubstituted thiazoles as antimicrobial agents. J Appl Pharm Sci 5(02):028–042

Arora P, Narang R, Nayak SK, Singh SK, Judge V (2016) 2,4-Disubstituted thiazoles as multitargated bioactive molecules. Med Chem Res 25:1717–1743

Ayati A, Emami S, Asadipour A, Shafiee A, Foroumadi A (2015) Recent applications of 1,3-thiazole core structure in the identification of new lead compounds and drug discovery. Eur J Med Chem 97:699–718

Bikobo DSN, Vodnar DC, Stana A, Tiperciuc B, Nastasa C, Douchet MP, Oniga O (2017) Synthesis of 2-phenylamino-thiazole derivatives as antimicrobial agents. J Saudi Chem Soc 21:861–868

Cockerill FR, Wikler MA, Alder J, Dudley MN, Eliopoulos GM, Ferraro MJ, Hardy DJ, Hecht DW, Hindler JA, Patel JB, Powell M, Swenson JM, Thomson RB, Traczewski MM, Turnidge JD, Weinstein MP, Zimmer BL (2012) Methods for Dilution Antimicrobial Susceptibility Tests for Bacteria That Grow Aerobically; Approved Standard. CLSI document M07-A9.9, 9 ed. C.L.S.I. (Clinical and Laboratory Standard Institute), Pennsylvania, PA, USA

Das D, Sikdar P, Bairagi M (2016) Recent developments of 2-aminothiazoles in medicinal chemistry. Eur J Med Chem 109:89–98

Das J, Chen P, Norris D, Padmanabha R, Lin J, Moquin RV, Shen Z, Cook LS, Doweyko AM, Pitt S, Pang S, Shen DR, Fang Q, de Fex HF, McIntyre KW, Shuster DJ, Gillooly KM, Behnia K, Schieven GL, Wityak J, Barrish JC (2006) 2-Aminothiazole as a novel kinase inhibitor template. Structure-activity relationship studies toward the discovery of N-(2-Chloro-6-methylphenyl)-2-[[6-[4-(2-hydroxyethyl)-1-piperazinyl)]-2-methyl-4-pyrimidinyl]amino)]-1,3-thiazole-5-carboxamide (dasatinib, BMS-354825) as a potent pan-SRC kinase inhibitor. J Med Chem 49(23):6819–6832

De Souza MVN, De Almeida MV (2003) Drugs anti-HIV: past, present and future perspectives. Quím Nova 26:366–372

Dessen A, Di Guilmi AM, Vernet T, Dideberg O (2001) Molecular mechanisms of antibiotic resistance in gram-positive pathogens. Curr Drug Targets Infect Disord 1:63–77

Dighe SN, Chaskar PK, Jain KS, Phoujdar MS, Srinivasan KV (2011) A remarkably high-speed solution-phase combinatorial synthesis of 2-substituted-amino-4-aryl thiazoles in polar solvents in the absence of a catalyst under ambient conditions and study of their antimicrobial activities. ISRN Org Chem 434613:1–6

Dolomanov OV, Blake AJ, Champness NR, Schroder M (2003) OLEX: new software for visualization and analysis of extended crystal structures. J Appl Cryst 36:1283–1284

Fox LM, Saravolatz LD (2005) Nitazoxanide: a new thiazolide antiparasitic agent. Clin Infect Dis 40(8):1173–1180

Gasteiger J, Marsili M (1980) Iterative partial equalization of orbital electronegativity-a rapid access to atomic charges. Tetrahedron 36:3219–3228

Hantzsch A, Weber JH (1887) For compounds of thiazole (pyridine of the thiophene series). Chem Ber 20:3118–3132

Knadler MP, Bergstrom RF, Callaghan JT, Rubin A (1986) Nizatidine: an H2-blocker its metabolism and disposition in man. Drug Metab Dispos 14:175–182

Kumar P, Narasimhan B, Sharma D, Judge V, Narang R (2009) Hansch analysis of substituted benzoic acid benzylidene/furan-2- yl-methylene hydrazides as antimicrobial agents. Eur J Med Chem 44:1853–1863

Leelaprakash G, Dass SM (2011) Invitro anti-inflammatory activity of methanol extract of Enicostemma axillare. Int J Drug Dev Res 3(3):189–196

Liaras K, Geronikaki AA, Glamoclija JM, Ciric A, Sokovic M (2011) Novel (E)-1-(4-methyl-2-(alkylamino)thiazol-5-yl)-3-arylprop-2-en-1-ones as potent antimicrobial agents. Bioorg Med Chem 19(24):7349–7356

Muroi H, Nihei K, Tsujimoto K, Kubo I (2004) Synergistic effects of anacardic acids and methicillin against methicillin resistant Staphylococcus aureus. Bioorg Med Chem 12(3):583–587

Narang R, Narasimhan B, Sharma SK, Shriram D, Perumal Y, De Clercq E, Pannecouque C, Balzarini J (2011) Nicotinic acid benzylidene/phenyl-ethylidene hydrazides: synthesis, antitubercular, antiviral, antimicrobial evaluation and QSAR studies. Lett Drug Des Disco 8(8):733–749

Narang R, Narasimhan B, Sharma SK, Shriram D, Perumal Y, De Clercq E, Pannecouque C, Balzarini J (2012) Synthesis, antimycobacterial, antiviral, antimicrobial activities and QSAR studies of nicotinic acid benzylidene hydrazide derivatives. Med Chem Res 21(8):1–20

Narang R, Narasimhan B, Sharma SK(2012) (Naphthalen-1-yloxy)- acetic acid benzylidene/(1-phenyl-ethylidene)-hydrazide derivatives: synthesis, antimicrobial evaluation and QSAR studies. Med Chem Res 21:2526–2547

Nauen R, Kintscher UE, Salgado VL, Kaussmann M (2003) Thiamethoxam is a neonicotinoid precursor converted to clothianidin in insects and plants. Pest Biochem Physiol 76:55–69

Pasqualotto AC, Thiele KO, Goldani LZ (2010) Novel triazole antifungal drugs: focus on isavuconazole, ravuconazole and albaconazole. Curr Opin Investig Drugs 11(2):165–174

Perez KK, Olsen RJ, Musick WL, Cernoch PL, Davis JR, Peterson LE, Musser JM (2014) Integrating rapid diagnostics and antimicrobial stewardship improves outcomes in patients with antibiotic resistant Gram negative bacteremia. J Infect 69(3):216–225

Pfeltz RF, Wilkinson BJ (2004) The escalating challenge of vancomycin resistance in Staphylococcus aureus. Curr Drug Targets Infect Disord 4(4):273–294

Roberts MC (2004) Distribution of macrolide, lincosamide, streptogramin, ketolide and oxazolidinone (MLSKO) resistance genes in Gram-negative bacteria. Curr Drug Targets Infect Disord 4(3):207–215

Sheldrick GM (1997) SHELXS97 and SHELXL97 program for crystal structure solution and refinement. University of Gottingen Germany

Siddiqui N, Arshad FM, Ahsan W, Alam MS (2009) Thiazoles: a valuable insight into the recent advances and biological activities. Int J Pharm Sci Drug Res 1(3):136–143

Smart and Saint Software Reference manuals (2001) Versions 6.28a & 5.625. Bruker Analytical X-ray Systems Inc., USA

Tenover FC, McDonald LC (2005) Vancomycin-resistant staphylococci and enterococci: epidemiology and control. Curr Opin Infect Dis 18(4):300–305

Tripos International (2012) Sybyl-X 2.0. Tripos International, St. Louis, MO, USA
Acknowledgements
We are thankful to the University Scientific Instruments Centre (USIC and SAIF), Karnatak University, Dharwad for providing the spectral data, DST-INSPIRE, New Delhi, India, for providing financial support under DST/INSPIRE Fellowship/2016/IF160657 and DST-PURSE PHASE-II program for providing necessary facilities. One of the authors MSN is thankful to UGC-SRF for financial support.
Ethics declarations
Conflict of interest
The authors declare that they have no conflict of interest.
Ethical approval
This article does not contain any studies with human participants or animals performed by any of the authors.
Additional information
Publisher's note Springer Nature remains neutral with regard to jurisdictional claims in published maps and institutional affiliations.
Supplementary information
About this article
Cite this article
Nadaf, A.A., Barretto, D.A., Najare, M.S. et al. Design, synthesis and biological evaluation of novel N,4-diphenylthiazol-2-amine derivatives. Med Chem Res 29, 442–458 (2020). https://doi.org/10.1007/s00044-019-02495-2
Received:

Accepted:

Published:

Issue Date:
Keywords
N,4-diphenylthiazol-2-amine

Antimicrobial

Anti-inflammatory

Ciprofloxacin

Fluconazole

Protein denaturation assay