Abstract
Herein, we describe the synthesis, cytotoxicity effect and antitubercular activity of thiophene containing Baylis–Hillman adducts (2a–l), Baylis–Hillman bromides (3a–l) and 2-methyl-3-methyl/ethyl acrylates (4a–l). Their structures were elucidated by elemental analysis, IR, 1H NMR, 13C NMR, and mass spectroscopic data. All the compounds were evaluated for their in vitro cytotoxicity effect using the MTT assay method against two human cancer cell lines (MCF-7 and K562). The compounds demonstrated a growth inhibitory effect on both the cell lines with significant IC50 values. Among the compounds synthesized, 3h and 4g showed excellent activities on both the cell lines, whereas the other compounds exhibited moderate activity. The antitubercular activity of the obtained compounds was tested against Mycobacterium tuberculosis H37Rv in vitro using the agar microdilution method. Sevenfold dilutions ranging between 0.65 and 50 μg/ml of each test compound were used to find out their minimum inhibitory concentration. Among the tested compounds, compound 3l showed almost equal activity with the standard drug Isoniazid (INH), whereas the rest of all compounds have shown less to moderate activity against Mycobacterium tuberculosis H37Rv.
This is a preview of subscription content, log in to check access.
Access options
Buy single article
Instant access to the full article PDF.
US$ 39.95
Price includes VAT for USA
Subscribe to journal
Immediate online access to all issues from 2019. Subscription will auto renew annually.
US$ 99
This is the net price. Taxes to be calculated in checkout.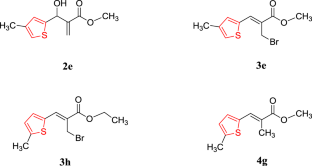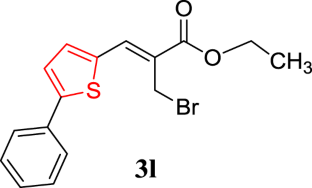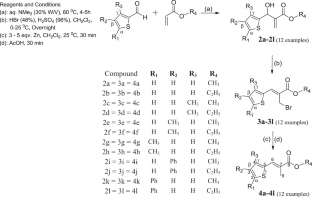 References
Abdel AYM, Said MM, El Shihawy HA, Abouzid KAM (2015) Discovery of novel tricyclic pyrido[3′,2′:4,5]thieno[3,2-d]pyrimidin-4-amine derivatives as VEGFR-2 inhibitors. Bioorg Chem 60:1–12

Basavaiah D, Krishnama CM, Rao AJ (2000) The aqueous trimethylamine mediated Baylis–Hillman reaction. Synth Comm 30(11):2061–2069

Bleed D, Watt C, Dye C (2000) Global tuberculosis control. WHO/CDS/TB/2000.275, Geneva, Switzerland, pp 1–175

Bonini C, Chiummiento L, Bonis MD, Funicello M, Lupattelli P, Suanno G, Berti F, Campaner P (2005) Synthesis, biological activity and modelling studies of two novel anti HIV PR inhibitors with a thiophene containing hydroxyethylamino core. Tetrahedron 61(27):6580–6589

Brault L, Migianu E, Ne´guesque A, Battaglia E, Bagrel D, Kirsch G (2005) New thiophene analogues of kenpaullone: synthesis and biological evaluation in breast cancer cells. Eur J Med Chem 40(8):757–763

Buchholz R, Hoffmann HMR (1991) α-Methylidene- and α-alkylidene- β-lactams from nonproteinogenic amino acids. Helv Chem Acta 74:1213–1220

Cai G, Wang S, Zhao L, Sun Y, Yang D, Lee RJ, Zhao M, Zhang H, Zhou Y (2019) Thiophene derivatives as anticancer agents and their delivery to tumor cells using albumin nanoparticles. Molecules 24(1):192–207

Çakar B, Çiledağ A (2018) Evaluation of coexistence of cancer and active tuberculosis; 16 case series. Respir Med Case Rep. 2018(23):33–37

Chopra I, Brennan P (1998) Molecular action of anti-mycobacterial agents. Tuberc Lung Dis 78:89–98

Collins L, Franzblau SG (1997) Microplate alamar blue assay versus BACTEC 460 system for high-throughput screening of compounds against Mycobacterium tuberculosis and Mycobacterium avium. Antimic Age Chem 41(5):1004–1009

Ellner JJ, Goldberger MJ, Parenti DM (1991) Mycobacterium avium infection and aids: a therapeutic dilemma in rapid evolution. J Infect Dis 163(6):1326–1335

Giordanetto F, Karlsson O, Lindberg J (2007) Discovery of cyclopentane and cyclohexane-trans-1,3-diamines as potent melanin-concentrating hormone receptor 1 antagonists. Bioorg Med Chem Lett 17:4232–4241

Helala MH, Salem MA, Gouda MA, Ahmed NS, El-Sherif AA (2015) Design, synthesis, characterization, quantum-chemical calculations and anti-inflammatory activity of novel series of thiophene derivatives. Spectrochim Acta Part A Mol Biomol Spectrosc 147:73–83

Kumar PR, Raju S, Goud PS, Sailaja M, Sarma MR, Reddy GO, Kumar MP, Reddy VVRMK, Suresha T, Hegdeb P (2004) Synthesis and biological evaluation of thiophene [3,2-b] pyrrole derivatives as potential anti-inflammatory agents. Bioorg Med Chem 12:122–1230

Luciano F, Adailton J, Bortoluzzi, Marcus MS (2004) Simple access to 2-methylalk-2-enoates and insect pheromones by zinc-promoted reduction of Baylis–Hillman-derived allylic bromides. Tetrahedron 60:9983–9989

Minnikin DE (1982) Lipids: complex lipids, their chemistry, biosynthesis and roles. In: Ratledge C, Stanford J (eds.) The biology of mycobacteria. Academic, London, pp 95–184

Mosmann T (1983) Rapid colorimetric assay for cellular growth and survival: application to proliferation and cytotoxicity assays. J Immunol Methods 65:55–63

Nasr T, Bondock S, Eid S (2014) Design, synthesis, antimicrobial evaluation and molecular docking studies of some new thiophene, pyrazole and pyridine derivatives bearing sulfisoxazole moiety. Eur J Med Chem 84:491–504

Roush WR, Brown B(1993) A highly diastereo- and enantioselective synthesis of top half of Kijanolide J Org Chem 58(8):2151–2161

Shubha J, Neelaiah BG, Srinivasa RJ, Harshada S, Surya PD (2012) Synthesis, antitubercular and antifungal activities of heteroaryl-substituted oxiranes derived from Baylis–Hillman adducts. Med Chem Res 21(10):2744–2748

Smith CR (2009) Activated zinc dust. Synlett 9:1522–1523

Wang SB, Deng XQ, Zheng Y, Yuan YP, Quan ZS, Guan LP (2012) Synthesis and evaluation of anticonvulsant and antidepressant activities of 5-alkoxytetrazolo[1,5-c]thieno[2,3-e]pyrimidine derivatives. Eur J Med Chem 56:139–144

Wardakhan WW, Abdel-Salam OME, Elmegeed GA (2008) Screening for antidepressant, sedative and analgesic activities of novel fused thiophene derivatives. Acta Pharm 58(1):1–14
Acknowledgements
The authors are grateful for the financial support from the office of the research affairs, Haramaya University, Ethiopia under the mega project HURG-2016-03-02.
Ethics declarations
Conflict of interest
The authors declare that they have no conflict of interest.
Additional information
Publisher's note Springer Nature remains neutral with regard to jurisdictional claims in published maps and institutional affiliations.
About this article
Cite this article
G., N.B., Tadesse, A., Wote, A. et al. Synthesis, cytotoxicity, and antitubercular studies of novel thiophene containing 2-methyl-3-methyl/ethyl acrylates from Baylis–Hillman adducts. Med Chem Res 29, 409–416 (2020). https://doi.org/10.1007/s00044-019-02489-0
Received:

Accepted:

Published:

Issue Date:
Keywords
Thiophene

2-methyl-3-methyl/ethyl acrylates

Baylis–Hillman adducts

Baylis–Hillman bromides

Cytotoxicity

Antitubercular activity