Synthesis and anticancer activity evaluation of new 1,2,3-triazole-4-carboxamide derivatives
Abstract
Anticancer screening of several novel 1,2,3-triazoles has been performed. The 1,2,3-triazole derivatives were synthesized from available starting materials according to the convenient synthetic procedures using a multicomponent reaction which gave a wide access to triazole derivatives production. The synthesized compounds were tested for their anticancer activity in NCI60 cell lines. It was observed that some compounds showed remarkable anticancer activity. Two of them possessed a significant activity on leukemia, melanoma, non-small cell lung, CNS, ovarian, renal, and breast cancer. 5-Amino-1-p-tolyl-1H-[1,2,3]triazole-4-carboxylic acid (2,5-dichloro-phenyl)-amide showed a significant correlation in COMPARE analysis.
Graphical Abstract
1,2,3-triazole-4-carboxamide derivatives were synthesized in a simple and convenient synthetic path, their in vitro anticancer activity was examined after the performance of molecular docking.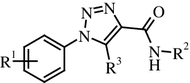 Keywords
Anticancer activity 
1,2,3-Triazole-4-carboxamide 
COMPARE analysis 
Molecular docking 
Notes
Acknowledgments
The authors are grateful to Dr. V. L. Narayanan from the Drug Synthesis and Chemistry Branch, the National Cancer Institute, Bethesda, MD, USA, for his help in in vitro evaluation of anticancer activity.
Conflict of interest
The authors have declared no conflict of interest.
Copyright information
© Springer Science+Business Media New York 2013