Synthesis, characterization, biological activity, and 3D-QSAR studies on some novel class of pyrrole derivatives as antitubercular agents
Abstract
A new series of pyrrole derivatives have been designed, synthesized, and their structures have been elucidated along with the evaluation of antitubercular activity against Mycobacterium tuberculosis H37Rv using the microplate alamar blue assay method and antibacterial activity against Staphylococcus aureus, Bacillus subtilis, Klebsiella pneumoniae, and Escherichia coli by broth micro-dilution assay method. Structural activity relationships and 3D-QSAR analysis have been carried out by Topomer Comparative Molecular Field Analysis (CoMFA). Training set of 42 and test set of 8 active compounds were used to develop the method that showed cross-validated correlation coefficient (q 2) of 0.815, standard error of prediction of 0.36, non-cross-validated correlation coefficient (r 2) of 0.973, and standard error of estimate of 0.14 with six components.
Graphical Abstract
Synthesis; spectral and 3D-QSAR studies; and antibacterial, antitubercular, and cytotoxic activities of a novel series of pyrrole derivatives are described.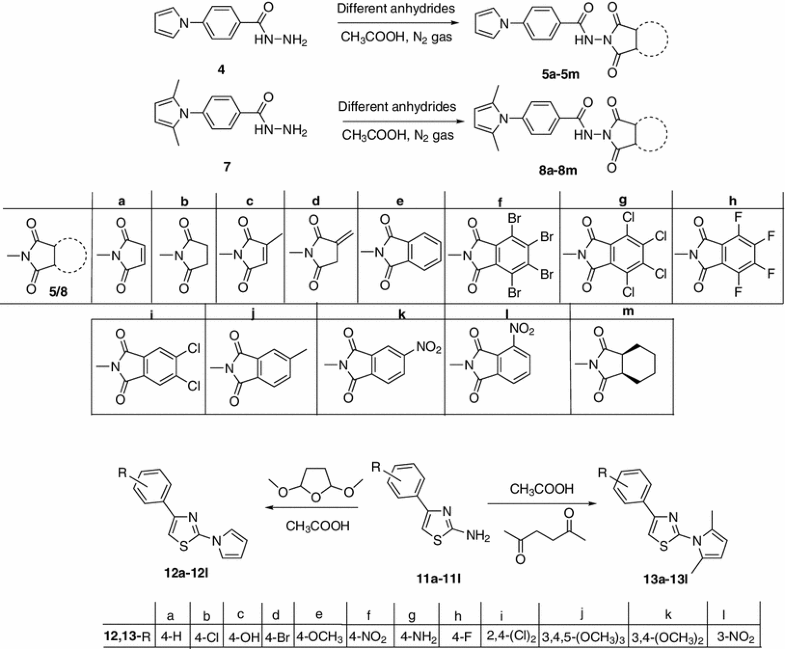 Keywords
Pyrroles 
Antibacterial activity 
Antitubercular activity 
Broth dilution assay method 
Cytotoxicity 
Topomer CoMFA 
Notes
Acknowledgments
Authors immensely thank the Indian Council of Medical Research, New Delhi, India for financial support [File No. 64/4/2011-BMS, IRIS Cell No. 2010-08710]. We also thank Dr. V. H. Kulkarni, Principal and Mr. H. V. Dambal, President, S.E.T.'s College of Pharmacy, Dharwad, India, for providing facilities. We thank Dr. K. G. Bhat, Maratha Mandal's Dental College, Hospital and Research Centre, Belgaum, India for providing facilities for antibacterial, antitubercular, and cytotoxic activities; Director, SAIF, Indian Institute of Technology, Chennai, Tamil Nadu, India and the Director, SAIF, Panjab University, Chandigarh, Panjab, India for providing the NMR and mass spectral data. We thank Mr. Shrikant A. Tiwari for his technical assistance.
Copyright information
© Springer Science+Business Media New York 2013