Abstract
In this article, we prove a tableau formula for the double Grothendieck polynomials associated to 321-avoiding permutations. The proof is based on the compatibility of the formula with the K-theoretic divided difference operators. Our formula specializes to the one obtained by Chen et al. (Eur J Combin 25(8):1181–1196, 2004) for the (double) skew Schur polynomials.
This is a preview of subscription content, log in to check access.
Access options
Buy single article
Instant unlimited access to the full article PDF.
US$ 39.95
Price includes VAT for USA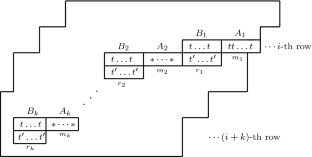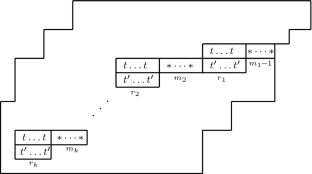 References
1.

Anderson, D. K-theoretic Chern class formulas for vexillary degeneracy loci. Adv. Math. 350 (2019), 440–485.

2.

Anderson, D., Chen, L., and Tarasca, N. K-classes of Brill-Noether loci and a determinantal formula. arXiv e-prints (May 2017), arXiv:1705.02992.

3.

Billey, S. C., Jockusch, W., and Stanley, R. P. Some combinatorial properties of Schubert polynomials. J. Algebraic Combin. 2, 4 (1993), 345–374.

4.

Buch, A. S. A Littlewood-Richardson rule for the \(K\)-theory of Grassmannians. Acta Math. 189, 1 (2002), 37–78.

5.

Chan, M., and Pflueger, N. Euler characteristics of Brill-Noether varieties. arXiv e-prints (Aug 2017), arXiv:1708.09378.

6.

Chen, W. Y. C., Yan, G.-G., and Yang, A. L. B. The skew Schubert polynomials. European J. Combin. 25, 8 (2004), 1181–1196.

7.

Eriksson, K., and Linusson, S. The size of Fulton's essential set. Sém. Lothar. Combin. 34 (1995), Art. B34l, approx. 19 pp.

8.

Fomin, S., and Kirillov, A. N. The Yang-Baxter equation, symmetric functions, and Schubert polynomials. Discrete Math. 153, 1-3 (1996), 123–143. Proceedings of the 5th Conference on Formal Power Series and Algebraic Combinatorics (Florence, 1993).

9.

Fomin, S., and Kirillov, A. N. Grothendieck polynomials and the Yang-Baxter equation. In Formal power series and algebraic combinatorics/Séries formelles et combinatoire algébrique. DIMACS, Piscataway, NJ, sd, pp. 183–189.

10.

Hudson, T., Ikeda, T., Matsumura, T., and Naruse, H. Degeneracy loci classes in \(K\)-theory — determinantal and Pfaffian formula. Adv. Math. 320 (2017), 115–156.

11.

Hudson, T., and Matsumura, T. Vexillary degeneracy loci classes in \(K\)-theory and algebraic cobordism. European J. Combin. 70 (2018), 190–201.

12.

Knutson, A., and Miller, E. Subword complexes in Coxeter groups. Adv. Math. 184, 1 (2004), 161–176.

13.

Knutson, A., and Miller, E. Gröbner geometry of Schubert polynomials. Ann. of Math. (2) 161, 3 (2005), 1245–1318.

14.

Knutson, A., Miller, E., and Yong, A. Gröbner geometry of vertex decompositions and of flagged tableaux. J. Reine Angew. Math. 630 (2009), 1–31.

15.

Lascoux, A. Anneau de Grothendieck de la variété de drapeaux. In The Grothendieck Festschrift, Vol. III, vol. 88 of Progr. Math. Birkhäuser Boston, Boston, MA, 1990, pp. 1–34.

16.

Lascoux, A., and Schützenberger, M.-P. Structure de Hopf de l'anneau de cohomologie et de l'anneau de Grothendieck d'une variété de drapeaux. C. R. Acad. Sci. Paris Sér. I Math. 295, 11 (1982), 629–633.

17.

Lenart, C., Robinson, S., and Sottile, F. Grothendieck polynomials via permutation patterns and chains in the Bruhat order. Amer. J. Math. 128, 4 (2006), 805–848.

18.

Matsumura, T. Flagged Grothendieck polynomials. J. Algebraic Combin. 49, 3 (2019), 209–228.

19.

Matsumura, T., and Sugimoto, S. Factorial Flagged Grothendieck Polynomials. arXiv e-prints (Mar 2019), arXiv:1903.02169.

20.

McNamara, P. J. Factorial Grothendieck polynomials. Electron. J. Combin. 13, 1 (2006), Research Paper 71, 40 pp. (electronic).

21.

Wachs, M. L. Flagged Schur functions, Schubert polynomials, and symmetrizing operators. J. Combin. Theory Ser. A 40, 2 (1985), 276–289.
Acknowledgements
We would like to thank Dave Anderson, Linda Chen, Takeshi Ikeda, Anatol Kirillov for the helpful conversations and their comments. Thanks are also due to the anonymous referee for his/her valuable comments.
Additional information
Publisher's Note
Springer Nature remains neutral with regard to jurisdictional claims in published maps and institutional affiliations.
This work was completed with the support of Grant-in-Aid for Young Scientists (B) 16K17584.
About this article
Cite this article
Matsumura, T. A Tableau Formula of Double Grothendieck Polynomials for 321-Avoiding Permutations. Ann. Comb. (2020). https://doi.org/10.1007/s00026-019-00481-4
Received:

Accepted:

Published:
Keywords
Symmetric polynomials

Grothendieck polynomials

K-theory

Set-valued tableaux

321-avoiding permutations
Mathematics Subject Classification
Primary 05E05

Secondary 14M15

05A05