Abstract
The Type-I bone morphogenetic protein receptors (BMPRs), BMPR1A and BMPR1B, present the highest sequence homology among BMPRs, suggestive of functional similitude. However, sequence elements within their extracellular domain, such as signal sequence or N-glycosylation motifs, may result in differential regulation of biosynthetic processing and trafficking and in alterations to receptor function. We show that (i) BMPR1A and the ubiquitous isoform of BMPR1B differed in mode of translocation into the endoplasmic reticulum; and (ii) BMPR1A was N-glycosylated while BMPR1B was not, resulting in greater efficiency of processing and plasma membrane expression of BMPR1A. We further demonstrated the importance of BMPR1A expression and glycosylation in ES-2 ovarian cancer cells, where (i) CRISPR/Cas9-mediated knockout of BMPR1A abrogated BMP2-induced Smad1/5/8 phosphorylation and reduced proliferation of ES-2 cells and (ii) inhibition of N-glycosylation by site-directed mutagenesis, or by tunicamycin or 2-deoxy-d-glucose treatments, reduced biosynthetic processing and plasma membrane expression of BMPR1A and BMP2-induced Smad1/5/8 phosphorylation.
This is a preview of subscription content, log in to check access.
Access options
Buy single article
Instant unlimited access to the full article PDF.
US$ 39.95
Price includes VAT for USA
Subscribe to journal
Immediate online access to all issues from 2019. Subscription will auto renew annually.
US$ 199
This is the net price. Taxes to be calculated in checkout.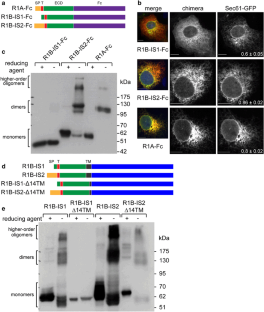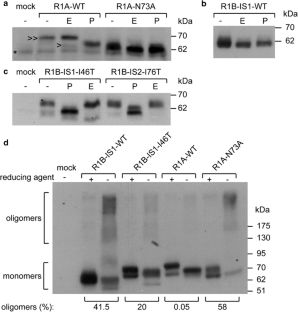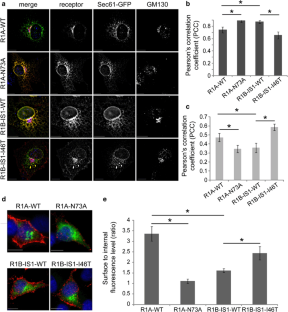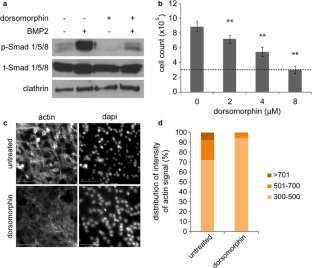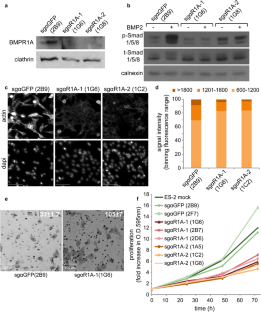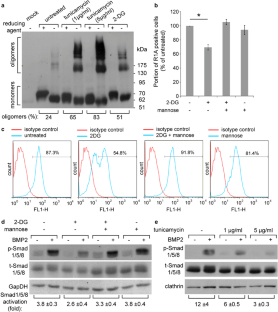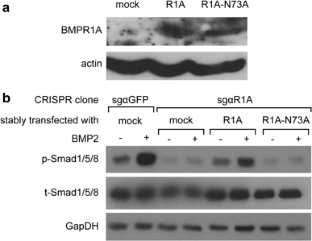 Abbreviations
2-DG:

2-Deoxy-d-glucose

ACVR1/2:

Type-I/II activin receptor

AMH:

Anti-müllerian hormone

AMHR2:

Type-II AMH receptor

BMP:

Bone morphogenetic protein

BMPR1A or R1A:

Type-IA BMP receptor

BMPR1B or R1B:

Type-IB BMP receptor

CRISPR:

Clustered regularly interspaced short palindromic repeats

CRISPR/Cas9:

CRISPR-associated nuclease 9

ECD:

Extracellular domain

EndoH:

Endoglucosydase H

ER:

Endoplasmic reticulum

ICD:

Intracellular (cytosolic) domain

IS1/2:

Isoform½

MAPK:

Mitogen-activated protein kinase

PCC:

Pearson's correlation coefficient

p-Smad1/5/8:

Phosphorylated Smad1/5/8

PNGaseF:

Peptide-N-glycosidase F

SAPK:

Stress-activated protein kinase

s.e.m.:

Standard error of the mean

sgRNA:

Small guide RNA

sgαGFP:

SgRNA targeting GFP

sgαR1A:

SgRNA targeting BMPR1A

TGFβ:

Transforming growth factor beta

TGFβ_SF:

TGFβ superfamily

TM:

Transmembrane domain

t-Smad1/5/8:

Total Smad1/5/8
References
1.

Massague J (2012) TGFbeta signalling in context. Nat Rev Mol Cell Biol 13(10):616–630. doi:10.1038/nrm3434

2.

Wakefield LM, Hill CS (2013) Beyond TGFbeta: roles of other TGFbeta superfamily members in cancer. Nature Rev Cancer 13(5):328–341. doi:10.1038/nrc3500

3.

Miyazono K, Maeda S, Imamura T (2005) BMP receptor signaling: transcriptional targets, regulation of signals, and signaling cross-talk. Cytokine Growth Factor Rev 16(3):251–263. doi:10.1016/j.cytogfr.2005.01.009

4.

Wang RN, Green J, Wang Z, Deng Y, Qiao M, Peabody M, Zhang Q, Ye J, Yan Z, Denduluri S, Idowu O, Li M, Shen C, Hu A, Haydon RC, Kang R, Mok J, Lee MJ, Luu HL, Shi LL (2014) Bone morphogenetic protein (BMP) signaling in development and human diseases. Genes Dis 1(1):87–105. doi:10.1016/j.gendis.2014.07.005

5.

Ehrlich M, Gutman O, Knaus P, Henis YI (2012) Oligomeric interactions of TGF-beta and BMP receptors. FEBS Lett 586(14):1885–1896

6.

Ehrlich M, Horbelt D, Marom B, Knaus P, Henis YI (2011) Homomeric and heteromeric complexes among TGF-beta and BMP receptors and their roles in signaling. Cell Signal 23(9):1424–1432. doi:10.1016/j.cellsig.2011.04.004

7.

Attisano L, Wrana JL (2002) Signal transduction by the TGF-beta superfamily. Science 296(5573):1646–1647. doi:10.1126/science.1071809

8.

Shi Y, Massague J (2003) Mechanisms of TGF-beta signaling from cell membrane to the nucleus. Cell 113(6):685–700

9.

Zi Z, Chapnick DA, Liu X (2012) Dynamics of TGF-beta/Smad signaling. FEBS Lett 586(14):1921–1928. doi:10.1016/j.febslet.2012.03.063

10.

Itoh S, ten Dijke P (2007) Negative regulation of TGF-beta receptor/Smad signal transduction. Curr Opin Cell Biol 19(2):176–184. doi:10.1016/j.ceb.2007.02.015

11.

Nohe A, Keating E, Knaus P, Petersen NO (2004) Signal transduction of bone morphogenetic protein receptors. Cell Signal 16(3):291–299

12.

Belville C, Jamin SP, Picard JY, Josso N, di Clemente N (2005) Role of type I receptors for anti-Mullerian hormone in the SMAT-1 Sertoli cell line. Oncogene 24(31):4984–4992. doi:10.1038/sj.onc.1208686

13.

Gouedard L, Chen YG, Thevenet L, Racine C, Borie S, Lamarre I, Josso N, Massague J, di Clemente N (2000) Engagement of bone morphogenetic protein type IB receptor and Smad1 signaling by anti-Mullerian hormone and its type II receptor. J Biol Chem 275(36):27973–27978

14.

Nohe A, Hassel S, Ehrlich M, Neubauer F, Sebald W, Henis YI, Knaus P (2002) The mode of bone morphogenetic protein (BMP) receptor oligomerization determines different BMP-2 signaling pathways. J Biol Chem 277(7):5330–5338

15.

Zi Z, Feng Z, Chapnick DA, Dahl M, Deng D, Klipp E, Moustakas A, Liu X (2011) Quantitative analysis of transient and sustained transforming growth factor-beta signaling dynamics. Mol Syst Biol 7:492. doi:10.1038/msb.2011.22

16.

Ehrlich M (2016) Endocytosis and trafficking of BMP receptors: regulatory mechanisms for fine-tuning the signaling response in different cellular contexts. Cytokine Growth Factor Rev 27:35–42. doi:10.1016/j.cytogfr.2015.12.008

17.

Izzi L, Attisano L (2004) Regulation of the TGFbeta signalling pathway by ubiquitin-mediated degradation. Oncogene 23(11):2071–2078. doi:10.1038/sj.onc.1207412

18.

Koli KM, Arteaga CL (1997) Processing of the transforming growth factor beta type I and II receptors. Biosynthesis and ligand-induced regulation. J Biol Chem 272(10):6423–6427

19.

Wells RG, Yankelev H, Lin HY, Lodish HF (1997) Biosynthesis of the type I and type II TGF-beta receptors. Implications for complex formation. J Biol Chem 272(17):11444–11451

20.

Goder V, Spiess M (2001) Topogenesis of membrane proteins: determinants and dynamics. FEBS Lett 504(3):87–93

21.

Belville C, Marechal JD, Pennetier S, Carmillo P, Masgrau L, Messika-Zeitoun L, Galey J, Machado G, Treton D, Gonzales J, Picard JY, Josso N, Cate RL, di Clemente N (2009) Natural mutations of the anti-Mullerian hormone type II receptor found in persistent Mullerian duct syndrome affect ligand binding, signal transduction and cellular transport. Hum Mol Genet 18(16):3002–3013

22.

Ohtsubo K, Marth JD (2006) Glycosylation in cellular mechanisms of health and disease. Cell 126(5):855–867. doi:10.1016/j.cell.2006.08.019

23.

Lederkremer GZ (2009) Glycoprotein folding, quality control and ER-associated degradation. Curr Opin Struct Biol 19(5):515–523. doi:10.1016/j.sbi.2009.06.004

24.

Vagin O, Kraut JA, Sachs G (2009) Role of N-glycosylation in trafficking of apical membrane proteins in epithelia. Am J Physiol Ren Physiol 296(3):F459–469. doi:10.1152/ajprenal.90340.2008

25.

Helenius A, Aebi M (2004) Roles of N-linked glycans in the endoplasmic reticulum. Annu Rev Biochem 73:1019–1049. doi:10.1146/annurev.biochem.73.011303.073752

26.

Kim YW, Park J, Lee HJ, Lee SY, Kim SJ (2012) TGF-beta sensitivity is determined by N-linked glycosylation of the Type II TGF-beta receptor. Biochem J 445(3):403–411. doi:10.1042/BJ20111923

27.

Partridge EA, Le Roy C, Di Guglielmo GM, Pawling J, Cheung P, Granovsky M, Nabi IR, Wrana JL, Dennis JW (2004) Regulation of cytokine receptors by Golgi N-glycan processing and endocytosis. Science 306(5693):120–124

28.

Luga V, McLean S, Le Roy C, O'Connor-McCourt M, Wrana JL, Di Guglielmo GM (2009) The extracellular domain of the TGFbeta Type II receptor regulates membrane raft partitioning. Biochem J 421(1):119–131. doi:10.1042/BJ20081131

29.

Lowery JW, Amich JM, Andonian A, Rosen V (2014) N-linked glycosylation of the bone morphogenetic protein receptor Type 2 (BMPR2) enhances ligand binding. Cell Mol Life Sci 71(16):3165–3172. doi:10.1007/s00018-013-1541-8

30.

Saremba S, Nickel J, Seher A, Kotzsch A, Sebald W, Mueller TD (2008) Type I receptor binding of bone morphogenetic protein 6 is dependent on N-glycosylation of the ligand. FEBS J 275(1):172–183. doi:10.1111/j.1742-4658.2007.06187.x

31.

Yoon BS, Ovchinnikov DA, Yoshii I, Mishina Y, Behringer RR, Lyons KM (2005) Bmpr1a and Bmpr1b have overlapping functions and are essential for chondrogenesis in vivo. Proc Natl Acad Sci USA 102(14):5062–5067. doi:10.1073/pnas.0500031102

32.

Yi SE, Daluiski A, Pederson R, Rosen V, Lyons KM (2000) The Type I BMP receptor BMPRIB is required for chondrogenesis in the mouse limb. Development 127(3):621–630

33.

Mishina Y, Suzuki A, Ueno N, Behringer RR (1995) Bmpr encodes a type I bone morphogenetic protein receptor that is essential for gastrulation during mouse embryogenesis. Genes Dev 9(24):3027–3037

34.

Nishitoh H, Ichijo H, Kimura M, Matsumoto T, Makishima F, Yamaguchi A, Yamashita H, Enomoto S, Miyazono K (1996) Identification of Type I and Type II serine/threonine kinase receptors for growth/differentiation factor-5. J Biol Chem 271(35):21345–21352

35.

Liu S, Yin F, Fan W, Wang S, Guo XR, Zhang JN, Tian ZM, Fan M (2012) Over-expression of BMPR-IB reduces the malignancy of glioblastoma cells by upregulation of p21 and p27Kip1. J Exp Clin Cancer Res 31:52. doi:10.1186/1756-9966-31-52

36.

Lee J, Son MJ, Woolard K, Donin NM, Li A, Cheng CH, Kotliarova S, Kotliarov Y, Walling J, Ahn S, Kim M, Totonchy M, Cusack T, Ene C, Ma H, Su Q, Zenklusen JC, Zhang W, Maric D, Fine HA (2008) Epigenetic-mediated dysfunction of the bone morphogenetic protein pathway inhibits differentiation of glioblastoma-initiating cells. Cancer Cell 13(1):69–80. doi:10.1016/j.ccr.2007.12.005

37.

Guo M, Jiang Z, Zhang X, Lu D, Ha AD, Sun J, Du W, Wu Z, Hu L, Khadarian K, Shen J, Lin Z (2014) miR-656 inhibits glioma tumorigenesis through repression of BMPR1A. Carcinogenesis 35(8):1698–1706. doi:10.1093/carcin/bgu030

38.

Hover LD, Owens P, Munden AL, Wang J, Chambless LB, Hopkins CR, Hong CC, Moses HL, Abel TW (2015) Bone morphogenetic protein signaling promotes tumorigenesis in a murine model of high-grade glioma. Neuro-oncol. doi:10.1093/neuonc/nov310

39.

Huminiecki L, Goldovsky L, Freilich S, Moustakas A, Ouzounis C, Heldin CH (2009) Emergence, development and diversification of the TGF-beta signalling pathway within the animal kingdom. BMC Evol Biol 9:28. doi:10.1186/1471-2148-9-28

40.

Rodriguez JM, Carro A, Valencia A, Tress ML (2015) APPRIS WebServer and WebServices. Nucleic Acids Res 43(W1):W455–459. doi:10.1093/nar/gkv512

41.

Petersen TN, Brunak S, von Heijne G, Nielsen H (2011) SignalP 4.0: discriminating signal peptides from transmembrane regions. Nat Methods 8(10):785–786. doi:10.1038/nmeth.1701

42.

Hirschhorn T, di Clemente N, Amsalem AR, Pepinsky RB, Picard JY, Smorodinsky NI, Cate RL, Ehrlich M (2015) Constitutive negative regulation in the processing of the anti-Mullerian hormone receptor II. J Cell Sci 128(7):1352–1364. doi:10.1242/jcs.160143

43.

Peng J, Yoshioka Y, Mandai M, Matsumura N, Baba T, Yamaguchi K, Hamanishi J, Kharma B, Murakami R, Abiko K, Murphy SK, Konishi I (2015) The BMP signaling pathway leads to enhanced proliferation in serous ovarian cancer-a potential therapeutic target. Mol Carcinog. doi:10.1002/mc.22283

44.

Hover LD, Young CD, Bhola NE, Wilson AJ, Khabele D, Hong CC, Moses HL, Owens P (2015) Small molecule inhibitor of the bone morphogenetic protein pathway DMH1 reduces ovarian cancer cell growth. Cancer Lett 368(1):79–87. doi:10.1016/j.canlet.2015.07.032

45.

Hirschhorn T, Barizilay L, Smorodinsky NI, Ehrlich M (2012) Differential regulation of Smad3 and of the Type II transforming growth factor-beta receptor in mitosis: implications for signaling. PLoS ONE 7(8):e43459. doi:10.1371/journal.pone.0043459

46.

Shaw TJ, Senterman MK, Dawson K, Crane CA, Vanderhyden BC (2004) Characterization of intraperitoneal, orthotopic, and metastatic xenograft models of human ovarian cancer. Mol Ther 10(6):1032–1042. doi:10.1016/j.ymthe.2004.08.013

47.

Yu PB, Hong CC, Sachidanandan C, Babitt JL, Deng DY, Hoyng SA, Lin HY, Bloch KD, Peterson RT (2008) Dorsomorphin inhibits BMP signals required for embryogenesis and iron metabolism. Nat Chem Biol 4(1):33–41. doi:10.1038/nchembio.2007.54

48.

Vogt J, Traynor R, Sapkota GP (2011) The specificities of small molecule inhibitors of the TGFss and BMP pathways. Cell Signal 23(11):1831–1842. doi:10.1016/j.cellsig.2011.06.019

49.

Shalem O, Sanjana NE, Hartenian E, Shi X, Scott DA, Mikkelsen TS, Heckl D, Ebert BL, Root DE, Doench JG, Zhang F (2014) Genome-scale CRISPR-Cas9 knockout screening in human cells. Science 343(6166):84–87. doi:10.1126/science.1247005

50.

Zhang D, Li J, Wang F, Hu J, Wang S, Sun Y (2014) 2-Deoxy-d-glucose targeting of glucose metabolism in cancer cells as a potential therapy. Cancer Lett 355(2):176–183. doi:10.1016/j.canlet.2014.09.003

51.

Ahadova A, Gebert J, von Knebel Doeberitz M, Kopitz J, Kloor M (2015) Dose-dependent effect of 2-deoxy-d-glucose on glycoprotein mannosylation in cancer cells. IUBMB Life 67(3):218–226. doi:10.1002/iub.1364

52.

Frump AL, Lowery JW, Hamid R, Austin ED, de Caestecker M (2013) Abnormal trafficking of endogenously expressed BMPR2 mutant allelic products in patients with heritable pulmonary arterial hypertension. PLoS ONE 8(11):e80319. doi:10.1371/journal.pone.0080319

53.

Sobolewski A, Rudarakanchana N, Upton PD, Yang J, Crilley TK, Trembath RC, Morrell NW (2008) Failure of bone morphogenetic protein receptor trafficking in pulmonary arterial hypertension: potential for rescue. Hum Mol Genet 17(20):3180–3190. doi:10.1093/hmg/ddn214

54.

Hume AN, John A, Akawi NA, Al-Awadhi AM, Al-Suwaidi SS, Al-Gazali L, Ali BR (2013) Retention in the endoplasmic reticulum is the underlying mechanism of some hereditary haemorrhagic telangiectasia type 2 ALK1 missense mutations. Mol Cell Biochem 373(1–2):247–257. doi:10.1007/s11010-012-1496-3

55.

Aebi M (2013) N-linked protein glycosylation in the ER. Biochim Biophys Acta 1833(11):2430–2437. doi:10.1016/j.bbamcr.2013.04.001

56.

Gao J, Aksoy BA, Dogrusoz U, Dresdner G, Gross B, Sumer SO, Sun Y, Jacobsen A, Sinha R, Larsson E, Cerami E, Sander C, Schultz N (2013) Integrative analysis of complex cancer genomics and clinical profiles using the cBioPortal. Sci Signal 6(269):pl1. doi:10.1126/scisignal.2004088

57.

Cerami E, Gao J, Dogrusoz U, Gross BE, Sumer SO, Aksoy BA, Jacobsen A, Byrne CJ, Heuer ML, Larsson E, Antipin Y, Reva B, Goldberg AP, Sander C, Schultz N (2012) The cBio cancer genomics portal: an open platform for exploring multidimensional cancer genomics data. Cancer Discov 2(5):401–404. doi:10.1158/2159-8290.CD-12-0095

58.

Mierke CT, Kollmannsberger P, Zitterbart DP, Diez G, Koch TM, Marg S, Ziegler WH, Goldmann WH, Fabry B (2010) Vinculin facilitates cell invasion into three-dimensional collagen matrices. J Biol Chem 285(17):13121–13130. doi:10.1074/jbc.M109.087171

59.

Fraley SI, Feng Y, Krishnamurthy R, Kim DH, Celedon A, Longmore GD, Wirtz D (2010) A distinctive role for focal adhesion proteins in three-dimensional cell motility. Nat Cell Biol 12(6):598–604. doi:10.1038/ncb2062

60.

Rapoport TA (2007) Protein translocation across the eukaryotic endoplasmic reticulum and bacterial plasma membranes. Nature 450(7170):663–669. doi:10.1038/nature06384

61.

Lai CW, Aronson DE, Snapp EL (2010) BiP availability distinguishes states of homeostasis and stress in the endoplasmic reticulum of living cells. Mol Biol Cell 21(12):1909–1921. doi:10.1091/mbc.E09-12-1066

62.

Kida Y, Mihara K, Sakaguchi M (2005) Translocation of a long amino-terminal domain through ER membrane by following signal-anchor sequence. Embo J 24(18):3202–3213. doi:10.1038/sj.emboj.7600788

63.

Kotzsch A, Nickel J, Sebald W, Mueller TD (2009) Purification, crystallization and preliminary data analysis of ligand-receptor complexes of growth and differentiation factor 5 (GDF5) and BMP receptor IB (BRIB). Acta Crystallogr Sect F Struct Biol Cryst Commun 65(Pt 8):779–783. doi:10.1107/S1744309109024142

64.

Lin H, Wang D, Wu T, Dong C, Shen N, Sun Y, Sun Y, Xie H, Wang N, Shan L (2011) Blocking core fucosylation of TGF-beta1 receptors downregulates their functions and attenuates the epithelial-mesenchymal transition of renal tubular cells. Am J Physiol Renal Physiol 300(4):F1017–1025. doi:10.1152/ajprenal.00426.2010

65.

Jessop CE, Tavender TJ, Watkins RH, Chambers JE, Bulleid NJ (2009) Substrate specificity of the oxidoreductase ERp57 is determined primarily by its interaction with calnexin and calreticulin. J Biol Chem 284(4):2194–2202. doi:10.1074/jbc.M808054200

66.

Chetrit D, Barzilay L, Horn G, Bielik T, Smorodinsky NI, Ehrlich M (2011) Negative regulation of the endocytic adaptor disabled-2 (Dab2) in mitosis. J Biol Chem 286(7):5392–5403. doi:10.1074/jbc.M110.161851

67.

Gilboa L, Nohe A, Geissendorfer T, Sebald W, Henis YI, Knaus P (2000) Bone morphogenetic protein receptor complexes on the surface of live cells: a new oligomerization mode for serine/threonine kinase receptors. Mol Biol Cell 11(3):1023–1035

68.

Viner R, Chetrit D, Ehrlich M, Segal G (2012) Identification of two Legionella pneumophila effectors that manipulate host phospholipids biosynthesis. PLoS Pathog 8(11):e1002988. doi:10.1371/journal.ppat.1002988
Acknowledgements
We would like to thank Prof. Eran Bacharach and Dr. Rachel Zamostiano for their assistance in planning and cloning of CRISPR/Cas9 vectors for knockout of R1A and the control vector directed against GFP.
Author contributions
TH, NIS, and ME planned the study. TH, ML, and OD carried out experiments. TH and ME wrote the manuscript.
Ethics declarations
Conflict of interest
The authors declare that there is no conflict of interests.
Electronic supplementary material
Below is the link to the electronic supplementary material.
Supplementary material 7 (MOV 353 KB)
Supplementary material 8 (MOV 648 KB)
Supplementary material 9 (MOV 503 KB)
Supplementary material 10 (MOV 978 KB)
About this article
Cite this article
Hirschhorn, T., Levi-Hofman, M., Danziger, O. et al. Differential molecular regulation of processing and membrane expression of Type-I BMP receptors: implications for signaling. Cell. Mol. Life Sci. 74, 2645–2662 (2017) doi:10.1007/s00018-017-2488-y
Received:

Revised:

Accepted:

Published:

Issue Date:
Keywords
Bone morphogenetic protein

ER translocation

N-Glycosylation

Disulfide bond formation

Intracellular localization

Ovarian cancer