Mechanisms of ciliogenesis suppression in dividing cells
Abstract
The primary cilium is a non-motile and microtubule-enriched protrusion ensheathed by plasma membrane. Primary cilia function as mechano/chemosensors and signaling hubs and their disorders predispose to a wide spectrum of human diseases. Most types of cells assemble their primary cilia in response to cellular quiescence, whereas they start to retract the primary cilia upon cell-cycle reentry. The retardation of ciliary resorption process has been shown to delay cell-cycle progression to the S or M phase after cell-cycle reentry. Apart from this conventional concept of ciliary disassembly linked to cell-cycle reentry, recent studies have led to a novel concept, suggesting that cells can suppress primary cilia assembly during cell proliferation. Accumulating evidence has also demonstrated the importance of Aurora-A (a protein originally identified as one of mitotic kinases) not only in ciliary resorption after cell-cycle reentry but also in the suppression of ciliogenesis in proliferating cells, whereas Aurora-A activators are clearly distinct in both phenomena. Here, we summarize the current knowledge of how cycling cells suppress ciliogenesis and compare it with mechanisms underlying ciliary resorption after cell-cycle reentry. We also discuss a reciprocal relationship between primary cilia and cell proliferation.
Keywords
Primary cilia 
Cell cycle 
Aurora-A 
Cancer 
Ciliopathy 
Introduction
A primary cilium, a solitary projection from the apical cell surface, exists in the majority of cells in the human body. The primary cilium functions not only as a sensory organelle to detect extracellular cues, such as mechanical flow, but also as an antenna to transduce extracellular signals, such as growth factors, hormones, and developmental morphogens, into the cell [1, 2, 3, 4, 5]. Defects in ciliary structure and function are associated with a broad spectrum of diseases (termed ciliopathies), such as polydactyly, cranio-facial abnormalities, brain malformation, congenital heart diseases, situs inversus (defects of left–right patterning), obesity, diabetes, and polycystic kidney disease (PKD) [6, 7, 8, 9, 10].
The primary cilium consists of a basal body, an axoneme, and a transition zone [
13
,
14
,
15
]; also see Fig. 
1
. The basal body originates from a mother centriole on a centrosome, whereas the axoneme is a microtubule-based structure sheathed by the ciliary membrane, a lipid bilayer distinct in composition from the plasma membrane [
11
,
12
]. The transition zone represents a boundary architecture between the above two structures. Accumulating evidence has suggested that ciliary assembly requires different types of proteins, including membrane vesicle trafficking proteins, such as a small GTPase Rab8, its specific GTP exchange factor Rabin 8, and a complex of proteins encoded by genes mutated in Bardet–Biedl Syndrome; proteins localized at appendages on mother centrioles, such as ODF2/hCenexin, CEP164, CEP89/CCDC123, CEP83, SCLT1, and FBF1/Albatross; ciliary anterograde transport protein complex, such as Kinesin-2 family protein and IFT complex B; and proteins implicated in the ciliopathy Meckel–Gruber syndrome, such as MKS1 and MKS3 [
14
,
15
,
16
,
17
,
18
,
19
,
20
]. Recent studies have also identified several negative regulators, including capping proteins at distal ends of mother centrioles, such as CP110; constituent proteins of the dynein complex, such as NDE1 and Tctex-1; microtubule depolymerizing kinesins, including KIF2A, KIF19A, and KIF24; mitotic kinases, including Aurora-A and PLK1; Aurora-A-associated proteins, such as HEF1, calcium-calmodulin (Ca
2+
/CaM), Pitchfork (Pifo), and trichoplein; and a tubulin deacetylase HDAC6 [
15
,
16
,
17
,
21
,
22
,
23
]. OFD1 (Orofaciodigital syndrome 1) appears to regulate ciliogenesis both positively and negatively [
24
,
25
,
26
].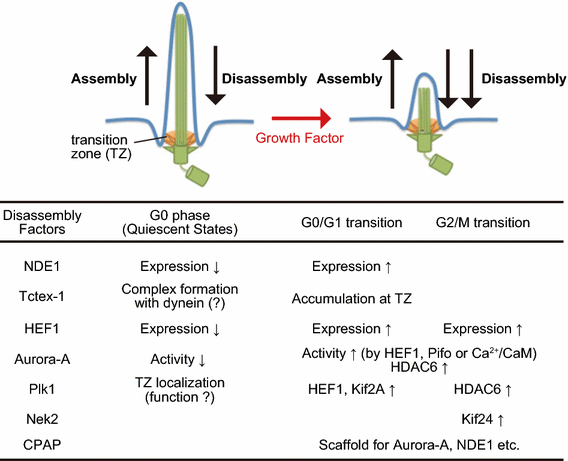 Typically, primary cilia start to form during the quiescent state (the G0 phase): we use the G0 phase to distinguish proliferative G1 phase [followed by the S phase (DNA replication)], although it is still a matter of debate as to whether the G0 phase exists independently of the G1 phase. The majority of cells begin to retract their primary cilia at the cell-cycle reentry (the G0/G1 transition) [21, 22, 23, 27, 28, 29, 30]. Since Tucker et al. first reported the reciprocal relationship between ciliation and cell proliferation in cultured cells [27, 28], ciliary absorption (deciliation) has been well analyzed in cell culture [21, 29, 30]. To analyze the deciliation, cultured cells are typically starved of serum and then treated with serum or defined growth factors to induce deciliation. Recent studies have demonstrated that some manipulations can induce ciliogenesis in the presence of serum sufficiently high to allow cell proliferation [31, 32, 33, 34, 35, 36]. These observations suggest a novel concept that cycling cells continuously suppress ciliogenesis. In this review, we describe this emerging concept, comparing with the phenomena of ciliary disassembly linked to cell-cycle reentry. We also discuss the negative impacts of primary cilia on cell-cycle progression.
Conclusion and perspectives
The purpose of this review is to introduce the emerging concept that cycling cells continuously suppress ciliogenesis, comparing with the mechanisms underlying ciliary resorption after cell-cycle reentry. We have also highlighted the reciprocal relationship between primary cilia and cell-cycle progression. However, the impact of primary cilia on cell proliferation is not so simple. Primary cilia can act as the negative regulators of cell-cycle progression, whereas primary cilia are also required for cell proliferation to receive extracellular growth signals. More investigations about these complex roles will lead to a better understanding not only of ciliopathies but also of cancers.
Notes
Acknowledgments
We apologize to researchers whose works were not cited in this review due to space limitations. We thank Dr. T. Magin (University of Leipzig, Germany) for helpful discussions and critical comments on the manuscript. This work was supported in part by the Grants-in-Aid for Scientific Research from the Japan Society for the Promotion of Science and from the Ministry of Education, Science, Technology, Sports and Culture of Japan, and by Research Grants from the Naito Foundation, Takeda Science Foundation, and Uehara Memorial Foundation.
Copyright information
© The Author(s) 2016
Open AccessThis article is distributed under the terms of the Creative Commons Attribution 4.0 International License (http://creativecommons.org/licenses/by/4.0/), which permits unrestricted use, distribution, and reproduction in any medium, provided you give appropriate credit to the original author(s) and the source, provide a link to the Creative Commons license, and indicate if changes were made.