Abstract
Like most positive-strand RNA viruses, hepatitis C virus (HCV) forms a membrane-associated replication complex consisting of replicating RNA, viral and host proteins anchored to altered cell membranes. We used a combination of qualitative and quantitative electron microscopy (EM), immuno-EM, and the 3D reconstruction of serial EM sections to analyze the host cell membrane alterations induced by HCV. Three different types of membrane alteration were observed: vesicles in clusters (ViCs), contiguous vesicles (CVs), and double-membrane vesicles (DMVs). The main ultrastructural change observed early in infection was the formation of a network of CVs surrounding the lipid droplets. Later stages in the infectious cycle were characterized by a large increase in the number of DMVs, which may be derived from the CVs. These DMVs are thought to constitute the membranous structures harboring the viral replication complexes in which viral replication is firmly and permanently established and to protect the virus against double-stranded RNA-triggered host antiviral responses.
This is a preview of subscription content, log in to check access.
We're sorry, something doesn't seem to be working properly.
Please try refreshing the page. If that doesn't work, please contact support so we can address the problem.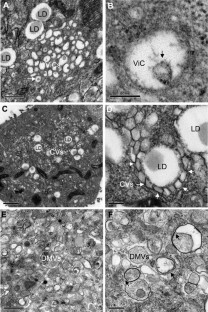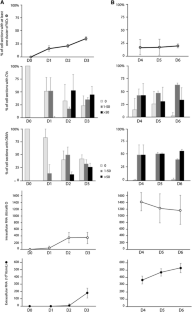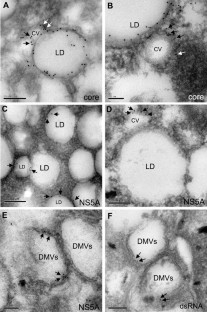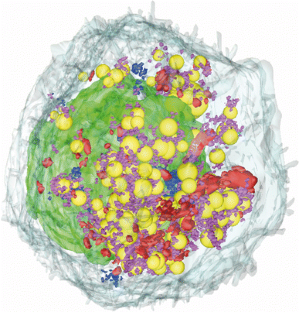 Abbreviations
BSA:

Bovine serum albumin

CM:

Convoluted membranes

CV:

Contiguous vesicles

DENV:

Dengue virus

DMEM:

Dulbecco's modified Eagle medium

DMV:

Double-membrane vesicle

EM:

Electron microscopy

FFU:

Focus forming unit

HCV:

Hepatitis C virus

KUNV:

Kunjin virus

LD:

Lipid droplet

MAbs:

Mouse monoclonal antibody

MMV:

Multimembrane vesicles

MVB:

Multivesicular bodies

ViC:

Vesicles in cluster

VP:

Vesicle packets

WNV:

West Nile virus
References
1.

Shepard CW, Finelli L, Alter MJ (2005) Global epidemiology of hepatitis C virus infection. Lancet Infect Dis 5:558–567

2.

Penin F, Dubuisson J, Rey FA, Moradpour D, Pawlotsky JM (2004) Structural biology of hepatitis C virus. Hepatology 39:5–19

3.

Moradpour D, Penin F, Rice CM (2007) Replication of hepatitis C virus. Nat Rev Microbiol 5:453–463

4.

Blanchard E, Brand D, Trassard S, Goudeau A, Roingeard P (2002) Hepatitis C virus-like particle morphogenesis. J Virol 76:4073–4079

5.

Jones CT, Murray CL, Eastman DK, Tassello J, Rice CM (2007) Hepatitis C virus p7 and NS2 proteins are essential for production of infectious virus. J Virol 81:8374–8383

6.

Jirasko V, Montserret R, Appel N, Janvier A, Eustachi L, Brohm C, Steinmann E, Pietschmann T, Penin F, Bartenschlager R (2008) Structural and functional characterization of nonstructural protein 2 for its role in hepatitis C virus assembly. J Biol Chem 283:28546–28562

7.

Lohmann V, Körner F, Koch J, Herian U, Theilmann L, Bartenschlager R (1999) Replication of subgenomic hepatitis C virus RNAs in a hepatoma cell line. Science 285:110–113

8.

Blight KJ, Kolykhalov AA, Rice CM (2000) Efficient initiation of HCV RNA replication in cell culture. Science 290:1972–1974

9.

Egger D, Wölk B, Gosert R, Bianchi L, Blum HE, Moradpour D, Bienz K (2002) Expression of hepatitis C virus proteins induces distinct membrane alterations including a candidate viral replication complex. J Virol 76:5974–5984

10.

Gouttenoire J, Roingeard P, Penin F, Moradpour D (2010) Amphipathic alpha-helix AH2 is a major determinant for the oligomerization of hepatitis C virus nonstructural protein 4B. J Virol 84:12529–12537

11.

Miller S, Krijnse-Locker J (2008) Modification of intracellular membrane structures for virus replication. Nat Rev Microbiol 6:363–374

12.

den Boon JA, Ahlquist P (2010) Organelle-like membrane compartmentalization of positive-strand RNA virus replication factories. Annu Rev Microbiol 64:241–256

13.

Gosert R, Egger D, Lohmann V, Bartenschlager R, Blum HE, Bienz K, Moradpour D (2003) Identification of the hepatitis C virus RNA replication complex in Huh-7 cells harboring subgenomic replicons. J Virol 77:5487–5492

14.

Ferraris P, Blanchard E, Roingeard P (2010) Ultrastructural and biochemical analyses of hepatitis C virus-associated host cell membranes. J Gen Virol 91:2230–2237

15.

Schlegel A, Giddings TH Jr, Ladinsky MS, Kirkegaard K (1996) Cellular origin and ultrastructure of membranes induced during poliovirus infection. J Virol 10:6576–6588

16.

Snijder EJ, van der Meer Y, Zevenhoven-Dobbe J, Onderwater JJ, van der Meulen J, Koerten HK, Mommaas AM (2006) Ultrastructure and origin of membrane vesicles associated with the severe acute respiratory syndrome coronavirus replication complex. J Virol 80:5927–5940

17.

Paul D, Romero-Brey I, Gouttenoire J, Stoitsova S, Krijnse-Locker J, Moradpour D, Bartenschlager R (2011) NS4B self-interaction through conserved C-terminal elements is required for the establishment of functional hepatitis C virus replication complexes. J Virol 85:6963–6976

18.

Reiss S, Rebhan I, Backes P, Romero-Brey I, Erfle H, Matula P, Kaderali L, Poenisch M, Blankenburg H, Hiet MS, Longerich T, Diehl S, Ramirez F, Balla T, Rorh K, Kaul A, Bühler S, Pepperkok R, Lengauer T, Albrecht M, Eils R, Schirmacher P, Lohmann V, Bartenschlager R (2011) Recruitment and activation of a lipid kinase by hepatitis C virus NS5A is essential for integrity of the membranous replication compartment. Cell Host Microbe 9:32–45

19.

Wakita T, Pietschmann T, Kato T, Date T, Miyamoto M, Zhao Z, Murthy K, Habermann A, Kräusslich HG, Mizokami M, Bartenschlager R, Liang TJ (2005) Production of infectious hepatitis C virus in tissue culture from a cloned viral genome. Nat Med 11:791–796

20.

Lindenbach BD, Evans MJ, Syder AJ, Wölk B, Tellinghuisen TL, Liu CC, Maruyama T, Hynes RO, Burton DR, McKeating JA, Rice CM (2005) Complete replication of hepatitis C virus in cell culture. Science 309:623–626

21.

Zhong J, Gastaminza P, Cheng G, Kapadia S, Kato T, Burton DR, Wieland SF, Uprichard SL, Wakita T, Chisari FV (2005) Robust hepatitis C virus infection in vitro. Proc Natl Acad Sci USA 102:9294–9299

22.

Blight KJ, McKeating JA, Rice CM (2002) Highly permissive cell lines for subgenomic and genomic hepatitis C virus RNA replication. J Virol 76:13001–13014

23.

Hourioux C, Ait-Goughoulte M, Patient R, Fouquenet D, Arcanger-Doudet F, Brand D, Martin A, Roingeard P (2007) Core protein domains involved in hepatitis C virus-like particle assembly at the endoplasmic reticulum membrane. Cell Microbiol 9:1014–1027

24.

Depla M, Uzbekov R, Hourioux C, Blanchard E, Le Gouge A, Gillet L, Roingeard P (2010) Ultrastructural and quantitative analysis of the lipid droplet clustering induced by hepatitis C virus core protein. Cell Mol Life Sci 67:3151–3161

25.

Knoops K, Swett-Tapia C, van den Worm SHE, te Velthuis AJW, Koster AJ, Mommaas AM, Snijder EJ, Kikkert M (2010) Integrity of the early secretory pathway promotes, but is not required for, severe acute respiratory syndrome coronavirus RNA synthesis and virus-induced remodeling of endoplasmic reticulum membranes. J Virol 84:833–846

26.

Miyanari Y, Atsuzawa K, Usuda N, Watashi K, Hishiki T, Zayas M, Bartenschlager R, Wakita T, Hijikate M, Shimotohno K (2007) The lipid droplet is an important organelle for hepatitis C virus production. Nat Cell Biol 9:1089–1097

27.

Gillespie LK, Hoenen A, Morgan G, Mackenzie JM (2010) The endoplasmic reticulum provides the membrane platform for biogenesis of the flavivirus replication complex. J Virol 84:10438–10447

28.

Welsch S, Miller S, Romero-Brey I, Merz A, Bleck CKE, Walther P, Fuller SD, Antony C, Krijnse-Locker J, Bartenschlager R (2010) Composition and three-dimensional architecture of the dengue virus replication and assembly site. Cell Host Microbe 5:365–375

29.

Mackenzie JM, Jones MK, Young PR (1996) Immunolocalization of the dengue virus nonstructural glycoprotein NS1 suggests a role in viral RNA replication. Virology 220:232–240

30.

Westaway EG, Mackenzie JM, Khromykh AA (2003) Kunjin RNA replication and applications of Kunjin replicons. Adv Virus Res 59:99–140

31.

Knoops K, Kikkert M, Worm SH, Zevenhoven-Dobbe JC, van der Meer Y, Koster AJ, Mommaas AM, Snijder EJ (2008) SARS-coronavirus replication is supported by a reticulovesicular network of modified endoplasmic reticulum. PLoS Biol 6:e226

32.

Belov GA, Nair V, Hansen BT, Hoyt FH, Fisher ER, Ehrenfeld E (2012) Complex dynamic development of poliovirus membranous replication complexes. J Virol 86:303–312

33.

Appel N, Zayas M, Miller S, Krijnse-Locker J, Schaller T, Friebe P, Kallis S, Engel U, Bartenschlager R (2008) Essential role of domain III of nonstructural protein 5A for hepatitis C virus infectious particle assembly. PLoS Pathog 4:e1000035

34.

Bartenschlager R, Penin F, Lohmann V, André P (2011) Assembly of infectious hepatitis C virus particles. Trends Microbiol 19:95–103
Acknowledgments
This work was supported by a grant from the ANRS (Agence Nationale pour la Recherche sur le Sida et les hépatites virales), France. P.F. was supported by a PhD fellowship from the ANRS. We thank Dr Charles Rice and Dr Takaji Wakita for providing us with the Huh7.5 cell line and the JFH-1 virus strain, respectively. We thank Fabienne Arcanger and Juliette Rousseau for technical assistance with EM sections. We thank Catherine Gaudy and Alain Goudeau for HCV RNA quantifications and Christophe Hourioux and Jean-Christophe Meunier for helpful discussions on this work. Our data were obtained with the assistance of the RIO Electron Microscopy Facility of François Rabelais University.
Additional information
E. Blanchard and P. Roingeard are co-last authors.
Electronic supplementary material
Below is the link to the electronic supplementary material.
Supplementary material 3 (MPG 9697 kb)
About this article
Cite this article
Ferraris, P., Beaumont, E., Uzbekov, R. et al. Sequential biogenesis of host cell membrane rearrangements induced by hepatitis C virus infection. Cell. Mol. Life Sci. 70, 1297–1306 (2013). https://doi.org/10.1007/s00018-012-1213-0
Received:

Revised:

Accepted:

Published:

Issue Date:
Keywords
HCV

Host cell membranes

Membranous web

Electron microscopy

3D reconstruction