Abstract
During mitosis, cells detach, and the cell–matrix interactions become restricted. At the completion of cytokinesis, the two daughter cells are still connected transiently by an intercellular bridge (ICB), which is subjected to abscission, as the terminal step of cytokinesis. Cell adhesion to the matrix is mediated by syndecan-4 (SDC4) transmembrane heparan sulfate proteoglycan. Our present work demonstrated that SDC4 promotes cytokinesis in a phosphorylation-dependent manner in MCF-7 breast adenocarcinoma cells. The serine179-phosphorylation and the ectodomain shedding of SDC4 changed periodically in a cell cycle-dependent way reaching the maximum at G2/M phases. On the contrary, the phospho-resistant Ser179Ala mutant abrogated the shedding. The phosphorylated full-length and shed remnants enriched along the mitotic spindles, and subsequently in the ICBs, however, proper membrane insertion was necessary for midbody localization. Expression of phosphomimicking Ser179Glu SDC4 resulted in incomplete abscission, whereas expression of the phospho-resistant SDC4 led to giant, multinucleated cells.
This is a preview of subscription content, log in to check access.
Access options
Buy single article
Instant unlimited access to the full article PDF.
US$ 39.95
Price includes VAT for USA
Subscribe to journal
Immediate online access to all issues from 2019. Subscription will auto renew annually.
US$ 199
This is the net price. Taxes to be calculated in checkout.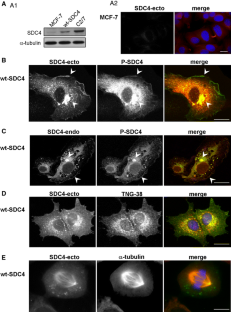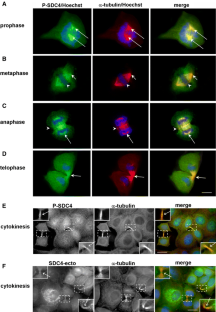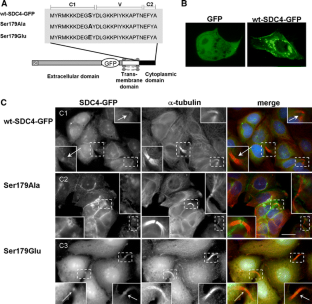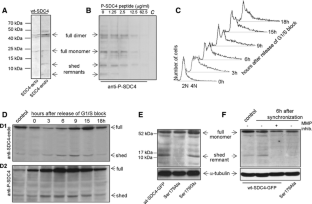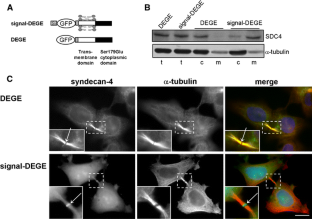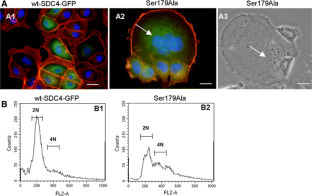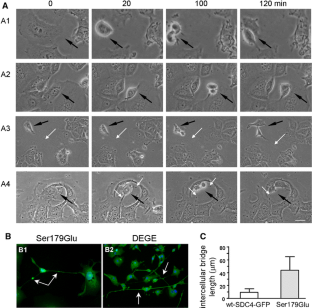 References
1.

Glotzer M (2001) Animal cell cytokinesis. Annu Rev Cell Dev Biol 17:351–386

2.

Piel M, Nordberg J, Euteneuer U, Bornens M (2001) Centrosome-dependent exit of cytokinesis in animal cells. Science 91:1550–1553

3.

Barr FA, Gruneberg U (2007) Cytokinesis: placing and making the final cut. Cell 131:847–860

4.

Skop AR, Liu H, Yates J III, Meyer BJ, Heald R (2004) Dissection of the mammalian midbody proteome reveals conserved cytokinesis mechanisms. Science 305:61–66

5.

Glotzer M (2005) The molecular requirements for cytokinesis. Science 307:1735–1739

6.

Greenbaum MP, Yan W, Wu MH, Lin YN, Agno JE, Sharma M, Braun RE, Rajkovic A, Matzuk MM (2006) TEX14 is essential for ICBs and fertility in male mice. Proc Natl Acad Sci USA 103:4982–4987

7.

Woods A, Couchman JR (2001) Syndecan-4, focal adhesion function. Curr Opin Cell Biol 13:578–583

8.

Mostafavi-Pour Z, Askari JA, Parkinson SJ, Parker PJ, Ng TT, Humphries MJ (2003) Integrin-specific signaling pathways controlling focal adhesion formation and cell migration. J Cell Biol 161:155–167

9.

Morgan MR, Humphries MJ, Bass MD (2007) Synergistic control of cell adhesion by integrins and syndecans. Nat Rev Mol Cell Biol 8:957–969

10.

Bernfield M, Kokenyesi R, Kato M, Hinkes MT, Spring J, Gallo RL, Lose EJ (1992) Biology of the syndecans: a family of transmembrane heparan sulfate proteoglycans. Annu Rev Cell Biol 8:365–393

11.

Kokenyesi R, Bernfield M (1994) Core protein structure and sequence determine the site and presence of heparan sulfate and chondroitin sulfate on syndecan-1. J Biol Chem 269:12304–12309

12.

Langford JK, Stanley MJ, Cao D, Sanderson RD (1998) Multiple heparan sulfate chains are required for optimal syndecan-1 function. J Biol Chem 273:29965–29971

13.

Carey DJ (1997) Syndecans: multifunctional cell-surface co-receptors. Biochem J 327:1–16

14.

Rapraeger AC, Ott VL (1998) Molecular interactions of the syndecan core proteins. Curr Opin Cell Biol 10:620–628

15.

Couchman JR, Vogt S, Lim ST, Lim Y, Oh ES, Prestwich GD, Theibert A, Lee W, Woods A (2002) Regulation of inositol phospholipid binding and signaling through syndecan-4. J Biol Chem 277:49296–49303

16.

Lim ST, Longley RL, Couchman JR, Woods A (2003) Direct binding of syndecan-4 cytoplasmic domain to the catalytic domain of protein kinase C alpha (PKC alpha) increases focal adhesion localization of PKC alpha. J Biol Chem 278:13795–13802

17.

Koo BK, Jung YS, Shin J, Han I, Mortier E, Zimmermann P, Whiteford JR, Couchman JR, Oh ES, Lee W (2006) Structural basis of syndecan-4 phosphorylation as a molecular switch to regulate signaling. J Mol Biol 355:651–663

18.

Fitzgerald ML, Wang Z, Park PW, Murphy G, Bernfield M (2000) Shedding of syndecan-1 and -4 ectodomains is regulated by multiple signaling pathways and mediated by a TIMP-3-sensitive metalloproteinase. J Cell Biol 148:811–824

19.

Li Q, Park PW, Wilson CL, Parks WC (2002) Matrilysin shedding of syndecan-1 regulates chemokine mobilization and transepithelial efflux of neutrophils in acute lung injury. Cell 111:635–646

20.

Wang Z, Götte M, Bernfield M, Reizes O (2005) Constitutive and accelerated shedding of murine syndecan-1 is mediated by cleavage of its core protein at a specific juxtamembrane site. Biochemistry 44:12355–12361

21.

Yaffe D, Saxel O (1977) Serial passaging and differentiation of myogenic cells isolated from dystrophic mouse muscle. Nature 270:725–727

22.

Brockstedt U, Dobra K, Nurminen M, Hjerpe A (2002) Immunoreactivity to cell surface syndecans in cytoplasm and nucleus: tubulin-dependent rearrangements. Exp Cell Res 274:235–245

23.

Echtermeyer F, Baciu PC, Saoncella S, Ge Y, Goetinck PF (1999) Syndecan-4 core protein is sufficient for the assembly of focal adhesions and actin stress fibers. J Cell Sci 112:3433–3441

24.

Simons M, Horowitz A (2001) Syndecan-4-mediated signalling. Cell Signal 13:855–862

25.

Horowitz A, Tkachenko E, Simons M (2002) Fibroblast growth factor-specific modulation of cellular response by syndecan-4. J Cell Biol 157:715–725

26.

VanWinkle WB, Snuggs MB, De Hostos EL, Buja LM, Woods A, Couchman JR (2002) Localization of the transmembrane proteoglycan syndecan-4 and its regulatory kinases in costameres of rat cardiomyocytes: a deconvolution microscopic study. Anat Rec 268:38–46

27.

Horowitz A, Simons M (1998) Regulation of syndecan-4 phosphorylation in vivo. J Biol Chem 273:10914–10918

28.

Paris S, Burlacu A, Durocher Y (2008) Opposing roles of syndecan-1 and syndecan-2 in polyethyleneimine-mediated gene delivery. J Biol Chem 283:7697–7704

29.

Kojima T, Kokai Y, Chiba H, Osanai M, Kuwahara K, Mori M, Mochizuki Y, Sawada N (2001) Occludin and claudin-1 concentrate in the midbody of immortalized mouse hepatocytes during cell division. J Histochem Cytochem 49:333–340

30.

Schmidt A, Echtermeyer F, Alozie A, Brands K, Buddecke E (2005) Plasmin- and thrombin-accelerated shedding of syndecan-4 ectodomain generates cleavage sites at Lys(114)-Arg(115) and Lys(129)-Val(130) bonds. J Biol Chem 280:34441–34446

31.

Hayashida K, Stahl PD, Park PW (2008) Syndecan-1 ectodomain shedding is regulated by the small GTPase Rab5. J Biol Chem 283:35435–35444

32.

Bass MD, Morgan MR, Humphries MJ (2009) Syndecans shed their reputation as inert molecules. Sci Signal 64:pe18

33.

Zimmermann P, David G (1999) The syndecans, tuners of transmembrane signaling. FASEB J 13:S91–S100

34.

Matuliene J, Kuriyama R (2004) Role of the midbody matrix in cytokinesis: RNAi and genetic rescue analysis of the mammalian motor protein CHO1. Mol Biol Cell 15:3083–3094

35.

Low SH, Li X, Miura M, Kudo N, Quiñones B, Weimbs T (2003) Syntaxin 2 and endobrevin are required for the terminal step of cytokinesis in mammalian cells. Dev Cell 4:753–759

36.

Glotzer M (2003) Cytokinesis: progress on all fronts. Curr Opin Cell Biol 15:684–690

37.

Thompson HM, Skop AR, Euteneuer U, Meyer BJ, McNiven MA (2002) The large GTPase dynamin associates with the spindle midzone and is required for cytokinesis. Curr Biol 12:2111–2117

38.

Yoo J, Jeong MJ, Cho HJ, Oh ES, Han MY (2005) Dynamin II interacts with syndecan-4, a regulator of focal adhesion and stress-fiber formation. Biochem Biophys Res Commun 328:424–431

39.

Zerial M, McBride H (2001) Rab proteins as membrane organizers. Nat Rev Mol Cell Biol 2:107–117

40.

Piekny A, Werner M, Glotzer M (2005) Cytokinesis: welcome to the Rho zone. Trends Cell Biol 15:651–658

41.

Su L, Agati JM, Parsons SJ (2003) p190RhoGAP is cell cycle regulated and affects cytokinesis. J Cell Biol 163:571–582

42.

Mollinari C, Reynaud C, Martineau-Thuillier S, Monier S, Kieffer S, Garin J, Andreassen PR, Boulet A, Goud B, Kleman JP, Margolis RL (2003) The mammalian passenger protein TD-60 is an RCC1 family member with an essential role in prometaphase to metaphase progression. Dev Cell 5:295–307

43.

Li R (2007) Cytokinesis in development and disease: variations on a common theme. Cell Mol Life Sci 64:3044–3058

44.

Bass MD, Morgan MR, Roach KA, Settleman J, Goryachev AB, Humphries MJ (2008) p190RhoGAP is the convergence point of adhesion signals from alpha 5 beta 1 integrin and syndecan-4. J Cell Biol 181:1013–1026

45.

Elfenbein A, Rhodes JM, Meller J, Schwartz MA, Matsuda M, Simons M (2009) Suppression of RhoG activity is mediated by a syndecan 4-synectin-RhoGDI1 complex and is reversed by PKCalpha in a Rac1 activation pathway. J Cell Biol 186:75–83

46.

Bass MD, Roach KA, Morgan MR, Mostafavi-Pour Z, Schoen T, Muramatsu T, Mayer U, Ballestrem C, Spatz JP, Humphries MJ (2007) Syndecan-4-dependent Rac1 regulation determines directional migration in response to the extracellular matrix. J Cell Biol 177:527–538

47.

Yasui Y, Amano M, Nagata K, Inagaki N, Nakamura H, Saya H, Kaibuchi K, Inagaki M (1998) Roles of Rho-associated kinase in cytokinesis; mutations in Rho-associated kinase phosphorylation sites impair cytokinetic segregation of glial filaments. J Cell Biol 143:1249–1258

48.

Minoshima Y, Kawashima T, Hirose K, Tonozuka Y, Kawajiri A, Bao YC, Deng X, Tatsuka M, Narumiya S, May WS Jr, Nosaka T, Semba K, Inoue T, Satoh T, Inagaki M, Kitamura T (2003) Phosphorylation by aurora B converts MgcRacGAP to a RhoGAP during cytokinesis. Dev Cell 4:549–560
Acknowledgments
The authors are indebted to Dr. Ibolya Kiss to share the cell culture facilities and Edit Kotogany for the technical assistance in the FACS experiments. A.K.-P. received a fellowship from the Gedeon Richter Centenary Foundation. This work was supported by grants KFP1-00024/2005 to L.S; NKTH-OM-00087/2007 and OTKA T049608 to F.D.; OTKA NK72595 to J.T.
Electronic supplementary material
Below is the link to the electronic supplementary material.
Supplementary Video 2. Time-lapse, phase-contrast video of asynchronous proliferating MCF-7 cells expressing Ser179Ala. The proliferating cells were rounded up similarly to the non-transfected MCF-7 cells. Time-lapse photos were taken every 5 min at 25°C; frame rate was 30 frames per second (fps). (MPG 2412 kb)
Supplementary Video 3. Time-lapse, phase-contrast video of asynchronous proliferating MCF-7 cells expressing Ser179Glu mutant syndecan-4. The proliferating cell is rounded up but remained connected to the neighboring cells by permanent cytoplasmic bridges seen as thin thread. Time-lapse photos were taken every 5 min at 25°C; frame rate was 30 frames per second (fps). (MPG 720 kb)
Supplementary Video 4. Time-lapse, phase-contrast video of asynchronous proliferating MCF-7 cells expressing DEGE construct. The proliferating cells were rounded up but remained connected to the neighboring cells by permanent cytoplasmic bridges. Time-lapse photos were taken every 5 min at 25°C; frame rate was 30 frames per second (fps). (MPG 1218 kb)
About this article
Cite this article
Keller-Pinter, A., Bottka, S., Timar, J. et al. Syndecan-4 promotes cytokinesis in a phosphorylation-dependent manner. Cell. Mol. Life Sci. 67, 1881–1894 (2010). https://doi.org/10.1007/s00018-010-0298-6
Received:

Revised:

Accepted:

Published:

Issue Date:
Keywords
Syndecan-4

Phosphorylation

Shedding

Cytokinesis

Intercellular bridge

Midbody

Multinucleation