Abstract
Objective and design
Sepsis, a systemic inflammatory response syndrome, is still a common cause of death even the patients who are in the intensive care unit. Alleviating septic liver damage may be effective in improving sepsis. Necroptosis and miRNAs have been regarded as a potential target in sepsis.
Material or subjects
The aim of this work is to explain the potential role of miR-425-5p in septic liver damage. LPS was intraperitoneal-injection to C57BL/6 mice for sepsis, and hepatocytes treated with septic serum in vitro. H&E staining for histological evaluation, luciferase reporter assay for target validation, and qRT-PCR, WB, and ELISA analysis for assessment of miR-425-5p, RIP1, inflammatory factors, and LDH levels.
Results
Down-regulated miR-425-5p and up-regulated RIP1/RIP3 were in LPS-induced sepsis mice. Liver damage, RIP1-mediated necroptosis, IL-1β, and TNF-α were suppressed by miR-425-5p agomiR, but further aggravated by miR-425-5p antagomiR. Furthermore, we demonstrated miR-425-5p targeted the 3′UTR of RIP1 mRNA to inhibit RIP1 expression and activated RIP1 reversed miR-425-5p-induced suppression of necroptosis and inflammation in septic hepatocytes.
Conclusions
The data suggest miR-425-5p negatively controls the RIP1-mediated necroptotic signaling cascades and inflammation, and sepsis-related liver damage. miR-425-5p/RIP1 axis is a potential therapeutic strategy for sepsis-related liver damage through necroptosis and inflammation.
This is a preview of subscription content, log in to check access.
Access options
Buy single article
Instant access to the full article PDF.
US$ 39.95
Price includes VAT for USA
Subscribe to journal
Immediate online access to all issues from 2019. Subscription will auto renew annually.
US$ 99
This is the net price. Taxes to be calculated in checkout.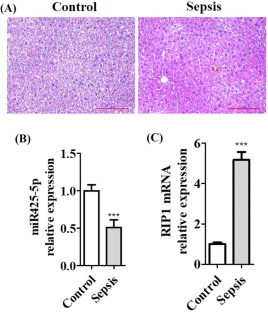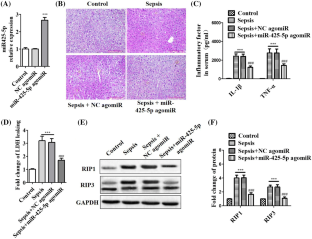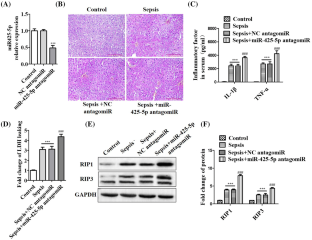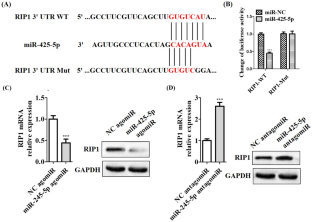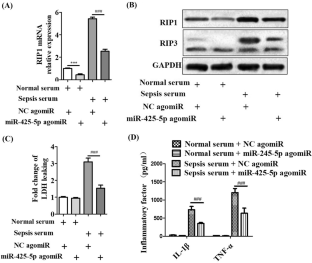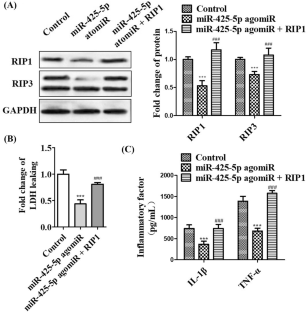 Abbreviations
SIRS:

Systemic inflammatory response syndrome

ICU:

Intensive care unit

RIP1:

Receptor interacting serine/threonine kinase 1

Nec-1:

Necrostatin-1

i.p.:

Intraperitoneal

i.v.:

Intravenous

NC:

Negative control

WB:

Western blot

ELISA:

Enzyme-linked immunosorbent assay

WT:

Wide type

Mut:

Mutation
References
1.

von Knethen A, Brune B. Histone deacetylation inhibitors as therapy concept in sepsis. Int J Mol Sci. 2019;20(2):E346.

2.

Rhee C, Dantes R, Epstein L, Murphy DJ, Seymour CW, Iwashyna TJ, Kadri SS, Angus DC, Danner RL, Fiore AE, et al. Incidence and trends of sepsis in US hospitals using clinical vs claims data, 2009–2014. JAMA. 2017;318(13):1241–9.

3.

Fernando SM, Rochwerg B, Seely AJE. Clinical implications of the Third International Consensus Definitions for Sepsis and Septic Shock (Sepsis-3). CMAJ. 2018;190(36):E1058–E10591059.

4.

Singer M, Deutschman CS, Seymour CW, Shankar-Hari M, Annane D, Bauer M, Bellomo R, Bernard GR, Chiche JD, Coopersmith CM, et al. The third international consensus definitions for sepsis and septic shock (Sepsis-3). JAMA. 2016;315(8):801–10.

5.

Dhainaut JF, Marin N, Mignon A, Vinsonneau C. Hepatic response to sepsis: interaction between coagulation and inflammatory processes. Crit Care Med. 2001;29(7 Suppl):S42–S4747.

6.

Duprez L, Takahashi N, Van Hauwermeiren F, Vandendriessche B, Goossens V, Vanden Berghe T, Declercq W, Libert C, Cauwels A, Vandenabeele P. RIP kinase-dependent necrosis drives lethal systemic inflammatory response syndrome. Immunity. 2011;35(6):908–18.

7.

Dannappel M, Vlantis K, Kumari S, Polykratis A, Kim C, Wachsmuth L, Eftychi C, Lin J, Corona T, Hermance N, et al. RIPK1 maintains epithelial homeostasis by inhibiting apoptosis and necroptosis. Nature. 2014;513(7516):90–4.

8.

Rickard JA, O'Donnell JA, Evans JM, Lalaoui N, Poh AR, Rogers T, Vince JE, Lawlor KE, Ninnis RL, Anderton H, et al. RIPK1 regulates RIPK3-MLKL-driven systemic inflammation and emergency hematopoiesis. Cell. 2014;157(5):1175–88.

9.

Polykratis A, Hermance N, Zelic M, Roderick J, Kim C, Van TM, Lee TH, Chan FKM, Pasparakis M, Kelliher MA. Cutting edge: RIPK1 Kinase inactive mice are viable and protected from TNF-induced necroptosis in vivo. J Immunol. 2014;193(4):1539–43.

10.

Zelic M, Roderick JE, O'Donnell JA, Lehman J, Lim SE, Janardhan HP, Trivedi CM, Pasparakis M, Kelliher MA. RIP kinase 1-dependent endothelial necroptosis underlies systemic inflammatory response syndrome. J Clin Investig. 2018;128(5):2064–75.

11.

Arifuzzaman M, Ang WXG, Choi HW, Nilles ML, St John AL, Abraham SN. Necroptosis of infiltrated macrophages drives Yersiniapestis dispersal within buboes. JCI Insight. 2018;3(18):122188.

12.

Bolognese AC, Yang WL, Hansen LW, Denning NL, Nicastro JM, Coppa GF, Wang P. Inhibition of necroptosis attenuates lung injury and improves survival in neonatal sepsis. Surgery. 2018. https://doi.org/10.1016/j.surg.2018.02.017.

13.

Rogobete AF, Sandesc D, Bedreag OH, Papurica M, Popovici SE, Bratu T, Popoiu CM, Nitu R, Dragomir T, HIM AA, Ivan MV. MicroRNA expression is associated with sepsis disorders in critically ill polytrauma patients. Cells. 2018;7(12): E271.

14.

Vergadi E, Vaporidi K, Tsatsanis C. Regulation of endotoxin tolerance and compensatory anti-inflammatory response syndrome by non-coding RNAs. Front Immunol. 2018;9:2705.

15.

Dhas BB, Dirisala VR, Bhat BV. Expression levels of candidate circulating microRNAs in early-onset neonatal sepsis compared with healthy newborns. Genomics Insights. 2018;11:1178631018797079.

16.

Cheng Q, Tang L, Wang Y. Regulatory role of miRNA-26a in neonatal sepsis. Exp Ther Med. 2018;16(6):4836–42.

17.

Bai XZ, Zhang JL, Liu Y, Zhang W, Li XQ, Wang KJ, Cao MY, Zhang JN, Han F, Shi JH, Hu DH. MicroRNA-138 aggravates inflammatory responses of macrophages by targeting SIRT1 and regulating the NF-kappaB and AKT pathways. Cell Physiol Biochem. 2018;49(2):489–500.

18.

Yang ZB, Chen WW, Chen HP, Cai SX, Lin JD, Qiu LZ. MiR-155 aggravated septic liver injury by oxidative stress-mediated ER stress and mitochondrial dysfunction via targeting Nrf-2. Exp Mol Pathol. 2018;105(3):387–94.

19.

An R, Feng J, Xi C, Xu J, Sun L. miR-146a attenuates sepsis-induced myocardial dysfunction by suppressing IRAK1 and TRAF6 via targeting ErbB4 expression. Oxid Med Cell Longev. 2018;2018:7163057.

20.

Fu D, Dong J, Li P, Tang C, Cheng W, Xu Z, Zhou W, Ge J, Xia C, Zhang Z. MiRNA-21 has effects to protect kidney injury induced by sepsis. Biomed Pharmacother. 2017;94:1138–44.

21.

Risoe PK, Ryg U, Wang YY, Rutkovskiy A, Smedsrod B, Valen G, Dahle MK. Cecal ligation and puncture sepsis is associated with attenuated expression of adenylyl cyclase 9 and increased miR142-3p. Shock. 2011;36(4):390–5.

22.

Ling L, Zhang SH, Zhi LD, Li H, Wen QK, Li G, Zhang WJ. MicroRNA-30e promotes hepatocyte proliferation and inhibits apoptosis in cecal ligation and puncture-induced sepsis through the JAK/STAT signaling pathway by binding to FOSL2. Biomed Pharmacother. 2018;104:411–9.

23.

Lv X, Zhang Y, Cui Y, Ren Y, Li R, Rong Q. Inhibition of microRNA155 relieves sepsisinduced liver injury through inactivating the JAK/STAT pathway. Mol Med Rep. 2015;12(4):6013–8.

24.

Liu W, Chen Y, Meng J, Wu M, Bi F, Chang C, Li H, Zhang L. Ablation of caspase-1 protects against TBI-induced pyroptosis in vitro and in vivo. J Neuroinflammation. 2018;15:48.

25.

Ring A, Braun JS, Pohl J, Nizet V, Stremmel W, Shenep JL. Group B streptococcal beta-hemolysin induces mortality and liver injury in experimental sepsis. J Infect Dis. 2002;185(12):1745–53.

26.

Zheng D, Yu Y, Li M, Wang G, Chen R, Fan GC, Martin C, Xiong S, Peng T. Inhibition of microRNA 195 prevents apoptosis and multiple-organ injury in mouse models of sepsis. J Infect Dis. 2016;213(10):1661–700.

27.

Shankar-Hari M, Phillips GS, Levy ML, Seymour CW, Liu VX, Deutschman CS, Angus DC, Rubenfeld GD, Singer M. Sepsis definitions task F: developing a new definition and assessing new clinical criteria for septic shock: for the third international consensus definitions for sepsis and septic shock (Sepsis-3). JAMA. 2016;315(8):775–87.

28.

Fang F, Song T, Zhang T, Cui Y, Zhang G, Xiong Q. MiR-425-5p promotes invasion and metastasis of hepatocellular carcinoma cells through SCAI-mediated dysregulation of multiple signaling pathways. Oncotarget. 2017;8(19):31745–57.

29.

Kwon DN, Chang BS, Kim JH. MicroRNA dysregulation in liver and pancreas of CMP-Neu5Ac hydroxylase null mice disrupts insulin/PI3K-AKT signaling. Biomed Res Int. 2014;2014:236385.

30.

Guan E, Wang Y, Wang C, Zhang R, Zhao Y, Hong J. Necrostatin-1 attenuates lipopolysaccharide-induced acute lung injury in mice. Exp Lung Res. 2017;43(9–10):378–87.

31.

Dong W, Li Z, Chen Y, Zhang L, Ye Z, Liang H, Li R, Xu L, Zhang B, Liu S, et al. Necrostatin-1 attenuates sepsis-associated acute kidney injury by promoting autophagosome elimination in renal tubular epithelial cells. Mol Med Rep. 2018;17(2):3194–9.

32.

Hansen LW, Jacob A, Yang WL, Bolognese AC, Prince J, Nicastro JM, Coppa GF, Wang P. Deficiency of receptor-interacting protein kinase 3 (RIPK3) attenuates inflammation and organ injury in neonatal sepsis. J Pediatr Surg. 2018;53(9):1699–705.

33.

Sureshbabu A, Patino E, Ma KC, Laursen K, Finkelsztein EJ, Akchurin O, Muthukumar T, Ryter SW, Gudas L, Choi AMK, Choi ME. RIPK3 promotes sepsis-induced acute kidney injury via mitochondrial dysfunction. JCI Insight. 2018;3(11):98411.

34.

Rittirsch D, Flierl MA, Ward PA. Harmful molecular mechanisms in sepsis. Nat Rev Immunol. 2008;8(10):776–87.

35.

Schulte W, Bernhagen J, Bucala R. Cytokines in sepsis: potent immunoregulators and potential therapeutic targets—an updated view. Mediat Inflamm. 2013;2013:165974.

36.

McNeal SI, LeGolvan MP, Chung CS, Ayala A. The dual functions of receptor interacting protein 1 in fas-induced hepatocyte death during sepsis. Shock. 2011;35(5):499–505.

37.

Zhang Q, Wei S, Lu J, Fu W, Chen H, Huang Q, Chen Z, Zeng Z. Necrostatin-1 accelerates time to death in a rat model of cecal ligation and puncture and massively increases hepatocyte caspase-3 cleavage. Am J Physiol Gastrointest Liver Physiol. 2019;316(4):G551–G56161.

38.

Fan L, Li Z, Fan Z, Wang Y. The effect of necrostatin-1 on expression of liver monocyte chemotactic protein-1 in septic rats. Zhonghua Wei Zhong Bing Ji Jiu Yi Xue. 2016;28(3):262–6.

39.

Seemann S, Zohles F, Lupp A. Comprehensive comparison of three different animal models for systemic inflammation. J Biomed Sci. 2017;24(1):60.
Acknowledgements
The work was not funded by any funding opportunity.
Ethics declarations
Conflict of interest
All the authors certify that there is no conflict of interest.
Additional information
Publisher's Note
Springer Nature remains neutral with regard to jurisdictional claims in published maps and institutional affiliations.
Responsible Editor: John Di Battista .
Electronic supplementary material
Below is the link to the electronic supplementary material.
About this article
Cite this article
Gu, C., Hou, C. & Zhang, S. miR-425-5p improves inflammation and septic liver damage through negatively regulating the RIP1-mediated necroptosis. Inflamm. Res. 69, 299–308 (2020). https://doi.org/10.1007/s00011-020-01321-5
Received:

Revised:

Accepted:

Published:

Issue Date:
Keywords
Septic liver damage

miR-425-5p

RIP1

Necroptosis

Inflammation