Abstract
Pyroptosis is a programmed and inflammatory cell death initiated by inflammasome. During pyroptosis, cytosolic pattern recognition receptors, apoptosis-associated speck-like protein and pro-Caspase-1 form activated inflammasome together. Caspase-1 activated by inflammasome results in generating an N-terminal cleavage product of gasdermin D (GSDMD), which is a major executor of pyroptosis. As a consequence of pyroptosis, a large number of pro-inflammatory cytokines are released including IL-1β and IL-18. Nucleotide-binding oligomerization domain (NOD)-like receptors (NLRs) and absent in melanoma 2 (AIM2)-like receptors (ALRs) belong to cytosolic pattern recognition receptors and assemble inflammasomes by detecting host cell damage signals. Pyroptosis pathways are divided into canonical and non-canonical pathways according to the identification of damage signals by cytoplasmic protein sensors. Pyroptosis not only plays an important role in infection, but also plays a vital role in inflammatory immune diseases. This article reviews the advances research of pyroptosis initiated by inflammasome in inflammatory and immune diseases.
This is a preview of subscription content, log in to check access.
Access options
Buy single article
Instant unlimited access to the full article PDF.
US$ 39.95
Price includes VAT for USA
Subscribe to journal
Immediate online access to all issues from 2019. Subscription will auto renew annually.
US$ 99
This is the net price. Taxes to be calculated in checkout.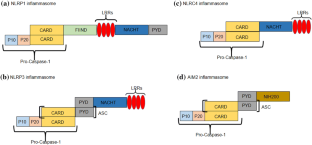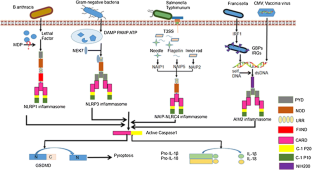 Acknowledgements
This study was funded by the National Natural Science Foundation of China (No. U1803129, 81803538 and 81673444).
Additional information
Publisher's Note
Springer Nature remains neutral with regard to jurisdictional claims in published maps and institutional affiliations.
Responsible Editor: Dr. John Di Battista.
About this article
Cite this article
Liang, F., Zhang, F., Zhang, L. et al. The advances in pyroptosis initiated by inflammasome in inflammatory and immune diseases. Inflamm. Res. (2020). https://doi.org/10.1007/s00011-020-01315-3
Received:

Revised:

Accepted:

Published:
Keywords
Pyroptosis

Inflammasome

Inflammation

Immune

Diseases