The complement cascade as a mediator of tissue growth and regeneration
Abstract
Recent evidence has demonstrated that the complement cascade is involved in a variety of physiologic and pathophysiologic processes in addition to its role as an immune effector. Research in a variety of organ systems has shown that complement proteins are direct participants in maintenance of cellular turnover, healing, proliferation and regeneration. As a physiologic housekeeper, complement proteins maintain tissue integrity in the absence of inflammation by disposing of cellular debris and waste, a process critical to the prevention of autoimmune disease. Developmentally, complement proteins influence pathways including hematopoietic stem cell engraftment, bone growth, and angiogenesis. They also provide a potent stimulus for cellular proliferation including regeneration of the limb and eye in animal models, and liver proliferation following injury. Here, we describe the complement cascade as a mediator of tissue growth and regeneration.
Keywords
Complement 
Growth 
Regeneration 
Proliferation 
Healing 
Introduction
Since its discovery over 100 years ago, the complement cascade has been recognized as an effector arm of innate immunity, a set of serum proteins known to "complement" antibody-mediated pathogen clearance [1, 2, 3]. The complement cascade includes 12 soluble proteins capable of initiating a cytolytic response in the absence of other humoral or cellular elements. Complement activation and amplification occur on the surface of the target cell, and are initiated by the binding of one or more molecules of the classical, alternative, or mannose-binding lectin pathways [4]. The classical pathway destroys antibody-coated targets, apoptotic cells, gram-negative bacteria, and some viruses [3]. The mannose-binding lectin pathway destroys mannose-bearing pathogens [3]. Lastly, the alternative pathway destroys a variety of infectious agents including bacteria, viruses, and fungi, in addition to playing a role in the immune surveillance of tumors [3]. Their convergence into a final common pathway results in creation of the membrane attack complex (MAC), an amphipathic pore-forming structure made up of C5b, C6, C7, C8, and multiple C9 molecules [2].
The traditional view of the complement cascade maintains that its role is to facilitate cellular killing and inflammation. However, increasing evidence has challenged this view in diverse ways. New sites of complement protein synthesis and new locations for complement protein receptors have been uncovered [3, 5]. Immune "imbalance" via complement protein deficiency or dysregulation has been implicated in the pathogenesis of numerous autoimmune and non-immune diseases [3, 6]. Finally, complement protein regulation of cellular proliferation has been demonstrated in a broad range of tissues [7]. This exponential increase in our knowledge has established new roles for the complement cascade in both tissue health and disease that expand upon its former designation as a mere immune effector of host defense [3, 6, 8].
Evidence demonstrating the novel importance of complement proteins has opened up especially exciting avenues of translational research. Complement proteins play important roles in developmental, proliferative, and regenerative pathways in both injured and uninjured tissue (Fig. 
1
). The dichotomy of "defender" and "healer" in a single system represents a major departure from previous considerations of complement cascade-mediated effects, and demands a reappraisal of traditional views. The following review offers insight into the emerging body of research implicating complement proteins as mediators of tissue health via their regulatory effects on cell turnover, proliferation, maturation, and regeneration.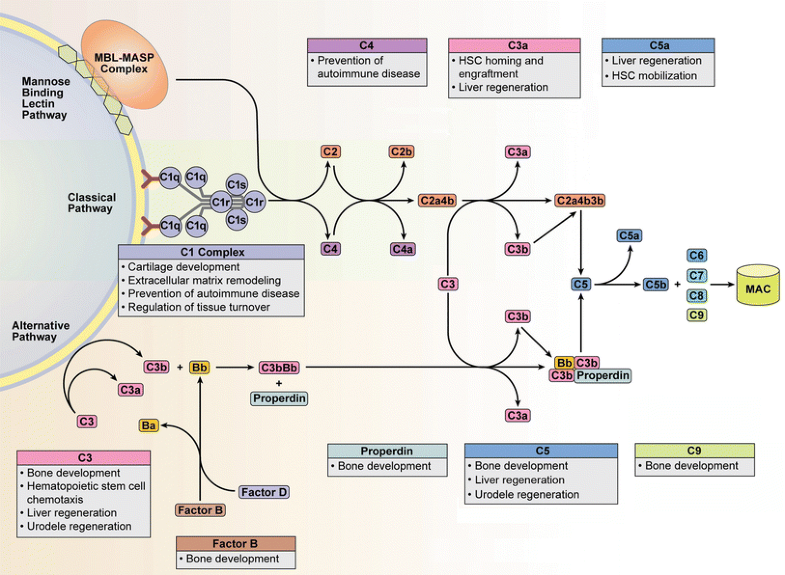 The complement cascade as a physiologic housekeeper
Complement proteins are constitutively active, facilitate cellular turnover, and prevent autoimmune disease
Whether caused by endogenous or exogenous stimuli, cellular injury is an inciting event for activation of the classical, alternative, and mannose-binding lectin pathways. Complement proteins participate in multiple phases of acute and chronic inflammation, including local hemodynamic change, increased vascular permeability, recruitment and chemotaxis of leukocytes, lymphocyte activation and upregulation, opsonization of pathogens, and clearance of necrotic and apoptotic tissues [9]. The potentially devastating effects of uncontrolled complement activation and subsequent promotion of inflammation are attenuated by a widespread network of inhibitory membrane-bound complement receptors and soluble proteins. These endogenous receptors and proteins prevent indiscriminate complement mediated cellular destruction in healthy host tissues by inhibiting excessive amplification of the complement cascade, thereby precluding formation of the lytic MAC. Necrotic or apoptotic cells are susceptible to complement mediated destruction due to their loss of membrane-bound inhibitory molecules [6]. When these checks and balances are lost, dysregulation of the complement cascade facilitates a wide variety of autoimmune diseases in which chronic inflammation is seen, including glomerulonephritis [10, 11, 12], systemic lupus erythematosus (SLE) [13], rheumatoid arthritis [14], and multiple sclerosis [15].
Research linking incomplete complement mediated clearance of dead cells with subsequent autoimmune disease [16, 17, 18, 19, 20] argues that complement proteins play a vital homeostatic mechanism. Termed the "waste-disposal" hypothesis, it has been proposed that complement protein dysfunction or deficiency can lead to inadequate clearance of cellular debris, consequently facilitating exposure to potentially antigenic intracellular molecules [6]. Immature dendritic cells then take up these autoantigens, mature, and present them to T cells, leading to autoreactive B cell stimulation and subsequent production of autoantibodies [6]. Homozygous C1q deficiency provides a striking example of complement related autoimmunity. Loss of this initiator protein of the classical pathway almost invariably leads to severe SLE [13].
Complement activation due to cell death can occur secondary to inflammation or entirely independent of it. Constitutive activation of the alternative pathway via spontaneous C3 cleavage has been recognized for many years [21]. Newer evidence suggests the classical cascade is also constitutively active in humans and mice in an antigen-independent manner, with blood stasis posited as a possible inciting stimulus for its basal low-level activation [22]. Based on the observation that ex vivo blood samples from humans and mice exhibit spontaneous C3 fragment formation, the authors investigated the complement activation pathway responsible for this effect by studying plasma from mice and humans with specific complement protein deficiencies. Spontaneous generation of C3 fragments was abrogated in both C1q-deficient humans and complement knockout mice including C1qa−/−, C4−/−, and H2-Bf, C2−/− mice [22]. While plasma from mice deficient in immunoglobulins (RAG−/−) and factor B (Bf−/−) demonstrated spontaneous C3 fragment formation, it was significantly reduced compared to control mice. The authors concluded that the alternative pathway likely amplifies the production of C3 fragments initiated by the classical pathway [22]. Such continuous activation and priming of the complement cascade might provide an important physiologic mechanism that enhances clearance of apoptotic and necrotic cells, better allowing for regulation of tissue turnover.
However, complement protein dysfunction is not only thought to contribute to autoimmune disease via insufficient clearance of debris; emerging evidence points to a critical role for complement proteins in maintaining B cell tolerance, thereby precluding production of autoantibodies. In one elegant study, researchers investigated the role of complement in the prevention or production of autoreactive B cells in a mouse model of autoimmunity resembling SLE [23]. They first created a transgenic mouse model of B cell tolerance in which the foreign protein hen egg lysozyme (HEL), an antigen capable of inducing production of autoreactive B cells, remained sequestered in the endoplasmic reticulum (ER) of all MHC-1 cells [24]. This ER-restricted mHEL (mHEL-KK) transgenic mouse closely recapitulates the pathogenesis of SLE by sequestering the HEL autoantigen intracellularly. They then crossed C1q deficient mice (C1q−/−) with MD4 IgHEL mice, a transgenic model encoding IgMa and IgDa specific to HEL. Finally, they crossed these single transgenic mice (C1q−/− IgHEL) with mHEL-KK mice to create double-transgenic C1q−/− IgHEL/mHEL-KK mice. Armed with these mouse models of autoimmunity resembling SLE, the authors found that C1q facilitates potent downregulation of numerous autoimmune phenomena. These C1q deficient mice demonstrated increased positive selection of B1b B cells responsive to intracellular HEL, decreased negative selection of conventional B cells, increased numbers of plasma cells, and increased production of IgM autoantibodies [23].
In addition to C1q, it has also been shown that the loss of C4 or complement receptors 1 and 2 (CR1, CR2) facilitates autoimmunity directly by inducing loss of B cell tolerance and subsequent production of autoreactive B cells [25, 26]. Furthermore, complement proteins are known regulators of T cell proliferation [4, 27, 28]. Certain subpopulations of T cells are inhibited directly by C1q, preventing inappropriate self-attack [9, 29].
In total, the protean capabilities of various complement proteins in cellular clearance and modulation of the adaptive immune response demonstrate critical roles in the prevention of autoimmune disease. The continuous activation of complement proteins maintains tissue turnover as a physiologic event rather than a pathogenic one.
The complement cascade and cellular growth and regeneration
Conclusion
Abundant evidence indicates that the complement cascade can no longer solely be considered an effector of innate immunity. In addition to performing a variety of physiologic housekeeping functions, complement proteins clearly respond to tissue injury with induction of cellular proliferation and regeneration across a diverse array of organ systems, as evidenced by in vitro and in vivo research. These observations provide a previously unrecognized mechanism for tissue healing. As our understanding of the complement cascade's capabilities increases, so too does the promise of therapeutic interventions that enhance the beneficial effects of complement proteins and attenuate their negative ones.
Notes
Acknowledgments
Martin Rutkowski received a grant from the Doris Duke Charitable Foundation. Dr. Sughrue received a National Research Service Award from the National Institutes of Health. Ari Kane received a grant from the Howard Hughes Medical Institute. Dr. Parsa was partially funded by the Reza and Georgianna Khatib Endowed Chair in Skull Base Tumor Surgery.
Open Access
This article is distributed under the terms of the Creative Commons Attribution Noncommercial License which permits any noncommercial use, distribution, and reproduction in any medium, provided the original author(s) and source are credited.
Copyright information
© The Author(s) 2010
Open AccessThis is an open access article distributed under the terms of the Creative Commons Attribution Noncommercial License (https://creativecommons.org/licenses/by-nc/2.0), which permits any noncommercial use, distribution, and reproduction in any medium, provided the original author(s) and source are credited.