Targeting Th17 Effector Cytokines for the Treatment of Autoimmune Diseases
Abstract
Interleukin (IL)-17-producing T cells, especially T helper (Th)17 cells, play a critical role in the pathogenesis of a variety of autoimmune inflammatory diseases. The pathogenic function of Th17 cells results from their production of Th17 effector cytokines, namely IL-17 (or IL-17A), IL-17F, IL-22 and IL-26. The importance of IL-17 has been demonstrated by antibody neutralization studies in both animal models of autoimmune diseases as well as in human clinical trials. This review highlights the current knowledge of the clinical aspects of the Th17 cytokines as well as therapeutic antibodies against IL-17, IL-17F, IL-17 receptor, IL-22, IL-26 and granulocyte macrophage colony-stimulating factor for the future treatment of autoimmune inflammatory diseases.
Keywords
Th17 
IL-17 
IL-22 
IL-26 
Autoimmune disease 
Introduction
Upon antigen stimulation by MHC class II on antigen-presenting cells and with the appropriate cytokine milieu, naïve CD4+ T helper (Th) cells are differentiated into subsets, including Th1, Th2, and Th17 cells. Th1 cells typically produce interferon (IFN)-γ, Th2 cells produce interleukin (IL)-4 and IL-13, and Th17 cells produce IL-17A/F, IL-22, IL-26, IL-21 and granulocyte macrophage colony-stimulating factor (GM-CSF). Th17 cells were identified by and named for their production of IL-17 (now formally named IL-17A). IL-17-producing Th17 cells were first found to be much more pathogenic than IFN-γ-producing Th1 cells in an adoptive transfer model of experimental autoimmune encephalitis (EAE), an animal model of human multiple sclerosis (Langrish et al. 2005).
Th17 cell differentiation from naïve CD4+ T cells is induced by T cell receptor activation and costimulation with the inflammatory cytokines IL-6, transforming growth factor β, IL-21, IL-1β and IL-23 (Bettelli et al. 2006; Veldhoen et al. 2006). The differentiation of Th17 cells requires the retinoic acid receptor-related orphan nuclear receptor RORγt (Ivanov et al. 2006), which is induced in activated naïve T cells upon stimulation with the STAT3-activating cytokines IL-6 and IL-1β (Acosta-Rodriguez et al. 2007). In addition to Th17 cells, RORγt expression has been described in CD8+ Tc17 cells and subsets of γδ T cells characterized by IL-17 expression. T cells lacking RORγt (Rorc −/−) or STAT3 fail to generate Th17 cells (Ivanov et al. 2006). Several other transcription factors also contribute to the regulation of Th17 cell development. For example, BATF and IRF4 cooperatively contribute to the initial chromatin accessibility, and in combination with STAT3 initiate a transcriptional program that is tuned by RORγt (Ciofani et al. 2012). RORγt has been demonstrated to be the master transcription factor of Th17 cells. RORγt small molecular inhibitors have been generated for the treatment of several autoimmune diseases (Skepner et al. 2014, 2015; Yang et al. 2013).
Th17 cytokines are important not only for protective immunity against extracellular pathogens including Klebsiella pneumonia and Pneumocystis carinii (Happel et al. 2005; Rudner et al. 2007; Ye et al. 2001a), but also for the clearance of intracellular pathogens such as Mycobacteria tuberculosis (Khader et al. 2007). IL-17R-deficient mice have been used to demonstrate that IL-17A is involved in the host defense to Candida albicans and K. pneumonia fungal infections (Huang et al. 2004; Ye et al. 2001b).
In addition to the important role in protective immunity, Th17 cells and Th17 effector cytokines play a critical role in the pathogenesis of a variety of autoimmune inflammatory diseases. In this article, we review the role of Th17 effector cytokines in the pathogenesis of autoimmunity and the current progress and strategies of targeting the Th17 effector cytokines IL-17A, IL-17F, IL-22 and IL-26.
Interleukin 26
IL-26 and IL-26 Receptors
IL-26 belongs to IL-10 family of proteins which includes IL-10, IL-19, IL-20, IL-24, IL-22, IL-26, IL-28 and IL-29. IL-26 is mainly expressed by RORγt-positive/IL-17-producing Th17 and γδ T cells. IL-26 is often co-expressed with IL-22 in activated T cells, especially Th17 cells (Donnelly et al. 2010; Ouyang et al. 2011; Pene et al. 2008; Wilson et al. 2007). It is also expressed in a cell population called NK-22 cells, which seem to play a role in human mucosal immunity (Cella et al. 2009). A recent study revealed that ILC3 cells from human tonsil expressed high level of Il26 mRNA (Montaldo et al. 2014). In addition, synoviocytes from RA patients were reported to express IL-26 (Corvaisier et al. 2012).
The
Il26
and
Il22
genes are closely located in tandem orientation on chromosome 12q15, and therefore may explain their overlapping expression pattern in Th17 cells (Donnelly et al.
2010
). Both IL-26 and IL-22 share the IL-10RB receptor subunit and induce STAT3 and STAT1 phosphorylation upon receptor binding (Hor et al.
2004
; Sheikh et al.
2004
) (Fig. 
2
). IL-26 and IL-22 also share common biological responses in vitro, including activation of phospho-STAT3 and induction of proinflammatory cytokines (Ouyang et al.
2011
). The precise difference in their physiological role is poorly characterized largely because of the lack of IL-26 in rodent species (Braum et al.
2012
; Shakhsi-Niaei et al.
2013
). However, there are a variety of differences between IL-26 and IL-22. Molecularly, the two cytokines share very low amino acid homology (<20 %). IL-26 has a strong cationic nature (p
I
 = 10.7) that may allow it to stick to the negatively charged surface of cells and may allow it to function as a long-acting cytokine (Donnelly et al.
2010
; Knappe et al.
2000
), whereas IL-22 is neutral (p
I
 = 7.2) and could be short lived. IL-26 is predicted to form a dimer structure, while IL-22 acts as a monomer. The receptors of the two cytokines are IL-10RB/IL-20RA for IL-26 and IL-10RB/IL-22RA for IL-22, indicating they share IL-10RB subunit. Both IL-20RA and IL-22RA are expressed on epithelial cells; however, IL-20RA is expressed on skin, lung, and colon, while IL-22RA is highly expressed on liver, kidney, and pancreas. IL-20RA also serves as a receptor subunit for IL-19, IL-20 and IL-24 as well, and there may be interplay between IL-26 and other IL-20RA-binding cytokines. IL-22 can be bound by IL-22 binding proteins, which adds another layer of regulation, while there has been no such proteins identified for IL-26 (Dumoutier et al.
2001
). The expression kinetics may also differ between the two cytokines. A recent study in a model of cow mammary gland inflammation suggested a difference in the in vivo kinetics between IL-26 and other Th17 cytokines including IL-22 (Rainard et al.
2013
). Thus, it is likely that IL-26 and IL-22 have different roles in both the normal state and in the context of disease.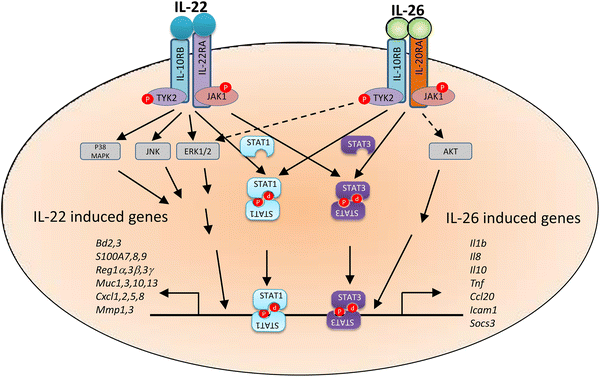 Blocking IL-26 Pathway for Autoimmune Inflammatory Diseases
IL-26 induces the production of the proinflammatory cytokines such as IL-1β, IL-6, and TNF-α in human monocytes, and also upregulates the expression of the chemokine CCL20 (Corvaisier et al. 2012). It has been shown to induce the expression of IL-8 and TNF-α in a colon epithelial cell line as well (Dambacher et al. 2009). IL-26 expressed by the synovial fibroblasts in the joints of RA patients acts on monocytes to produce IL-1β, which in turn enhances the generation of Th17 cells (Corvaisier et al. 2012). Thus, IL-26 may play a pathogenic role in autoimmune diseases (Figs. 1, 2). Indeed, in ulcerative colitis the single nucleotide polymorphism rs2870946 located in the Il26 gene showed significant association with the disease (Silverberg et al. 2009), and elevated expression of Il26 mRNA was observed in the colon in a study of pediatric-onset ulcerative colitis (Kugathasan et al. 2008). In Crohn's disease patients, the number of infiltrating IL-26 positive Th17 cells was increased in the colon; IL-26 mRNA expression was up-regulated, and the expression of IL-26 correlated with the expression of proinflammatory cytokines including IL-8 (Dambacher et al. 2009). Hence, IL-26 may play a pathogenic role in IBD by directly affecting the epithelial cell biology, recruiting neutrophils, and producing proinflammatory cytokines. In RA, a polymorphic marker located 3 kb downstream of the Il26 gene was significantly associated with RA in women (Vandenbroeck et al. 2003). The synovium from RA patients showed high staining of IL-26 protein in immunohistochemistry, and synovial fibroblasts from RA patients expressed a high level of IL-26 (Corvaisier et al. 2012). In multiple sclerosis, the genetic region of Il26 and Ifng is correlated with susceptibility to the disease in females but not in males (Goris et al. 2002). In Psoriasis, a transcriptional analysis of lesion and non-lesion skin demonstrated that Th17-derived cytokines, including IL-26, were more highly expressed in lesions than in normal skin (Wilson et al. 2007). In summary, these data support that overexpressed IL-26 protein could act as proinflammatory cytokine and contribute to the development of several autoimmune diseases. Though currently there is no published clinical trial modulating IL-26 activity, accumulating evidence suggests that IL-26 is an interesting drug target to pursue (Fig. 1).
GM-CSF
Beside the cytokines discussed above, there is growing interest in the pathogenic effects of GM-CSF-producing Th17 cells in the development of autoimmune and inflammatory diseases (Shiomi and Usui 2015). Recent studies reported that GM-CSF is critical for the pathogenicity of Th17 cells (Codarri et al. 2011; El-Behi et al. 2011). This has led to the development of anti-GM-CSF and anti-GM-CSF receptor neutralizing antibodies (Burmester et al. 2013; Dale et al. 2014). The results from the future clinical trials of these therapeutics warrant attention.
Conclusion
Th17 cells produce multiple cytokines, and thus exert pleiotropic effects on host protection while playing a pathogenic role in disease pathology. Outcomes from clinical trials targeting individual Th17 cytokines will reveal the differential roles of the cytokines in the context of autoimmune diseases. Thus, targeting the right Th17 cytokines in the right disease contexts should enable effective modulation of the diseases while minimizing adverse effects on host protection.
Copyright information
© L. Hirszfeld Institute of Immunology and Experimental Therapy, Wroclaw, Poland 2015