Abstract
Aim: The objective of the study was to compare blood pressure changes during exercise between low and normal birth weight young Black adults.
Methods: Eighty medical students in their first and second year who had neonatal clinic cards as proof of birth weight were included in the study. Resting blood pressures and heart rates were recorded. Participants then underwent a multistage 9-minute exercise stress test while blood pressure responses were recorded at 3-minute intervals. The study was conducted in the Department of Physiology, University of Zimbabwe, College of Health Sciences, Harare, Zimbabwe.
Results: Of the 80 subjects recruited, 34 had low birth weight (LBW), 26 of these were female and 8 were male. The proportion of LBW individuals, 62% (n = 21), who developed exercise-induced hypertension (EIH) was significantly higher (p < 0.05) than the proportion of those with normal birth weight (NBW), 32% (n = 11). In addition to LBW being significantly associated with EIH (χ2 test p < 0.05, odds ratio 7.5) compared with NBW, the LBW group had a significantly higher (p < 0.05) and exaggerated systolic and diastolic response in stages I and II of the exercise protocol compared with the NBW group.
Conclusion: LBW was associated with EIH in these young Black adults.
This is a preview of subscription content, log in to check access.
Access options
Buy single article
Instant access to the full article PDF.
US$ 39.95
Price includes VAT for USA
Subscribe to journal
Immediate online access to all issues from 2019. Subscription will auto renew annually.
US$ 171
This is the net price. Taxes to be calculated in checkout.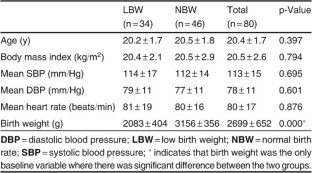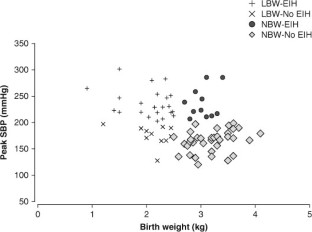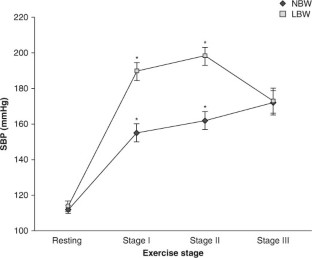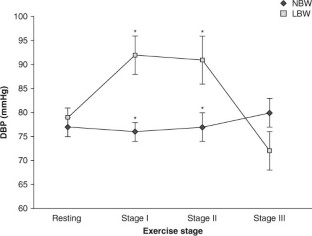 References
1.

Marlyn CN, Barker DJ, Jespersen S, et al. Growth in utero, adult blood pressure and arterial compliance. Br Heart J 1995; 73 (2): 116–21.

2.

Bowers K, Liu G, Wang P, et al. Birth weight, postnatal weight change, and risk for high blood pressure among Chinese children. Pediatrics 2011 May; 127(5): e1272–9

3.

Singh JP, Larson MG, Manolio TA, et al. Blood pressure response during treadmill testing as a risk factor for new-onset hypertension: the Framingham Heart Study. Circulation 1999 Apr 13; 99 (14): 1831–6.

4.

Allison TG, Cordeiro M, Miller T, et al. Prognostic significance of exercise-induced systemic hypertension in healthy subjects. Am J Cardiol 1999 Feb 1; 83 (3): 371–5.

5.

Covelli MM, Wood CE, Yarandi HN. The association of low birth weight and physiological risk factors of hypertension in African American adolescents. J Cardiovasc Nurs 2007 Nov–Dec; 22 (6): 440–7.

6.

I'Jzerman RG, Stehouwer CD, de Geus EJ, et al. Low birth weight is associated with increased sympathetic activity: dependence on genetic factors. Circulation 2003 Aug 5; 108 (5): 566–71.

7.

Alexander B. Fetal programming of hypertension. Am J Physiol Regul Integr Comp Physiol 2006 Jan; 290(1): R1–10

8.

Franz IW. Exercise hypertension: its measurement and evaluation. Herz 1987 Apr; 12 (2): 99–109.

9.

Woelk G, Emanuel I, Weiss NS, et al. Birth weight and blood pressure among children in Harare Zimbabwe. Arch Dis Child Fetal Neonatal Ed 1998 Sep; 79(2): F119–22

10.

Brodszki J, Länne T, Marsál K, et al. Impaired vascular growth in late adolescence after intrauterine growth restriction. Circulation 2005; 111: 2623–8.
Acknowledgements
The authors wish to thank E. Nhandara for technical assistance and V. Chikwasha for statistical analysis. Kudakwashe E. Chakanyuka was funded by the Novel Education Clinical Trainees and Researchers (NECTAR) and Cerebrovascular, Heart failure, Rheumatic Heart diseases Interventions Strategy (CHRIS) MEPI Zimbabwe. The other authors were funded by the University of Zimbabwe College of Heath Sciences. The authors have no conflicts of interest that are directly relevant to the content of this article.
About this article
Cite this article
Chifamba, J., Chakanyuka, K.E., Longo-Mbenza, B. et al. Comparison of Exercise-Induced Hypertension in Low Birth Weight and Normal Birth Weight Young Black Adults in Zimbabwe. High Blood Press Cardiovasc Prev 19, 123–127 (2012). https://doi.org/10.1007/BF03262461
Received:

Accepted:

Published:

Issue Date:
key words
low birth weight

exercise-induced hypertension

systolic and diastolic blood pressure response to exercise