Abstract
Background: The purpose of this study was to use an enzyme-linked immunosorbent assay (ELISA) to detect cyclin-dependent kinase inhibitor 2A (CDKN2A; also known as p16INK4a) in exfoliative cervical cells. CDKN2A is upregulated and considered as a surrogate marker for cervical intraepithelial neoplasia and cancer.
Methods: Liquid-based ThinPrep® cytologic test (TCT) and ELISA were performed on 1356 specimens collected prior to biopsy. A cotton swab was used to gather exfoliative cells. A sandwich ELISA was performed to measure the amount of solublized CDKN2A protein.
Results: The sensitivity and specificity of the TCT for screening of cervical dysplasia and cancer were 82.93% and 88.11%, respectively. The sensitivity and specificity for measuring CDKN2A with ELISA to detect significant cervical disease were 87.80% and 92.43%, respectively. CDKN2A expression was correlated with the severity of cervical damage (r = 0.774; p < 0.001).
Conclusion: The sensitivity and specificity of detecting CDKN2A expression with ELISA in exfoliative cervical cells was superior to TCT (p = 0.023 and p < 0.001, respectively). These results suggest that detecting CDKN2A with ELISA has the potential to become a new screening method for cervical cancer.
This is a preview of subscription content, log in to check access.
Access options
Buy single article
Instant access to the full article PDF.
US$ 49.95
Price includes VAT for USA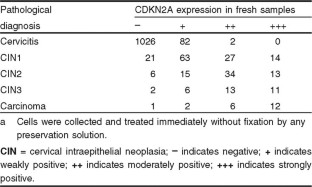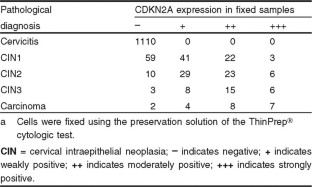 References
1.

Franco EL, Schlecht NF, Saslow D. The epidemiology of cervical cancer. Cancer J 2003; 9(5): 348–59

2.

Castellsague X. Natural history and epidemiology of HPV infection and cervical cancer. Gynecol Oncol 2008, 110: S4–7

3.

Zhao EF, Bao L, Li C, et al. Changes in epidemiology and clinical characteristics of cervical cancer over the past 50 years [in Chinese]. Di Yi Jun Yi Da Xue Xue Bao 2005; 25(6): 605–9

4.

Lazcano-Ponce EC, Moss S, Alonsode Ruiz P, et al. Cervical cancer screening in developing countries: why is it ineffective? The case of Mexico. Arch Med Res 1999; 30: 240–50

5.

Cannistra SA, Niloff JM. Cancer of the uterine cervix. N Engl J Med 1996; 334: 1030–8

6.

Jacobs MV, Snijders PJF, Voorhorst FJ, et al. Reliable high risk HPV DNA testing by polymerase chain reaction: an intermethod and intramethod comparison. J Clin Pathol 1999, 503

7.

Goldie SJ, Kuhn J, Denny L, et al. Policy analysis of cervical cancer screening strategies in low-resource settings: clinical benefits and cost-effectiveness. JAMA 2001; 285(24): 3107–15

8.

Murphy N, Ring M, Killalea AG, et al. p16INK4a as a marker for cervical dyskaryosis: CIN and cGIN in cervical biopsies and ThinPrep smears. J Clin Pathol 2003; 56: 56–63

9.

Keating JT, Cviko A, Riethdorf S, et al. Ki-67, cyclin E and p16 are complimentary surrogate biomarkers for human papilloma virus-related cervical neoplasia. Am J Surg Pathol 2001; 25: 884–91

10.

Klaes R, Friedrich T, Spitkovsky D, et al. Overexpression of p16INK4A as a specific marker for dysplastic and neoplastic epithelial cells of the cervix uteri. Int J Cancer 2001; 92: 276–84

11.

Zou XJ, Cai L, Liu Y, et al. The relationship between p16INK4a expression and human papillomavirus in cervical precancer/cancer [in Chinese]. Chin J Obstet Gynecol 2004; 39(9): 625–6

12.

Wentzensen N, Hampl M, Herkert M, et al. Identification of high-grade cervical dysplasia by the detection of p16INK4a in cell lysates obtained from cervical samples. Cancer 2006; 107: 2307–13

13.

Tavassoli FA, Devilee P, editors. World Health Organization classification of tumours: pathology and genetics. Tumours of the breast and female genital organs [Chinese translation]. Lyon: World Health Organization, 2006

14.

Tringler B, Gup CJ, Singh M, et al. Evaluation of p16INK4a and pRb expression in cervical squamous and glandular neoplasia. Hum Pathol 2004; 35(6): 689–96

15.

O'Connor DM. The use of pl6 as a marker for cervical cancer precursor lesions: a review. J Low Genit Tract Dis 2007; 11(2): 67–8

16.

Kim YT, Zhao M. Aberrant cell cycle regulation in cervical carcinoma. Yonsei Med J 2005; 46(5): 597–613

17.

Marjoniemi VM. Immunohistochemistry in gynaecological pathology: a review. Pathology 2004; 36: 109–19

18.

Hariri J, Øster A. The negative predictive value of p16INK4a to assess the outcome of cervical intraepithelial neoplasia 1 in the uterine cervix. Int J Gynecol Pathol 2007; 26(3): 223–8

19.

Yildiz IZ, Usubütün A, Firat P, et al. Efficiency of immunohistochemical pl6 expression and HPV typing in cervical squamous intraepithelial lesion grading and review of the pl6 literature. Pathol Res Pract 2007; 203(6): 445–9

20.

Kelly MJ, Otterson GA, Kaye FJ, et al. CDKN2 in HPV-positive and HPV-negative cervical-carcinoma cell lines. Int J Cancer 1995; 63: 22–230

21.

Volgareva G, Zavalishina L, Andreeva Y, et al. Protein pl6 as a marker of dysplastic and neoplastic alterations in cervical epithelial cells. BMC Cancer 2004; 4: 58

22.

Bibbo M, DeCecco J, Kovatich AJ. p16INKa as an adjunct test in liquid-based cytology. Anal Quant Cytol Histol 2003; 25(1): 8–11

23.

Guo M, Hu L, Baliga M, et al. The predictive value of pl6(INK4a) and hybrid capture 2 human papillomavirus testing for high-grade cervical intraepithelial neoplasia. Am J Clin Pathol 2004; 122(6): 894–901

24.

Nuovo GJ, Plaia TW, Belinsky SA, et al. In situ detection of the hypermethylation-induced inactivation of the pl6 gene as an early event in oncogenesis. Proc Natl Acad Sci U S A 1999; 96(22): 12754–9

25.

Knesel BW, Dry JC, Wald-Scott C, et al. Preliminary evaluation of a cervical self-sampling device with liquid-based cytology and multiparameter molecular testing. J Reprod Med. 2005; 50(4): 256–60

26.

Saqi A, Pasha TL, McGrath CM, et al. Overexpression of pl6INK4a in liquid-based specimens(SurePath) and marker of cervical dysplasia and neoplasis. Diagn Cytopathol 2002; 27(6): 365–70

27.

Ferreccio C, Bratti MC, Sherman ME, et al. A comparison of single and combined visual, cytologic, and virologie tests as screening strategies in a region at high risk of cervical cancer. Cancer Epidemiol Biomarkers Prev 2003; 12: 815–23
Acknowledgments
The authors wish to thank Boster Biotechnology Limited Company (Wu-Han, China) for their technical assistance and the supply of products used in this study, and the Department of Gynecology at Jingmen Hubei Province First Peoples' Hospital for sample collection. Special thanks go to all the patients who participated in this trial.
The authors have no conflicts of interest that are directly relevant to the content of this study.
About this article
Cite this article
Ding, L., Zou, X., Ao, J. et al. ELISA Test to Detect CDKN2A (p16INK4a) Expression in Exfoliative Cells. Mol Diag Ther 12, 395–400 (2008). https://doi.org/10.1007/BF03256305
Keywords
Cervical Cancer

Cervical Intraepithelial Neoplasia

Cervicitis

Atypical Squamous Cell

Mean Optical Density