Abstract
Background. Chest pain is one of the most common causes of presentation to the emergency room. The diagnosis of non-ST-elevation acute coronary syndrome typically causes uncertainty. Classical considerations for risk stratification are History, ECG, Age, Risk factors and Troponin (HEART). Each can be scored with zero, one or two points, depending on the extent of the abnormality. The HEART score is the sum of these five considerations. Methods. Clinical data from 122 patients referred to the emergency room for chest pain were analysed. The predictive value of the HEART score for reaching an endpoint was evaluated in 120/122 patients.
Results. Twenty-nine patients reached one or more endpoints: an acute myocardial infarction was diagnosed in 16 patients, 20 underwent revascularisation and two died. The HEART score in the patients with and without an endpoint was 6.51±1.84 and 3.71±1.83 (p<0.0001) respectively. A HEART score of 0-3 points holds a risk of 2.5% for an endpoint and supports an immediate discharge. With a risk of 20.3%, a HEART score of 4-6 points implies admission for clinical observation. A HEART score ≥7points, with a risk of 72.7%, supports early invasive strategies.
Conclusion. The HEART score facilitates accurate diagnostic and therapeutic choices. The HEART score is an easy, quick and reliable predictor of outcome in chest pain patients. (Neth Heart J 2008;16:191-6.)
This is a preview of subscription content, log in to check access.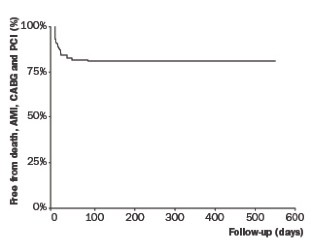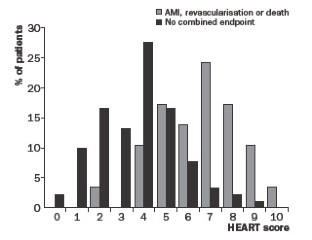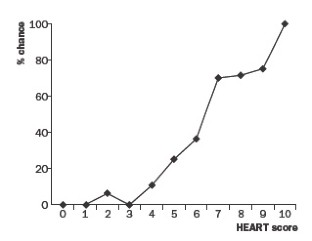 References
1

Cannon CP, Braunwald E. Unstable angina and non-ST elevation myocardial infarction. In Zipes, Libby, Bonow and Braunwald (eds.): Braunwald's Heart Disease. A textbook of cardiovascular medicine. Elsevier Saunders 2005. pp 1243-79.

2

Hirsch A, Windhausen F, Thijssen JGP, Verheugt FWA, Cornel JH, De Winter RJ. Long-term outcome after an early invasive versus selective invasive treatment strategy in patients with non-ST-elevation acute coronary syndrome and elevated cardiac troponin T (the ICTUS trial): a follow-up study. Lancet 2007;369:827-35.

3

Miller CD, Lindsell CJ, Khandelwal S, et al. Is the initial diagnostic impression of "Noncardiac Chest Pain" adequate to exclude cardiac disease? Ann Emerg Med 2004;44:565-74.

4

Blackburn H, Keys A, Simonson E, et. The electrocardiogram in population studies: a classification system. Circulation 1960;21:1160-75.

5

Hollander JE. Acute coronary syndrome in the emergency department: Diagnosis, risk stratification, and management. In: P Théroux (Ed.): Acute coronary syndromes. A companion to Braunwald's heart disease. Saunders/Elsevier, 2003.

6

ACC/AHA 2007 Guidelines for the Management of Patients With Unstable Angina/Non–ST-Elevation Myocardial Infarction. J Am Coll Cardiol 2007;50:e1-157.

7

Bassand JP, Hamm CW, Ardessino D, et al. Guidelines for the diagnosis and treatment of non ST-segment elevation Acute Coronary Syndromes. Eur Heart J 2007;28:1598-660.

8

Apgar V. A Proposal for a New Method of Evaluation of the Newborn Infant. Current Researches in Anesthesia and Analgesia, July-August, 1953, page 260.

9

Antman EM, Cohen Mk Bernink PJLM, et al. The TIMI risk score for unstable angina/ non-ST elevation MI. JAMA 2000; 284:835-42.

10

Boersma E, Pieper KS, Steyerberg EW, et al. for the PURSUIT investigators. Predictors of outcome in patients with acute coronary syndromes without persistent ST-segment elevation. Results from an international trial of 9461 patients. Circulation 2000;101:2557-67.

11

Granger CB, Goldberg RJ, Dabbous OH, et al. for the Global Registry of Acute Coronary Events Investigators. Predictors of hospital mortality in the global registry of acute coronary events. Arch Intern Med 2003;163:2345-53.

12

Fox KA, Dabbous OH, Goldberg RJ, et al. Prediction of risk of death and myocardial infarction in the six months after presentation with acute coronary syndrome: prospective multinational observational study (GRACE). BMJ 2006;333:1091.

13

De Araújo Gonçalves P, Ferreira J, Aguiar C, Seabra-Gomes R. TIMI, PURSUIT, and GRACE risk scores: sustained prognostic value and interaction with revascularization in NSTE-ACS. Eur Heart J 2005;26:865-72.
Additional information
Zuwe Hofpoort Hospital, Woerden, the Netherlands
Department of Nuclear Medicine, St Antonius Hospital, Nieuwegein, the Netherlands
Department of R&D Cardiology, St Antonius Hospital, Nieuwegein, the Netherlands
Correspondence to: A.J. Six Zuwe Hofpoort Hospital, PO Box 8000, 3440 JD Woerden, the Netherlands
About this article
Cite this article
Six, A.J., Backus, B.E. & Kelder, J.C. Chest pain in the emergency room: value of the HEART score. NHJL 16, 191–196 (2008) doi:10.1007/BF03086144
chest pain

acute coronary syndrome

emergency room